By Lt. General P.C. Katoch (Retd)


Former Director General of Information Systems, Indian Army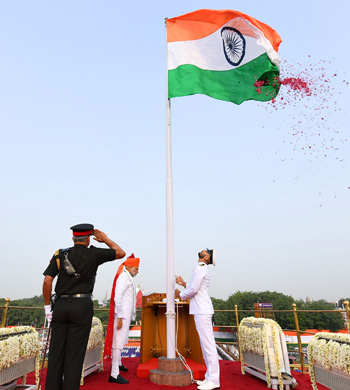 The Prime Minister, Narendra Modi unfurling the Tricolour flag at the ramparts of Red Fort, on the occasion of 72nd Independence Day, in Delhi on August 15, 2018
Speaking from the ramparts of the Red Fort for his fifthtime Independence Day address, Prime Minister Narendra Modi spoke mostly about the achievements of his government over the past four years including the various schemes launched by his administration, and future dreams. In his 82-minute address, he emphasized that a strong country cannot be built without a strong society which is based on social justice. He listed out the atrocities, difficulties and the tribulations India suffered in gaining freedom and said we now have to convert this into 'real freedom'; ceaselessly working towards realization of the dream of 'One India, Supreme India' (Ek Bharat, Shreshtha Bharat) with every citizen shouldering his/her responsibility. In apparent reference to the UPA government, he said there was a time when government used to be surrounded by aspersions, but at present, no aspersions are being leveled on the government. This may be bit of a misnomer considering why Pallavi Joshi had to be commissioned to propagate the Rafale deal – where no defence deal is without kickbacks irrespective of which government is in power. But more significantly, the surreptitious amendment to the Foreign Currency Regulations Act with retrospect and passing of the 'Money Bill' without discussion in Parliament has actually institutionalized corruption at the highest levels. Legalizing unlimited and anonymous funding of political parties more than reciprocates the claims that demonetization had wiped out black money of political parties. Besides, the most rabid form of corruption is fielding candidates with criminal records in elections, in which the BJP surpasses all other political parties, as was seen in the Karnataka elections; winnability of criminals with illegal wealth and goon armies being the main criteria. Prosecution of the corrupt too is on highly selective basis, ensuring skeletons in the ruling party cupboard are not disturbed.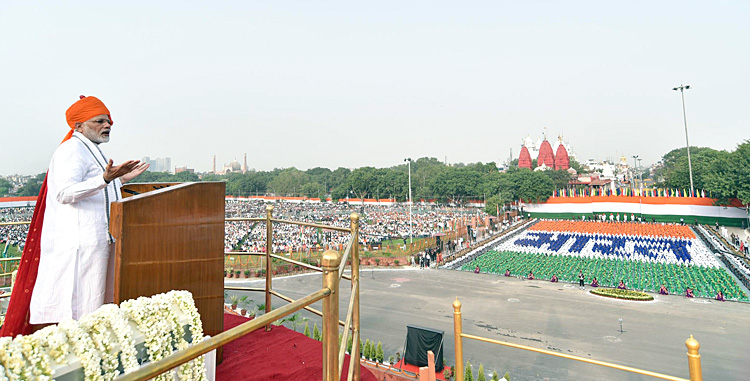 The Prime Minister, Narendra Modi addressing the Nation on the occasion of 72nd Independence Day from the ramparts of Red Fort, in Delhi on August 15, 2018
Talking of work culture and good governance, Modi said good governance means that the government should be sensitive, responsive and dedicated to the common man. He then described how digitization and use of technology has made life easier for the citizen, obviating long wait in queues. With reference to accountability, Modi acknowledged middle class and higher middle class are more troubled by income tax officials rather than police, which he is trying to change. He also talked of income tax base having been widened, but made no mention of his favourite topic of getting the black money back. The PM talked of job creation, exemption from interviews as part of good governance, as also expanding of network of rural roads. However, our border areas remain grossly neglected especially in Arunachal Pradesh, where forward-most villages must be connected (being the eyes on ground) even if they do not meet the criteria of minimum population under 'Pradhan Mantri Gram Sadak Yojna'. Modi spoke about electrification of villages, which is a credible achievement (10,000 villages electrified with 8,000 remaining) even though power shortages remain very high, and connecting government schemes to Aadhar Card. Modi then talked of distribution of LPG, chulhas, LED bulbs, 'Jan Dhan Yojna', toilets etc. He then spoke of measures being taken to control inflation, decline in production of pulses, drought relief, relief to farmers, solar pumps, micro irrigation, fertilizers, crop insurance, etc. He mentioned 'Start-Up India', satellite and space technology. Modi described how he is monitoring progress of projects on monthly basis including improving the output of PSUs. He then talked of improving widow pensions, scholarship, persons with disabilities etc. However, ironically these remain pathetic with respect to military personnel; by default or design by the MoD and its Department of Ex-servicemen Welfare (DESW).
Modi talked of global economy, global financial institutions appreciating India's economic progress and improvements in 'ease of business'. He then talked about the GST law, 'Beti Bachao-Beti Padhao', 'Sukanya Samridhi Yojna' and other related schemes. Perhaps Modi could have mentioned the horrendous happening in 'shelter homes' that has sent shock waves in the public and warned that maximum punishment will be ensured for the culprits – coming from the PM that was definitely warranted. Modi talked of the importance of 'Skill Development' scheme and for the first time in his fivespeeches on Independence Day talked of army jawans – "someone among the army jawans, who live and die for the country, would be ready for taking the bullets on the border, someone will be sitting in bunker and some other one would not be fortunate enough to meet his sister on the occasion of Raksha Bandhan. How many jawans are working in armed forces?" Whether this was from the heart or because of coming elections is difficult to gauge, but the mere fact that some 356 serving officers and soldier of the Army had to approach the Supreme Court on the eve of Independence day against dilution of Armed Forces Special Powers Act (AFSPA), shows the disdain with which the Modi Government treats the Army and has brought the situation to this despicably low level. Restoration of honour, dignity and status of military soldiers of course are trivial issues for the Prime Minister. Modi further said, he had fulfilled his promise of 'One Rank One Pension' (OROP), whereas what has been given is actually a one-tine grant, not OROP. Of course, to expect Modi to rectify his government's stance is akin to expecting Pakistan giving up terrorism. Modi called for a tough and sensitive approach to tackle evils like castism, lashed out at Pakistan for glorifying terrorists and urged the youth to shun violence.
During the address, Modi also announced his flagship health policy 'Ayushman Bharat' to cover over 10 crore vulnerable families providing cover up to 5 lakh per family annually, and also announced 'Gaganyan' – a manned mission to space by 2022. The surprising part was that PM Modi made absolutely no mention of the threats that India faces – as if everything is hunky-dory. China didn't find any mention at all, no mention of developments in Indian Ocean – was that the commitment made to Xi Jinping at Wuhan? Perhaps Xi's assurance he will hold his horses is the reason for abysmal defence allocations; shelving mountain corps and the like. No mention of illegal immigration, Rohingyas, returns of Kashmiri Pandits either. Moreover, the fact that galloping population will negate any job creation schemes and there is need to control population didn't find any mention in Modi's address. Ironically, the only discussion in our media is how much percentage the Hindu and Muslim population has gone up proportionally in last few years, not that we need population control measures least management of social change becomes uncontrollable, ushering in more internal instability. Without mentioning the threats other than terrorism faced by India, for some, it appeared to be more an election speech.