By Lt. General P.C. Katoch (Retd)


Former Director General of Information Systems, Indian Army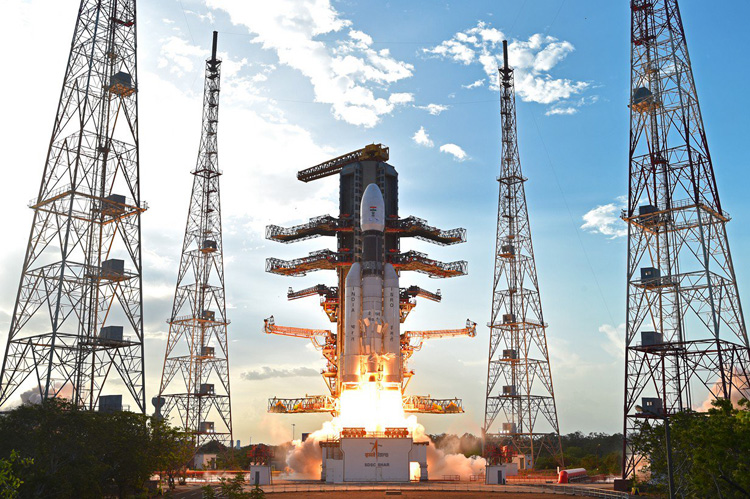 GSLV Mk III Lift Off
During his address from Red Fort on 15 August 2018, Prime Minister Narendra Modi announced that India would launch a manned mission in space in the year 2022 - the 75th Independence year. Same day K Sivan, Chairman ISRO confirmed the plan saying ISRO is planning to put an Indian astronaut in space for seven days at cost of less than 10,000 crore, using the rocket Geosynchronous Satellite Launch Vehicle Mark III (GSLV-Mk III), and astronauts will be in a spacecraft, 300-400 km above the earth. He also spoke of two unmanned space missions before the actual manned space mission. Sivan said approval for the expenditure is yet to be obtained and whether an animal will be launched in space prior to manned flight is to be discussed. However, he confirmed ISRO will develop everything for the manned flight indigenously in conjunction private industry. Later, on August 28, ISRO announced three Indian astronauts will be put in space for 5-7 days in 40 months from now. On July 5, 2018, ISRO had successfully conducted a maiden pad abort test at its spaceport in Sriharikota for safe escape of the crew in an emergency; critical technology for manned mission, designed to quickly pull the crew module along with the astronauts to a safe distance from the launch vehicle in the event of a launch abort. According to Sivan, selection of astronaut to fly the spacecraft would be done by the Indian Air Force (IAF) and the spaceflight training would be given overseas. A manned mission in space would be a stupendous achievement for India, especially with only Russia, US and China having successfully done so to-date. In 2019, ISRO plans to launch 22 missions, with an overall aim of launching 50 successful missions over the next three years. The postponement of launch of Chandrayan-2 from 2018 to 2019 has already been in the news.
Chandrayan-2, is now set to launch between January 3 and February 16, 2019. The postponement was due to multiple changes that were required with the entire configuration of the mission changed. In addition to Chandrayan-2, ISRO's key missions in 2019 will be Aditya-L1 solar mission and two demonstration flights of the SSLV: small satellite launch vehicle. Aditya-L1 will study the Sun's surface. ISRO's launch activity will pick up from September 2018 with launch on PSLV-C43 of two UK satellites dedicated for commercial use. In October, the GSLV Mk-III D2 will launch GSAT-29 followed by PSLV-C43 launching a hyper spectral imaging satellite with 30 commercial co-passengers. GSAT-11 will be launched in November 2018 using Arianspace services, followed by launch of GSAT-31 as replacement of INSAT-4CR slated for decommissioning in January 2019. In addition, ISRO is also to launch RISAT-2B satellite by end 2018. Other big launches this year include GSAT-20 in August, the GSAT-30 replacing INSAT-4A and IRNSS-1J carrying indigenous atomic clock. ISRO has already done one demonstration flight of the SSLV and plans the second one in October 2018, before going into the production phase. These launch vehicles will cost one-tenth price of PSLV and 72 hours launch preparation time compared to 45 days for PSLV. SSLV also needs 3-4 people to prepare compared to 300 in case of PSLV albeit SSLV can only launch payloads of 500-700 kg. ISRO hope private industry will start their production of these soon. ISRO also plans for a consortium of industries to commence production of the PSLV. ISRO also plans to launch its TV channel this year, named 'ISRO TV', to make their benefits reach people across the country, down to reach even the rural parts of India. It will broadcast in regional languages as well as English to promote scientific mindset and make public aware of benefits of the space programs. ISRO also plans setting up a module for students from classes 8-10 to be trained at the space agency for a month.
While wishing ISRO all success in this spectacular journey, the organization, the policy makers and the powers that be need to bear in mind three critical issues:
We must ensure 24x7 satellite surveillance along our borders, particularly along our borders with China-Pakistan and coastal areas;
Our adversaries, China in particular, should be expected to interfere in our launches / satellite flights given past experience, anonymity of the attack source, as also coercion the ambiguity generates at the asymmetric level, and;
We must continuously strive to achieve excellence in ground resolution in imagery.
'Gaofen-11', China's optical remote-sensing satellite, launched on July 31, 2018, aboard a Long March 4B rocket as part of the country's high-resolution Earth observation project, reportedly may have ground-image resolution of 10 cm or less - second only to the US and possibly comparable to maximum resolution provided by US imaging satellites. Gaofen-11 satellite has been placed in an elliptical near-polar orbit, which gives it an altitude of 693 km at its apogee and 247 km at its perigee, which occurs at 10:00 h local time at latitude 20° N -– such as when passing over the South China Sea, India, or Hawaii. As of now, ISRO has launched an outreach program and capacity building with a wider vision; ISRO as nodal agency interacting with stakeholders on the one side and developers and suppliers on the other. Incubation centres are being set up across the country to attract young talent; attracting students to scientific activities under standards 8 to 10 to ISRO for 25 to 30 days of training. As to integrating industry with ISRO activities, launch vehicle and satellites, plus about 85% cost of rockets is supplied by industry as vendors; integration and quality assessment by ISRO. ISRO is looking at creating a consortium within one year to undertake integration, while ISRO does quality testing. ISRO also plans a mission to Venus or a Mars Orbiter Mission-2 in the long-term.