By Lt. General P.C. Katoch (Retd)


Former Director General of Information Systems, Indian Army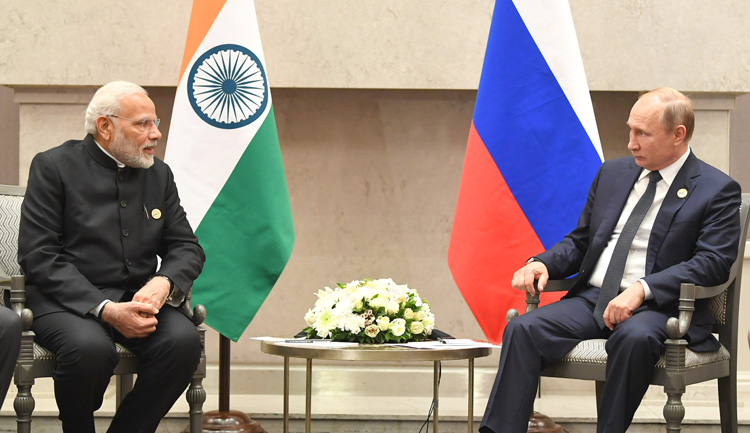 Prime Minister, Narendra Modi in a bilateral meeting with the President of Russian Federation, Vladimir Putin, on the sidelines of the BRICS Summit, in Johannesburg, South Africa on July 26, 2018
Russian President Vladimir Putin is to arrive in New Delhi for the 19th Indo-Russian summit with Prime Minister Narendra Modi on October 5. Modi had invited Putin for the 19th Annual Summit in India at the first informal Summit between the two leaders on May 21, 2018 at Sochi in the Russian Federation. Indo-Russia summit is highest level of official exchange between the two countries, held alternately in the two countries. The last summit was held in St Petersburg in 2017. Since the inaugural Indo-Russian Summit between PM Vajpayee and President Putin at New Delhi in October 2000, strategic ties between the two countries have been elevated to a 'Special and Privileged Strategic Relationship'. During the Informal Summit at Sochi, the two leaders agreed that the Special and Privileged Strategic Partnership between India and Russia is an important factor for global peace and stability; in this, they recognized each other's respective roles as major powers with common responsibilities for maintaining global peace and stability. They also agreed to continue working together through multilateral organizations like the UN, SCO, BRICS and G-20, endorsing the importance of restoring peace and stability in Afghanistan in an atmosphere free from the threat of terrorism, and agreed to work together towards achieving this objective. Both directed their officials to prepare concrete outcomes for the forthcoming Summit in India later this year; 19th Indo-Russian Summit. On becoming President of the United States, Donald Trump extended hand of friendship to Putin, wanting both to work together. Doubts also began on the relevance and financing of NATO. But that Trump would not be permitted to move in this direction was a foregone conclusion. Soon the reality of economy of a nation primarily based on arms export hit home, even as the war of geo-economics led to the trade war. So, the Cold War and the Trade War merged, bringing Indo-Russian ties under strain.
Trump signing the Countering America's Adversaries Through Sanctions Act (CAATSA) threatened sanctions against 'major' Indo-Russian defence deals, leaving the term 'major' blissfully ambiguous so as to keep the decision always with the US. Heavy US sanctions against Russia forced the latter to draw closer to Pakistan, much to the chagrin of India. US pulling out from the Iran Nuclear Deal and imposing sanctions, getting effective coming November, adversely affects Indo-Iranian ties. Ironically, Syria has become the testing ground for new weaponry by the US, Russia, NATO, Israel with China joining in and the Great Game in Afghanistan is set to take more dangerous turn with China-Russia-Iran-Pakistan aligned against US-NATO.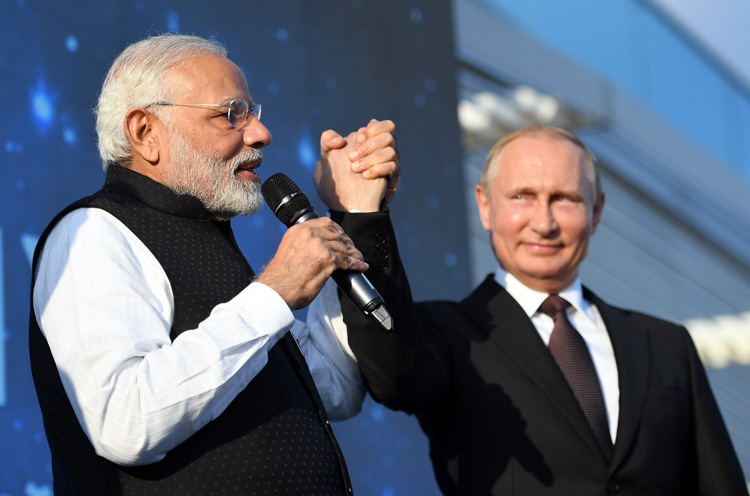 Prime Minister Narendra Modi with the President of Russian Federation, Vladimir Putin visiting the Sirius, an incubator for gifted children, in Sochi, Russia on May 21, 2018.
Vostok-2018, the massive Russia-China joint exercise involving 300,000 Russian troops with 1,000 military aircraft and two naval fleets coupled with 3,200 Chinese troops and 30 aircraft demonstrated Russia-Chinese closeness. Russia is India's largest arms supplier and a Rs 40,000 crore deal to buy S-400 air defence missiles is under negotiation and could possibly be signed during the summit, though US is likely to hold back the waiver till the last minute or not accord the same before Putin's visit to test India's resolve. Government has recently a cleared $2.2-billion deal for four stealth frigates with Russia for the Indian Navy. This deal under Project 11356 had been delayed for long. It will involve building two sets of advanced Talwar-class frigates at the Goa Shipyard, while the rest will be bought directly from Russia's Yantar shipyard. This is in addition to the six operating Talwar-class frigates. Several other defence deals are in the pipeline including those an inter-governmental agreement for the licensed-production of the AK-103 assault rifle in a government factory, a joint venture between Rostec, Russian Helicopters and HAL for the production of the Ka-226 light utility helicopters in Karnataka, two IL-78 transport planes to be used as AEW&C early warning aircraft, and order for 48 x Mi-17 helicopters. Russian manufacturer MiG has announced it will partner with Hindustan Aeronautics Limited (HAL) under the 'Make in India' mega project for 110 fighter aircraft for the IAF. MiG, says it has responded to an Indian request for information (RFI) for the project and is offering a completely new aircraft with an upgraded radar and increased combat potential with a new range of missiles and weapons; 50% more combat potential, improved radar ca[able of tracing 30 target simultaneously and hit 10 of them together, transfer of technology (ToT) and at least 20% less expensive than other competitors like Rafale, Eurofighter Typhoon, Boeing's F/A 18, Lockheed Martin's F 16 and Saab's Gripen. General Director of Russian arms exporter, Rosoboronexport, told journalists in Moscow recently that Russia executing $4 billion worth of defence contracts with India and is in the process of negotiating sales of military equipment costing an additional $11 billion worth.
Russia has offered to select Indian astronauts for the 'Gaganyaan' mission - India's first manned mission in space. According to ISRO officials, our astronauts will most likely be trained in Russia's Yuri Gagarin Cosmonaut Training Centre in Star City outside Moscow. Both countries are also working to identify greater synergy in trade and investment, energy security and nuclear energy; supply of LNG from Russia is under the long-term agreement between Russia's Gazprom and GAIL, Indo-Russian cooperation is also significant for facilitation of the International North-South Transport Corridor (INSTC) which shortens the transit time between Mumbai and Europe through Iran, Armenia, Azerbaijan and Russia. The scope for India and Russia to innovate solutions across multiple solutions including revival of soft-power quotient and collaboration in innovative technology and connectivity projects in backdrop of dynamics of geopolitics was discussed at a recent seminar in New Delhi which recommended: Russia taking the lead in 'Make in India' - which Russia has been wanting anyway; creation of connectivity corridors and payment in national currencies, as was practiced in the past; cooperation in reforming international financial institutions, energy regimes in Eurasia, climate change, countering double standards of human rights, countering interference in internal affairs, cyber security and peaceful use of nuclear energy; exploiting soft power drivers of bilateral relations and use of Indian students in Russia as integral part of discourse for giving new thrust to bilateral relations; Indo-Russian participation in Arctic Circle; creating Major Mission project for Deep Ocean Manned Submersibles; cooperation with Russian skilling in cyber technologies; Cooperation in Russian Far East, modernization of Chennai port and Chennai-Vladivostok maritime route through SCS, sourcing raw materials and minerals; cooperation in Western Indo-Pacific, maritime security, countering terrorism in Af-Pak and Blue Economy cooperation; public diplomacy and image building in India in Larger Eurasia including to counter the China's BRI public diplomacy. Clearly the Indo-Russian 'Special and Privileged Strategic Relationship' has unlimited scope to expand.