| | |
| --- | --- |
| | The Author is Former Director General of Information Systems and A Special Forces Veteran, Indian Army |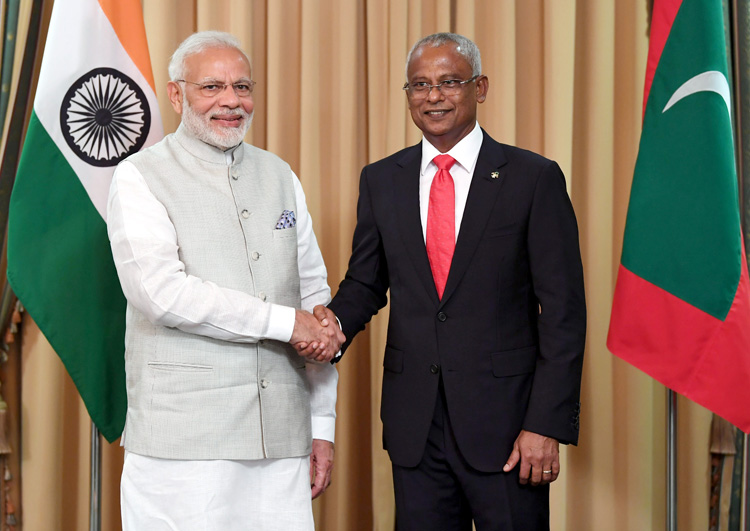 Prime Minister, Narendra Modi meeting the President of Maldives, Ibrahim Mohamed Solih, in Male, Maldives on November 17, 2018.
Prime Minister Narendra Modi made his brief maiden visit to Maldives on November 17 to attend the swearing in Ceremony of new Maldivian President Ibrahim Mohamed Solih on invitation of the latter. 46 nations were represented at Solih's swearing in ceremony. Before the visit, MEA clarified that Modi's visit was not a 'bilateral' visit, stating, "In keeping with its neighbourhood first policy, India looks forward to closely working with Maldives in further deepening the partnership". Whether this visit by Modi should have been combined with a bilateral visit is open question. China is already making determined efforts to woo Solih to ensure the strategic gains she has made in Maldives in recent years do not get diluted by the exit of Abdulla Yameen. Whether combining Modi's trip with bilateral visit was discussed with Maldives at all is not known but it would have certainly demonstrated Maldives the importance to India, especially since Modi's next visit would be only after next year's general elections in India.
The fact that India remained mute spectator to deteriorating India-Maldives relations over past four years despite former Maldives President Yameen visiting India in April 2016 is perhaps a foreign policy failure of sorts. Question arises if Modi could request informal summit with Chinese President Xi Jinping despite the Doklam standoff, could he have not visited Maldives to check the deteriorating bilateral relationship? No doubt Modi's visit to Maldives (along with Seychelles, Mauritius and Sri Lanka) in March 2015 was shelved at the last minute because of political instability in Maldives but on October 11, 2015, Maldives expressed hope that PM Narendra Modi would visit the country "very soon" as it admitted disappointment over his skipping the island nation on a tour to the region in March.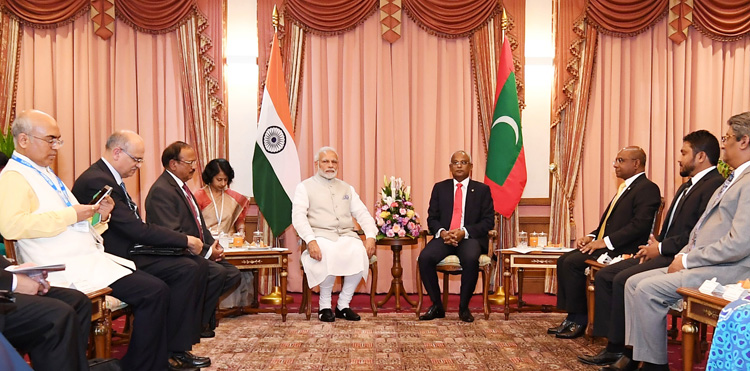 Prime Minister, Narendra Modi meeting the President of Maldives, Ibrahim Mohamed Solih, in Male, Maldives on November 17, 2018.
Even after Maldives President Yameen visited India in April 2016, no reciprocal visit by Prime Minister Modi was announced. This certainly didn't appear in synch with the 'Neighbours First' policy and perhaps indirectly assisted China consolidate her hold over Maldives. Modi not visiting Myanmar also resulted in postponing India setting up radar network (10 x Coastal Surveillance Radar Stations) across Maldives linked with Indian military surveillance systems agreed under the 2009 bilateral defence pact. Admittedly China's growing influence over Maldives is cause of concern considering Maldives importance to India for maritime security, but this was all the more reason to keep Maldives engaged at the political apex level.
China has debt-trapped Maldives by USD 1.3 billion during Yameen's 5-year regime (which represents more than quarter of its GDP) and Chinese firms engaged in some 17 projects in Maldives. IMF predicts Maldivian debt to reach 121% of GDP by 2020. Maldives has also signed Free Trade Agreement (FTA) with China, second country in South Asia after Pakistan, and Maldives' markets are flush with Chinese goods without import duty. Maximum tourists to Maldives come from China. For China, Maldives is a maritime pivot along its Belt and Road Initiative (BRI). Chinese President Xi Jinping visited Maldives in September 2014 and secured Yameen's support for China's 21st century maritime silk route. Since 2016, China is developing Gadhoo island, 437 km from Male; likely future supply-berthing-maintenance base, similar to what China has in outer islands of Seychelles.
For India, the challenge now is to contend with Chinese strategy in India inimical to Indian national interests. With what Maldives has undergone during Yameen's regime coupled with increased Chinese hold, India may even find it difficult to install coastal radars in Maldives, as agreed to under the India-Maldives pact of 2009. Ibrahim Mohamed Didi, Member Parliament recently raised objections to former President Mohamed Nasheed's recent proclamation of India's previous ties with Addu City do not infer that Addu or any other Maldivian territory can be used for Indian military purposes, stating, "We do not believe in any way that this country will serve the military purposes of any country. Also I do not believe that there is even a possibility of our state allowing such course of actions." According to President Solih's stated defence policies, Maldives will give utmost priority of safeguarding the independence of its allies and neighbouring countries; unbiased policies of foreign affairs shows that the country's 'first line of defence' can be achieved. Maldives backed by China, Pakistan and Saudi Arabia is under the specter of Islamic radicalization. Rapid growth of Islamist radicalisation can be gauged from the fact that by end 2017 Maldives had sent some 400 ISIS fighters to Syria-Iraq. While Abdulla Yameen enjoys radical Islamists support, Islamist radicalisation in Maldives also casts dark shadow over South India. It is good that India has taken the initiative to help bring Maldives into the India Ocean Rim Association (IORA) during the recent meeting in South Africa. Maldives under Solih obviously will realise the need to retain the country's sovereignty even as China will exert pressure through its debt trap, projects, goods and mass of tourists – pressure at multiple levels to keep Maldives in its clutches. India too must engage Maldives consistently at multiple levels, India would do well to revive the 'India-Sri Lanka- Maldives Indian Ocean Trilateral', with Seychelles and Mauritius as observers or full members. India must also engage the US to invest in Maldives under plan of the Trump Administration to invest in Asia parallel to China's BRI. India must engage Maldives consistently to help Maldives out of Chinese clutches; as a sovereign state contributing to peace and stability in the region.