| | |
| --- | --- |
| | The Author is Former Director General of Information Systems and A Special Forces Veteran, Indian Army |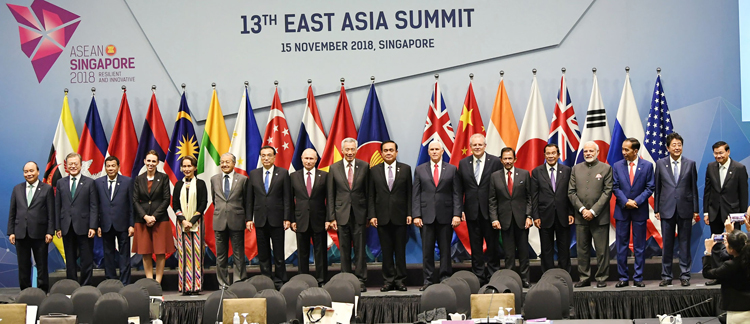 Prime Minister, Narendra Modi with other world leaders in a group photograph, at the 13th East Asia Summit Plenary, in Singapore on November 15, 2018
The third round of the quadrilateral security dialogue termed 'Quad', between India, US, Japan and Australia, was held on 15 November 2018 at Singapore on sidelines of the 13th East Asia Summit. The emphasis as earlier was on promoting a free, open, rules-based and inclusive order in the Indo-Pacific region. The first meeting of 'Quad' was held in the Philippines during November 2017, and the second one was held in June 2018 in Singapore on the sidelines of the ASEAN meet.
Quad countries are wary of China's rapidly expanding military and expeditionary capabilities and aggressive designs on the Indo-Pacific. Quad is one of the elements of the larger Indo-Pacific strategy of the US for free, open and rule-based order on the seas, and wants Quad to evolve into ministerial-level dialogue instilled with military dimensions. 'Military dimensions do not necessarily translate into formal military alliance but India remains opposed to it on the plea that ASEAN should remain central to Indo-Pacific issues'. But the US State Department spokesperson had already clarified, saying, "The Indo-Pacific strategy recognises the centrality of ASEAN and APAC (Asia-Pacific region). This kind of grouping (Quad) is not in anyway an effort to bypass these critical institutional bullwarks in the Indo-Pacific".
The Indian stance perhaps has less to do with pro-active strategic cooperation despite enlarging Chinese threat for fear of annoying the Dragon, more because India has consistently neglected its military modernisation and development of border infrastructure. It is for such reasons that China's conceited media (all media is official in China) has the audacity to say that "India wooing of Maldives' leader 'risks' China ties". The third round of Quad on 15 November 2018 saw participation by senior officials from MEA (India), Department of Foreign Affairs and Trade (Australia), Ministry of Foreign Affairs (Japan) and State Department of the US, discussing regional and global issues. Having militarised the South China Sea, China is feverishly establishing bases and port development in the Indo-Pacific; Gwadar and Djibouti to Jiwani in Pakistan, Kyaphuku in Myanmar, Hambantoto in Sri Lanka, Maldives, besides Papua New Guinea and more. China has activated Thailand to seriously examine construction of the KRA canal and Chinese companies are investing $2 billion in the erstwhile US base in Philippines.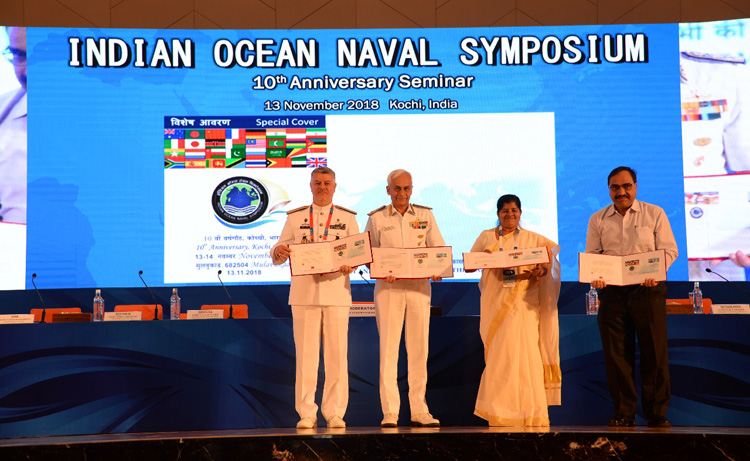 Release of First Day cover by Admiral Sunil Lanba, Chief of the Naval Staff
For the Quad, China's Belt and Road Initiative (BRI) is of special focus since it is the fulcrum of China's aggressive moves. India has been opposed to the BRI because its flagship project, the China-Pakistan Economic Corridor (CPEC) passes through Indian Territory illegally occupied by Pakistan, which China has gone about developing it, along with other development ventures, without any reference to India, in addition to establishing a PLA Brigade in Pakistan Occupied Kashmir (POK). The US, Japan and Australia too have reservations over the BRI since it is viewed as the means to China's global domination and threat to freedom of navigation and global commons, which Chinese domineering actions in the South China Sea disregarding international norms and the UN Convention of the Law of Seas (UNCLOS) indicate. It is for such reasons that US is going to join in an Australian base plan in Papua New Guinea. During the November 15 meeting, Quad participants reaffirmed ASEAN's centrality as the corner-stone of a free, open and inclusive Indo-Pacific and agreed to partner with other countries and forums in the region to promote a free, open, rules-based and inclusive order in the Indo-Pacific. They also collectively committed to strengthening connectivity and quality infrastructure based on sovereignty, equality and territorial integrity of all nations, as well as transparency, economic viability and financial responsibility. Post the Quad meet, the MEA spokesperson said the discussions at the meeting focused on cooperation in areas such as connectivity, sustainable development, counter-terrorism, non-proliferation and maritime and cyber-security, with a view to promoting peace, stability and prosperity in an increasingly inter-connected Indo-Pacific region that the four countries share with each other and with other partners.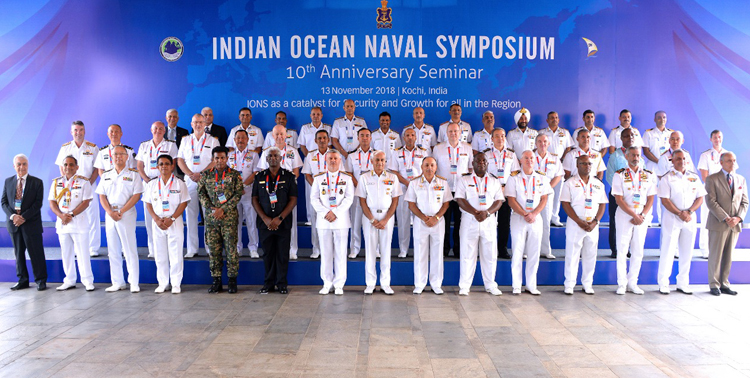 IONS is a regional forum of Indian Ocean littoral states, represented by their Navy chiefs
While the 'Quad' was revived in 2017 only, the Indian Ocean Naval Symposium (IONS) was established in February 2008 on the initiative of India. IONS is a regional forum of Indian Ocean littoral states, represented by their Navy chiefs; similar to the Western Pacific Naval Symposium, it is a voluntary initiative among the navies and maritime security agencies of the member nations. Besides the symposium, other activities like workshops, essay competitions and lectures are also held under IONS. IONS has 35 member nations: India, Bangladesh, Maldives, Pakistan, Seychelles, Sri Lanka - South Asian Littorals; Iran, Oman, Saudi Arabia, UAE, Bahrain, Iraq, Kuwait, Qatar, Yemen - West Asian Littorals; France, Kenya, Mauritius, Mozambique, South Africa, Tanzania, Djibouti, Egypt, Eritrea, Comoros, Madagascar, Somalia, Sudan from East African Littorals, and; Australia, Indonesia, Malaysia, Myanmar, Singapore, Thailand, Timor Leste from South East Asian and Australian Littorals. In addition, IONS has nine observer nations; China, Germany, Italy, Japan, Madagascar, Malaysia, Netherlands, Russia and Spain.
The IONS seeks to enhance maritime cooperation amongst the member states by providing an open and inclusive forum for discussion of regionally relevant maritime issues. The Chairmanship of IONS has been held by various countries like the UAE, South Africa, Australia, Bangladesh and Iran, in addition to India chairing it from 2008 to 2010. The 10th Anniversary of IONS was held at Kochi in November 2018 with Defence Minister Nirmala Sitharaman. Pakistan was not invited for obvious reasons; it actually needs to be booted out of IONS as a 'terrorist' nation. The IONS promotes shared understanding of maritime issues facing the region, formulating strategies and cooperative mechanisms to enhance regional maritime security and strengthen capabilities for speedy response to Humanitarian Assistance and Disaster Relief in the IOR. As part of the IONS, the Indian Navy is to soon put into operation the Information Fusion Centre for the Indian Ocean Region (IF-IOR) linking all member nations. IONS is a valuable platform to synergise member nations in maintaining rule-based regional maritime order for mutual benefit of all.