| | |
| --- | --- |
| | The Author is Former Director General of Information Systems and A Special Forces Veteran, Indian Army |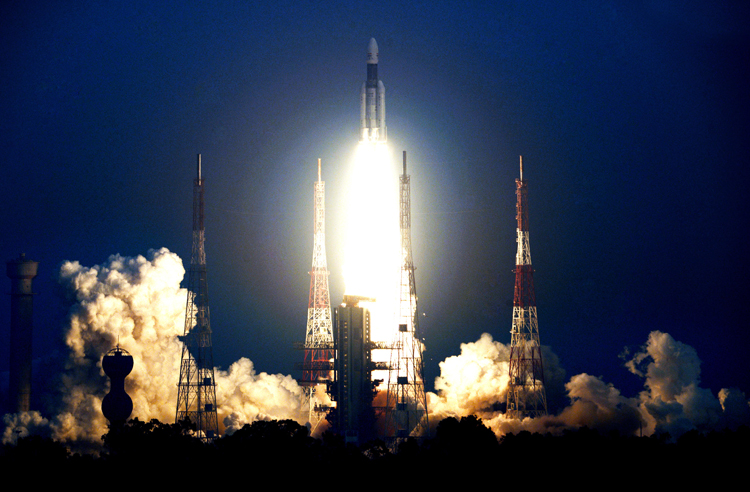 GSAT-29 - GSLV Mk III-D2
ISRO launched GSAT-29 into orbit on November 14, India's latest satellite from the Satish Dhawan Space Centre in Sriharikota. The GSLV MkIII lifted the rocket into space, the heaviest rocket developed by ISRO. To this end, it was a double feather in ISRO's cap ISRO. Prime Minister Narendra Modi tweeted, "My heartiest congratulations to our scientists on the successful launch of GSLV MK III-D2 carrying GSAT-29 satellites. The double success sets a new record of putting the heaviest satellite in orbit by an Indian launch vehicle". In this launch, upgrades to the Mk III rocket and additional components including Q and V band satellites, optical communication and high-resolution cameras were put to the test, which will benefit future ISRO missions.
The GSAT-29 mission was also an important second test in a series of developmental trials of the GSLV MkIII heavy rocket before it took three Indian astronauts to low-Earth orbit in 2022. GSAT-29 is to provide services to remote regions of India including in J&K and the Northeast under the Digital India programme. The 43.4-metre tall GSLV MkIII rocket weighs some 640 tons and is equipped to carry satellites as heavy as four tons into space. The successful launch of GSAT-29 adds to a series of test flights ISRO is carrying out to develop the agency's heaviest rocket for the manned space mission. ISRO had flown a similar rocket on 5 June 2017 when it launched GSAT-19, another communication satellite developed by the agency, in the rocket's historic first developmental launch.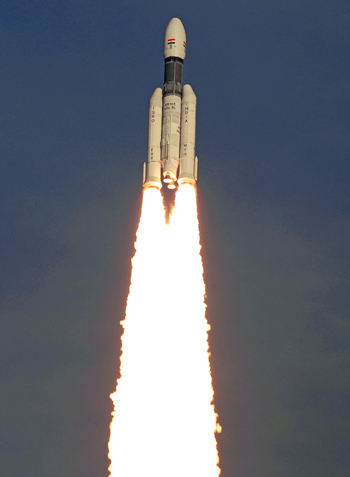 GSAT-29 is to provide services to remote regions of India
ISRO has a packed calendar of tests and launches. The next important mission is Chandrayaan-2, which is scheduled for launch on 3 January 2019. As part of Chandrayaan-2, ISRO will send an orbiter, a lander, and a rover to the moon's surface to investigate the geology and water content. Chairman ISRO, K. Sivan has announced India's unmanned mission to space in December 2020 followed by Gaganyaan's manned mission by 2021. In his Independence Day address on 15 August 2018, Prime Minister's Narendra Modi had announced that India will attempt to send astronauts to space on a spacecraft called the 'Gaganyaan' by 2022. This will make India the fourth country in the world to do so. Sivan also elaborated that ISRO will have two such unmanned missions with the GSLV MkIII rocket before it carries Indian astronauts to low-Earth orbit, adding "The third one will be a manned mission. First, we will follow all the parameters and if it does not work, we will fly the second unmanned mission. Once it gets confirmed, we will go for (a) human mission." The unmanned mission are to test capabilities to launch humans into space, sustain them for 5-7 days as they carry out experiments, and bring them back safely, the ISRO chief explained. ISRO has already indigenously developed the crew module to house astronauts, life support systems to keep them alive in space, and the spacecraft's environmental-control systems. Under an agreement signed between India and Russia in 2015, ISRO and Russian space agency ROSCOSMOS have agreed to work together in space research, including satellite navigation, launch vehicle development and critical technologies for human space flight programmes.
Russian cosmonaut Mikhail Kornienko, interacting with Indian students during the Festival of Science and Culture organised by Russia's state-run nuclear energy corporation Rosatom, offered to share his country's experience and best practices in the field of space exploration with Indian astronauts who are designated to go on India's Gaganyaan manned mission. Kornienko, along with US astronaut Scott Kelly, had spent 342 days in space on the International Space Station (ISS) in 2015. Future ISRO plans include a semi-cryogenic project; developing a super-heavy launcher that can carry payloads as heavy as 50 to 60 tons. Concurrently, ISRO is also working on a probe mission to the Sun termed 'Aditya'. Conceived as a 400kg satellite carrying one payload, the visible emission line coronagraph (VELC) and was planned to launch in a 800-km low earth orbit. The mission, originally named Aditya-1, has now been revised to Aditya-L1 mission, and will be inserted in a halo orbit around the L1, which is 1.5 million km from the Earth. The satellite carries additional six payloads with enhanced science scope and objectives. The main objective is to study the Coronal Mass Ejection (CME) and consequently the crucial physical parameters for space weather such as the coronal magnetic field structures, evolution of the coronal magnetic field etc. This will provide completely new information on the velocity fields and their variability in the inner corona having an important bearing on the unsolved problem of heating of the corona would be obtained. ISRO is doing a wonderful job, making India proud.
Concurrently, policy makers need to keep track of developments in our neighbourhood. China has reportedly developed a laser satellite that can observe the ocean depth up to 500 metres, which can track underwater submarines. ISRO must develop similar capability on priority.