| | |
| --- | --- |
| | The Author is Former Director General of Information Systems and A Special Forces Veteran, Indian Army |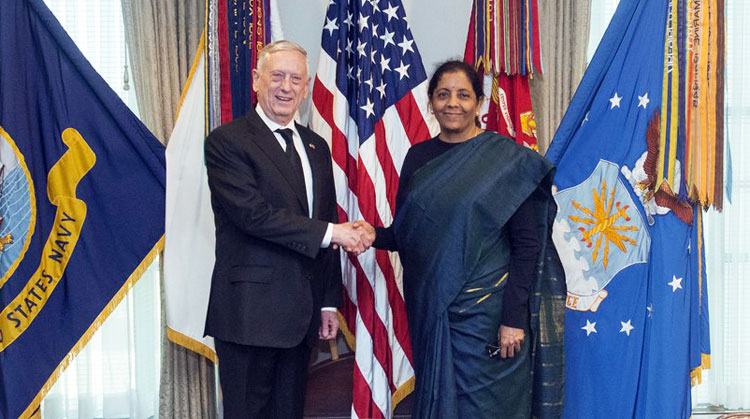 Defence Minister Nirmala Sitharaman in a bilateral meeting with US Secretary of Defence James. N. Mattis at the Pentagon, Washington DC
Defence Minister Nirmala Sitharaman made a maiden 5 day visit to the US that concluded on December 8, 2018. Her visit was concurrent to the ongoing 12 day Indo-US military exercise between the Indian Air Force (IAF) and the US Air Force (USAF) in Kalaikunda and Panagarh air bases in West Bengal that had commenced on December 3, 2018; 'Exercise Cope India-18' fourth edition in the series of bilateral drills between the air force of both countries. Interestingly, at the same time a joint International air drill between Pakistan and China dubbed 'Shaheen VII' was also taking place from an operational airbase in Pakistan.
US Defence Secretary Mattis welcomed Sitharaman to the Pentagon for the fourth set of talks the two have held this year. After Sitharaman laid a wreath at the at the Tomb of the Unknown Soldier in the Arlington National Cemetery, Mattis said Sitharaman's presence at the wreath-laying made clear that the US-India military relations were not "defined by brittle or empty words" but by the human aspect of partnership steeped in recognition of the two nations' respective sacrifices and the cause of peace, friendship and freedom. During, her visit, Sitharaman was given a rare look-in and briefing into the various aspects of US armed forces, defence industry and the ecosystem that the US has developed over the last few decades involving the military, strategic thinking community, research and industrial base. At the hub of innovation and starts ups in San Francisco, she was given an insight into the US defence research set up and what best defence practices can be adopted by India. From Washington, she traveled to California to visit the Defense Innovation Unit of the Department of Defense (DoD) and thereafter to Hawaii, headquarters of US Indo-Pacific Command (INDOPACOM), rechristened recently from US Pacific Command (PACOM).
During Sitharaman's visit, Mattis said, "The United States and India, in Prime Minister (Narendra) Modi's words, have overcome hesitations of history, carrying forward the legacy of friendship and making clear there is no contradiction between strategic autonomy and strategic partnership. We have made meaningful progress in advancing US-India defence cooperation, most notably with your nation hosting September's inaugural 2+2 ministerial dialogue in New Delhi.
Indian delegation in talks with US DoD delegates
I reiterate US appreciation for India's leadership as a stabilising force in pursuit of that vision, promoting peace and security across the region and the globe. Today, we build on that momentum as we work to implement our agreement from September, Communications Compatibility and Security Agreement (COMCASA)." Sitharaman said the mutual trust and confidence in defence partnership between the two countries was growing and appreciated the importance attached to the India-US defence relationship in the new US National Security Strategy, saying "A strong foundation has been laid for the India-US defence relationship over the years. India views the US as an important partner in defence", adding that the two countries have good military-to-military cooperation, defence consultations, scientific collaborations and co-production and co-development and industry collaboration. She said the high-level exchanges are an indication of the depth and the quality of bilateral ties as well as their mutual desire to work closely on a range of regional and global issues. She appreciated responsiveness of the Trump Administration to India's sensitivities, adding, "Especially over the past three to four years, we have made considerable progress. Our relations, based on common democratic values, enjoy strong political and popular support in both countries. There's a growing mutual trust and also the confidence in defence partnership, which augurs very well for the future." Officials say Sitharaman's visit was aimed at "accelerating the momentum" of India-US defence ties from enhancing India's naval capabilities in the Indian Ocean region to increasing the footprints of US companies in the 'Make in India' programme, and substantially increasing bilateral defence ties. It was expected that in her meeting with James Mattis, Defence Minister Sitharaman would seek waiver on CAATSA for the recent deals including two Grigorovich-class 'Project 1135.6' frigates for the Indian Navy and the S-400 Triumf air defence missile system from Russia. But Mattis pre-empted the issue while speaking to the media just before Sitharaman's visit saying, "India has spent many years in its non-aligned status. It has drawn a lot of weapons from Russia. We are here to talk about all issues that bring us closer. We will sort out all issues here today and in the days ahead." As per some reports, Mattis has been pushing for a waiver for India and some other countries, after US President Donald Trump had signed the CAATSA which said that any country trading with Russia's military sector would face sanctions. But the question is that the Indian request for waiver was made many months back, even before the maiden 2+2 Dialogue in September 2018 at New Delhi. Given the stated importance that US is giving India, it should not take that long to give an official waiver, though Mattis is confident it will be given. It is quite possible that the Trump Administration is holding back as a handle so that India gives preference to the US for defence importance and US companies in the 'Make in India' program. Both countries have already inked, what US terms as foundational agreement to facilitate closer defence cooperation, in the General Security of Military Information Agreement (GSOMIA) in 2002, Logistics Exchange Memorandum of Agreement (LEMOA) in 2016 and the Communications Compatibility and Security Agreement (COMCASA) in September 2018 during the 2+2 Dialogue.
Media reports prior to Sitharaman's visit had said that signing of the Basic Exchange and Cooperation Agreement (BECA) would be topping the agenda during the visit. However, this apparently did not come up during the discussions. The crux of the visit was in what Sitharaman described as part of her endeavour to "take forward bilateral defence cooperation".