| | |
| --- | --- |
| | The Author is Former Director General of Information Systems and A Special Forces Veteran, Indian Army |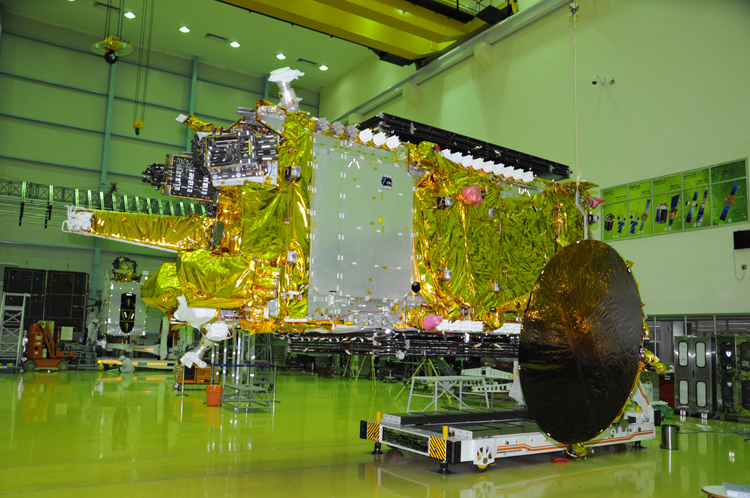 GSAT-11 in a clean room
India's heaviest communication satellite GSAT-11 was launched successfully on December 5, 2018 from the Spaceport in French Guiana along with South Korea's GEO-KOMPSAT-2A satellite, onboard Ariane VA 246 launch vehicle. As per original plan, GSAT-11 was to be launched in May 2018 but due to lost communication with GSAT-6A post its successful launch in March 2018 and some glitches detected in the electrical circuit, GSAT-11 was recalled to India for a check. GSAT-6A's replacement satellite will be GSAT-20 which when launched will enable the public to receive data at exceptionally high speeds. Weighing 5854-kg, GSAT-11 is ISRO's heaviest satellite launched to date.
Post-separation from Ariane VA 246 rocket after a flight of 29 minutes and 07 seconds, ISRO's Master Control Facility at Hassan in Karnataka took over the command and control of GSAT-11 and found its health parameters normal. ISRO scientists were thereafter scheduled to undertake phase-wise orbit-raising manoeuvres to place the satellite in the Geostationary Orbit (36,000 km above the equator) using its on-board propulsion systems; positioning it at 74-degree east longitude in the geostationary orbit. Subsequently, the two solar arrays and four antenna reflectors of GSAT-11 will be deployed in orbit. The satellite will be operational after the successful completion of all in-orbit tests.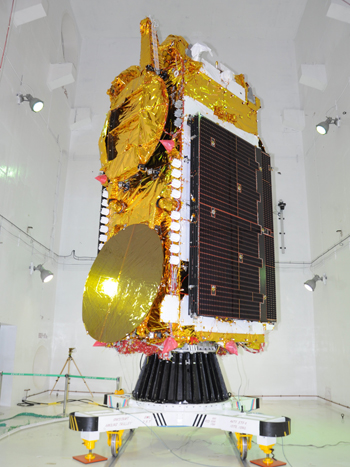 GSAT-11 Satellite
GSAT-11 will provide high data rate connectivity to users of Indian mainland and islands through 32 user beams in Ku-band and 8 hub beams in Ka-band. According to ISRO Chairman K. Sivan, "GSAT-11 will boost the broadband connectivity to rural and remote gram panchayats in the country coming under the Bharat Net Project, which is part of Digital India Program. GSAT-11 will act as a forerunner to all future high throughput communication satellites". GSAT-11 is an advanced communication satellite with multi-spot beam antenna coverage over Indian mainland as well as Islands. It brings an advantage to the user community, compared to the existing INSAT/GSAT satellite systems. With this new system architecture and the advanced technology elements employed for realisation will generate a capacity of 16 GBPS for users from a single platform. The Bharat Net Project aims to enhance the public welfare schemes like e-banking, e-health, e-governance among others.
The system configuration of GSAT-11 caters to: multi-beam coverage of the entire country; star network-based gateway connectivity; Adaptive Coding Modulation (ACM) as fade mitigation techniques, and modern on-board power management techniques. Salient features of GSAT-11 are: weight 5854 kg; orbital location - 74 deg East; spacecraft power - 13.6 kW; power source - two solar arrays and four antenna reflectors; solar panels – four metre long; payload - 32 beams in Ka Band and beams in Ku band; data rate - 16 Gigabits per second (GBPS); satellite bus - I-6K; mission Life - 15 years; control centre - ISRO Master Station, Hassan; frequency - up link 27 to 27.5 GHz; 29.5 to 30 GHz (LV & LH) and 12.75 to 13.25 GHz (LV & LH), down link 10.7 to 10.95 GHz; 11.2 to 11.45 GHz (LV & LH) and 18.1 to 18.6 GHz; 19.7 to 20.2 GHz (LV & LH); coverage - 16 Ku band beams covering Indian mainland and Island in both polarization, 2 Ka-band beams over New Delhi and Bengaluru. four terrestrial gateways or 'Hubs" located in Delhi, Ahmedabad, Bengaluru and Ranchi with all hubs inter-connected to each other via Optical Fibre Network (OFC) to ensure seamless connectivity. The GSAT series of satellites basically use 'C', extended 'C' and 'Ku' bands for uplink and downlink.
Advanced onboard technologies of GSAT-11 are used to include: ground system technology with user terminals employing adaptive coded modulation; site diversity for Ka-band hub stations, and Adaptive Coding Modulation as a fade mitigation technique. GSAT-11, in conjunction other ISRO satellites, will provide a big boost to networking India. This will include boosting access to voice and video streaming in most of rural India, bridging the communication gap between urban and rural populace and boosting connectivity to inaccessible Gram Panchayats, enhance public welfare schemes like E-banking, E-health, E-governance among others – all as part of Bharat Net Project. Under 'Digital India' it would enable execution of the concept of 'Smart Cities' and Smart Villages', also supporting India's growing mobile and internet users in household, businesses and public organisations. ISRO's sterling successes are also aided with the fact that it operates directly under the PMO, not under any ministry and therefore is not bogged down with red tape and lack of single point accountability.