| | |
| --- | --- |
| | The Author is Former Director General of Information Systems and A Special Forces Veteran, Indian Army |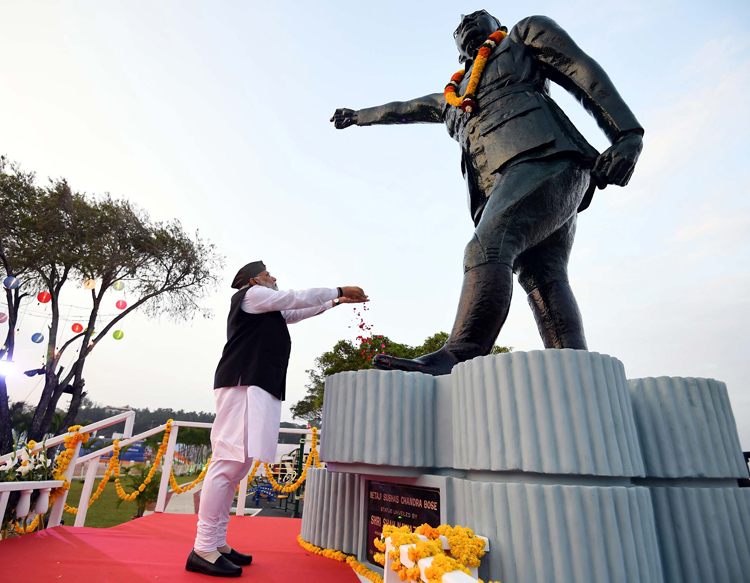 The Prime Minister, Narendra Modi paying floral tributes at the Statue of Netaji Subhas Chandra Bose, in Port Blair on December 30, 2018.
Prime Minister Narendra Modi unfurled the Tricolour in Andaman's Netaji Memorial in Port Blair on December 30, 2018 to commemorate the first flag hoisting by Netaji Subhas Chandra Bose on December 30, 1943. On October 21, 1943, Bose had announced the formation of the country's first independent government which was called the Azad Hind government. Chandra Kumar Bose (Netaji's grand-nephew) had earlier told media he has demanded central government to rename Andaman to "Shaheed Swaraj Dweep" saying "It's a justified demand because it was Netaji who hoisted the tricolor years before India achieved its Independence." Modi announced at a public function in Port Blair that the Ross Island, Neil Island and Havelock Island will now be called Netaji Subhas Chandra Bose Island, Shaheed Dweep and Swaraj Dweep respectively. Modi also visited the Cellular Jail. In Andaman and Nicobar, Modi inaugurated an industrial training institute at Arong and laid the foundation stone for some infrastructure projects.
On October 21, 2018, Modi had hoisted the national flag at Red Fort, New Delhi to commemorate the 75th anniversary of Azad Hind government formed by Netaji Subhas Chandra Bose. Speaking at the event, Modi said, "Today I can say this with certainty that if our nation was guided by the likes of Subhas Bose and Sardar Patel, if it was not looked at from a foreign perspective, then the situation of the country would be much different.... The country's overall development was an important aspect of Bose's vision and the NDA government is going in the direction as envisioned by Bose." In an earlier video address to his party workers Modi had announced his plans to attend the ceremony at Red Fort. Modi in his address said BJP respects everybody who served the country, irrespective of party affiliation, saying, "While the Congress neglected the likes of Bhim Rao Ambedkar, Bose and Sardar Vallabhbhai Patel, the BJP believed in remembering everybody who contributed to nation-building." He also laid the foundation stone of a museum dedicated to the Azad Hind Fauj.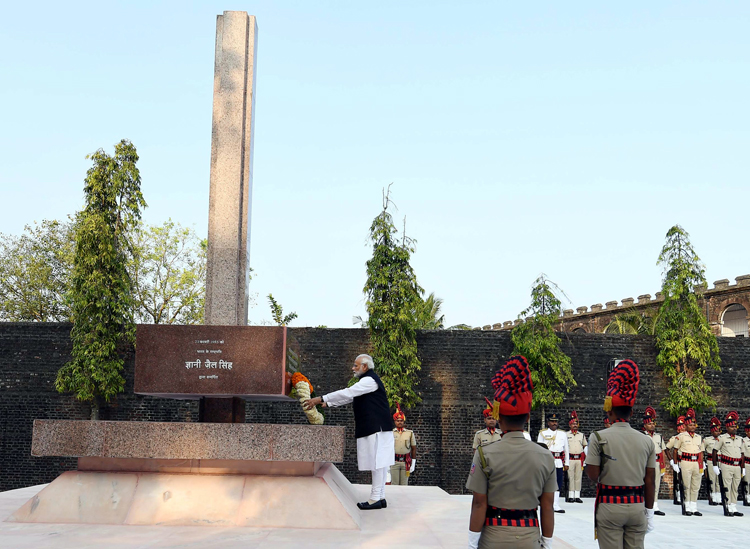 The Prime Minister, Narendra Modi laying wreath at the Martyrs Column, in Port Blair on December 30, 2018.
According to media commentators, this was seen as an attempt by the BJP to stake claim to the legacy of Netaji, after doing so for B.R. Ambedkar and Sardar Vallabhbhai Patel. Such comments are right to an extent because all political parties have eulogized such leaders mainly to increase vote-banks. B.R. Ambedkar is hailed by Congress and BJP, as also BSP on dalit platform, but none abide by Ambedkar's dictum that reservations should be restricted to 10 years after promulgation of the Constitution. They have actually increased reservations whenever considered politically expedient; lowering standards across the board because of abysmally low percentages for entry into reserved categories, instead of raising their standard of education. The present dispensation even favours quotas in promotions, which would degrade the system further and increase dissatisfaction. The 'Statue of Unity' of Sardar Vallabhbhai Patel is a marvelous achievement and fully deserved. But if Sardar Patel was not a Gujarati, would Modi have gone for his statue; possibly not. If that were not the case, a similar statue of Netaji Subhas Chandra Bose would have come up alongside the 'Statue of Unity', especially since Netaji Bose is being described as the reason (over M.K. Gandhi) British fled India. If that was not considered fit, Netaji's statue (similar to that of Patel) could have come up at Port Blair or at his birth place; Cuttack in Odisha? The question also remains, would the belated reverence of Netaji Bose come up now if it was not in run up to general elections? But what should be a shame for all Indians is a recent article by Hiroshi Hirabayashi, President of Japan India Association, Tokyo (JIA) and former Ambassador of Japan to India (1998-2000), asking why successive governments in India have failed to take back the ashes of the "hero" (Netaji Bose) back home (from Japan). Hirabayashi's question comes at a time when in the heat of elections, India's political parties are competing in accusing each other in the dirtiest possible manner for having let down the nation, including ignoring Netaji Bose.
The Prime Minister, Narendra Modi visiting the Cellular Jail, in Port Blair on December 30, 2018.
After Netaji died in an air-crash in Taiwan (which was then Japanese Territory) on August 18, 1945, his ashes are preserved in Renko-ji Temple since September 18, 1945. Renko-ji Temple is a small shrine established in 1594, is about an hour and a half drive from central Tokyo. In front of the main entrance, in a very serene setting, is the bust of Netaji. Many Indians visit Renko-ji Temple, as did this author while serving as the Indian Defence Attaché in Tokyo. It is well known that Nehru disliked Netaji Bose. Hence, it was easy to create controversies about the mystery of Netaji's death / being alive and the like, the most absurd theory being that Netaji died under torture by British under custody of Soviets in a Siberian prison. There is absolutely no reason for the Japanese to lie on the issue, who hold Netaji Subhas Chandra Bose in the highest esteem. Pandit Nehru visited Renko-ji Temple in 1957, President Rajendra Prasad in 1958, Prime Minister Indira Gandhi in 1969 and Prime Minister Atal Bihari Vajpayee in 2001. A plaque behind Netaji's bust replicates in Hindi and Japanese, what Vajpayee wrote on September 12, 2001 while visiting the Temple, which says, "Mujhe Renkoji dobara akar prasanata hui, jahan Bhartiya swatantarta sangram ke mahan senani Netaji Subhas Chandra Bose ki samritiyan surakshit hain". PM Modi has yet to find time to visit Renko-ji Temple though visiting Japan since 2014. Addressing the Ahmedabad Management Association (AMA) recently, Hiroshi Hirabayashi said, "Every year in August on the day of his (Netaji's) passing away in Taiwan (August), we hold a memorial praying for the peace of Netaji's soul. But, frankly speaking, since sometime, there is no representative from the Indian embassy. There are no major visitors from India (to the Temple). Why?". This should be another matter of shame for the Government of India. What a pity also that our ambassador in Tokyo cannot spare few hours on the fixed day once annually to join the memorial prayers in Renko-ji Temple and does not even bother to send a representative.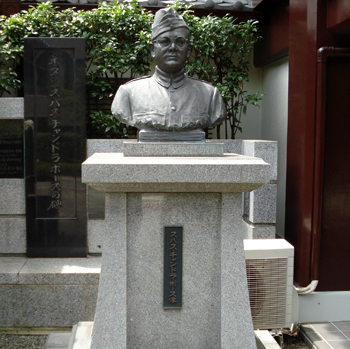 A memorial to Subhas Chandra Bose in the compound of the Renko-ji Temple
As for politicians in India, nationalism is obviously opportunistic, when it helps in garnering votes. Possibly disgusted with India's attitude, Hirabayashi said, "Successive governments of India are yet to decide when to recuperate the hero's ashes back here (in India). So we are keeping them and inspecting them. One day this has to stop for the sake of Indian people." Hirabayashi also said, "India may be super power in the next 20-25 years. India's path to becoming super power is not easy ..... In order to do so, India has to get rid of caste system. It is very deep rooted." He also listed corruption as a major impediment in India's Path. Current Japanese ambassador to India, Kenji Hiramatsu too had recently stated that India must provide high quality products that meet the expectations of Japanese consumers; polite Japanese way of saying Indian products lack quality.
These are important indicators for those who feel India will be a superpower tomorrow without corrective actions. As far as getting back Netaji's ashes from Japan, whether the political hierarchy finds it expedient before 2019 general elections or the next one after five years, or not at all, only time will tell.