| | |
| --- | --- |
| | The Author is Former Director General of Information Systems and A Special Forces Veteran, Indian Army |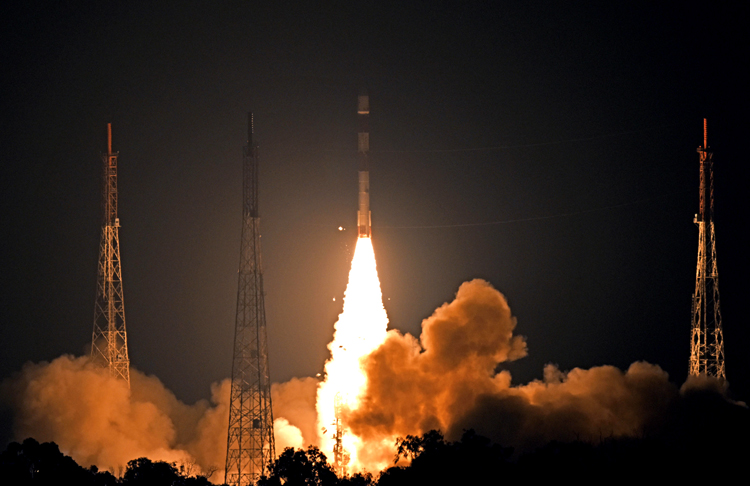 ISRO's PSLV-C44 rocket lifting off from the First Launch Pad, at Satish Dhawan Space Centre SHAR, at Sriharikota, in Andhra Pradesh on January 24, 2019
ISRO's PSLV-C44, carrying India's Military Satellite Microsat-R and Students' Payload Kalamsat, lifted off from the Satish Dhawan Space Centre in Sriharkota Range at 11.37 pm on January 24, 2019 after a 28-hour countdown. This was ISRO's first space mission in 2019. In the previous PSLV launch on November 29, 2018, PSLV-C43 had successfully launched India's HysIS as well as 30 customer satellites from abroad. Some 14 minutes after the 46th polar satellite vehicle (PSLV-C44) lift off on January 24, Microsat-R was successfully injected into intended orbit of 274 km; two solar arrays of the satellite were deployed automatically and ISRO Telemetry Tracking & Command Network (ISTRAC) at Bengaluru assumed control of the satellite. Subsequently, the fourth stage (PS4) of the vehicle was moved to a higher circular orbit of 453 km after two restarts of the stage, to establish an orbital platform for carrying out experiments.
Kalamsat-V2 (10-CM size cube and weighing 1.2 kg), a student payload, first to use PS4 as an orbital platform, was taken to its designated orbit about 1 hour and 40 minutes after lift-off. This flight marked the first mission of PSLV-DL, a new variant of PSLV with two strap-on motors. According to ISRO Chairman, K. Sivan, PSLV-C44 mission was unique as it was for the first time ISRO used the last stage of the rocket as a platform to perform experiments in space. He said, "I hope the student community will make use of this opportunity being provided by ISRO. This new low cost technology will help students to conduct several inspiring experiments in space by attaching their instruments to the last stage of the rocket."
Earlier on January 24, 2019, Sivan held the third edition of 'Samwad with Students' (SwS) in Sriharikota, interacting with over 300 students from schools in and around the region. SwS is the newly-launched outreach initiative of ISRO to instill scientific temper among youngsters. The first edition was held in Bengaluru on January 1, 2019 and the second one at Kochi on January 20, 2019. 2019 will be another challenging year for ISRO with 31 more missions planned during the year, in addition to the PSLV-C44 launched on January 24.
The Chandrayaan-2, India's second lunar mission to land on the moon with lander and rover will be an important one, which has been postponed twice. Slated in January this year, it was probably postponed because China landed a rover in the same unexplored region of the moon. ISRO will also concentrate on vigorously pursuing India's maiden human space mission in 2021-22, Gaganyaan, which Prime Minister Narendra Modi had announced on August 15, 2018. The pad abort test held on July 5, 2018 to test the escape system of the crew module has given ISRO confidence to pursue the human space mission. ISRO also aims to: re-instate its microwave remote sensing capability through the Radar Imaging Satellite (RISAT) series; attain geo-imaging capability through Geo Imaging Satellite (GISAT) series; meet high throughput bandwidth requirement of Digital India and in-flight connectivity with launch of GSAT-20; enhance remote sensing data for crop production estimation to cover 10 additional crops and provide inputs for water and energy security, and; improve the payload capability of Geosynchronous Satellite Launch Vehicle (GSLV) and its variants. Among ISRO's achievements during 2018 were launch of the heaviest satellite GSAT-29 (3,423 kg) on November 14 and building the heaviest communication satellite GSAT-11 (5,854 kg), launched on December 5 onboard the Arianespace space agency's rocket from French Guiana on the north Atlantic coast of South America.
ISRO has been working on national programmes for the socio-economic security and sustainable development, including that of national geo-spatial energy information system, enhanced earth observational capabilities, real-time disaster management like during floods in Kerala and north eastern states last year. ISRO has also tied up with the Ministry of Home Affairs (MHA) to provide technical support for establishing an integrated control room for emergency management. The agency has received approval for the Small Satellite Launch Vehicle (SSLV), along with a dedicated launch pad, and is working on reusable launch vehicle development, Sivan noted. With highest ever allocation of about 30,000 crore in a single year, Chairman Sivan is exuberant in saying, "The approval of 30 Polar Satellite Launch Vehicle (PSLV) and 10 GSLV Mk-III operational flights, along with development of semi-cryogenic stage, uprated cryogenic stage and all-electric spacecraft propulsion will accelerate ISRO towards new capabilities." ISRO is destined to make the nation proud.