| | |
| --- | --- |
| | The Author is Former Director General of Information Systems and A Special Forces Veteran, Indian Army |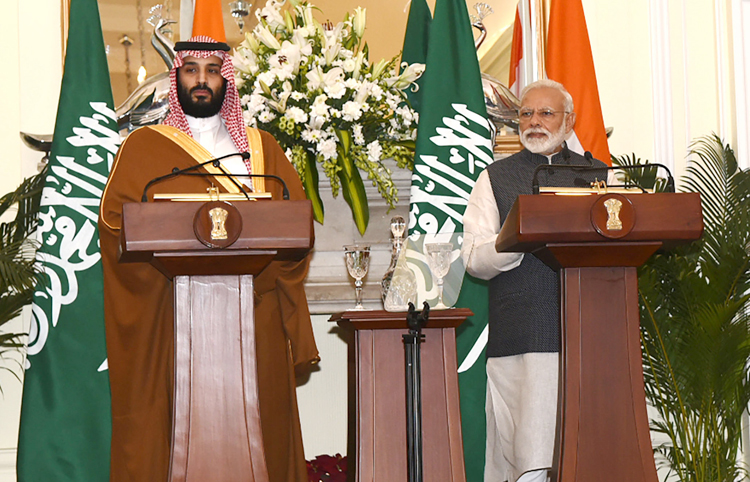 Prime Minister, Narendra Modi and the Crown Prince, Vice President of the Council of Ministers of Defence of the Kingdom of Saudi Arabia, Prince Mohammed Bin Salman Bin Abdulaziz Al-Saud at the Joint Press Statements, at Hyderabad House, in New Delhi on February 20, 2019.
Saudi Crown Prince Mohammed bin Salman (MBS in short) arrived New Delhi on a two-day state visit on February 19, 2019. He earlier visited Pakistan and was scheduled to come to India directly from Pakistan. But he returned to Saudi Arabia and then flew to India. During his visit to Pakistan, Saudi Arabia signed investments worth $20 billion in Pakistan including setting up a $10 billion oil refinery in Gwadar, with MBS announcing, "We are creating a great future for Saudi Arabia and Pakistan." MBS ordered the release of 2107 Pakistani prisoners in Saudi jails and said, "Consider me Pakistan's ambassador to Saudi Arabia." There was no mention of the Pakistan-engineered terror attack in Pulwama but Prime Minister Imran Khan reportedly briefed MBS on purported human rights violations in J&K by India. Arriving in Delhi on February 19, MBS was received by Prime Minister Narendra Modi at the airport with his characteristic bear hug.
India and Saudi Arabia inked five Memoranda of Understanding (MoUs) / Agreements after talks between the Saudi Crown Prince Mohammad bin Salman and Prime Minister Narendra Modi in the fields of infrastructure, housing and broadcasting, details of which are:
MoU on investing in the National Investment and Infrastructure Fund;
MoU on Cooperation in the field of Tourism;
MoU for Cooperation in the Field of Housing;
Framework Cooperation Programme on Enhancing Bilateral Investment Relations, and;
MoU for Cooperation on Broadcasting. In addition, Saudi Arabia also signed Framework Agreement on the International Solar Alliance (ISA).
During delegation level talks Saudis evinced interest in energy, agriculture and infrastructure. Saudi Arabia is investing $44 million in a refinery in Ratnagiri, Mharashtra and supplies 20 per cent of India's crude oil. In the joint address, Modi raised the issue of Pulwama terror attack, how there was a need to isolate those nations who perpetrate terror on their soil, and called for all possible impositions on nations promoting terror while highlighting the need to act on terror jointly. Modi said Saudi Arabia has made investments in the infrastructure sector and shown support for India's 'Make in India' and 'Start-up India' programme. The two nations also announced a strategic partnership in the energy sector. Crown Prince MBS said he stands with India on its stance on terrorism as extremism and terrorism are their common concerns. He said Saudi Arabia was ready to share intelligence to fight terror, saying, "Extremism and terrorism are our common concerns. We would like to tell our friend India that we'll cooperate on all fronts, be it intelligence sharing. We'll work with everyone to ensure a brighter future for our upcoming generations." MBS said that India is a more than $100-billion opportunity and he is looking for mutually-beneficial ties India.
Indian media has been gaga over MBS's stand alone visit to India with officials saying that "Saudi Arabia's stance on terrorism is changing" and that "it is Pakistan who should be afraid of Saudi Arabia". These are ravings of an ostrich; ignoring the obvious. Saudi Arabia doesn't want to 'contain' India but its support to terrorist groups will continue. But as Modi hugged MBS a second time after the joint press conference, he would have been aware that during MBS's recent visit to Pakistan, Saudi Arabia and Pakistan also jointly reiterated their commitment to continue combating extremism and terrorism, expressing deep appreciation for the achievements and sacrifices made by the two sides in the war against terrorism.
India needs to acknowledge that the Saudi-Arabia-Pakistan links are cemented on the foundation of Wahabism and the fight against Shias. Much before 9/11, Saudi ambassador to US had told head of Britain's MI-6, "Time is not far off in Middle East when it will be literally 'God help the Shia'. More than a billion Sunnis have simply had enough of them." Saudi support for anti-Shia militancy-terrorism is confirmed in America's official documents leaked by Wikileaks. In December 2009, then US Secretary of State Hillary Clinton said in a cable, "Saudi Arabia remains a critical financial support base for Al-Qaeda, Taliban, LeT, others". 15 out of 19 of the 9/11 hijackers were Saudis, as was Bin Laden and most of the private donors who funded the operation. There is also enough evidence that the US, Saudi Arabia and Qatar supported rise of the Islamic State. Last year, MBS had said Wahabism was spread in the world during the Col War on behalf of the West. But Saudi funds have continued to fund terrorist organisation around the world including to those attacking India. It is not material whether it is through unofficial sources.
Last year, the International Crisis Group (ICG) confirmed the Arakan Rohingya Salvation Army (ARSA) in Myanmar, is being supported by Saudi Arabia and Pakistan. LeT leaders have been visiting ARSA which is headed by Pakistani national Ataullah. India should also be concerned about ISI-LeT embedding into the Terai region of Nepal. India would be naïve to expect any support from Saudi Arabia against Pakistani terrorism – same as nothing should be expected from China. The significance of the near simultaneous car-bombings in Iran and India coinciding with visit of MBS to Pakistan should not be ignored. Pakistan is also understood to have a ready-made nuke package for Saudis should Iran turn nuclear. During MBS's visit to Pakistan, his accompanying minister of state for foreign affairs called Iran "world's chief sponsor of terrorism". Ironically, the US-Saudi Arabia-Pakistan axis against Iran, coupled with Saudi presence in Gwadar would provide a springboard for more terror attacks against Iran, which would also threaten India operating the Chabahar Port.