| | |
| --- | --- |
| | The Author is Former Director General of Information Systems and A Special Forces Veteran, Indian Army |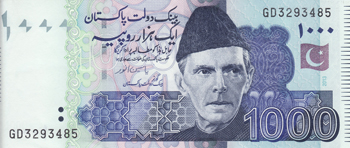 There is jubilation in a cross-section in India over Pakistan being in an economic mess. Even Prime Minister Modi said in a recent public rally that Pakistan is roaming around with its begging bowl but not getting help from the world, which drew applause from the crowd. No doubt cash-strapped Pakistan is seeking $8 billion from the International Monetary Fund (IMF) to bail itself out from a severe balance-of-payments crisis that threatens to cripple the country's economy. In October 2018, Pakistani media also stated that the IMF "could place strict conditionalities, forcing Pakistan to seek additional loans for meeting those restrictions and this could expand the loan facility to $12 billion." In December, 2018 news emerged that IMF would check Pakistan's debt sustainability before granting it a loan, mainly because of concerns that given Pakistan's growing Chinese debt, the same could happen to the Gwadar port and other major projects linked to the China-Pakistan Economic Corridor (CPEC). IMF Director Communications Gerry Rice told reporters in December 2018, "Clearly debt transparency is essential to conduct a proper analysis of the sustainability of a country's debt. That's what the IMF does when we are going into a programme with our member countries. So that will be the case in Pakistan."
On February 8, 2019, the foreign currency reserves held by the State Bank of Pakistan (SBP) were recorded at $8,205.9 million, up $13 million compared with $8,192.5 million in the previous week; an increase of 0.16%, for which the SBP gave no reasons. Earlier, Pakistan's foreign currency reserves had fallen below the $7 billion mark, raising concerns over Pakistan's ability to meet its financing requirements. However, in December 2018, news reports indicated UAE would deposit $3 billion in the SBP to shore up Pakistan's foreign exchange reserves. As of now, UAE has already provided Pakistan $1 billion as part of its $3 billion balance of payment support. Overall, the liquid foreign currency reserves held by Pakistan, including net reserves held by banks other than the SBP, stand at $14,895.8 million. Net reserves held by banks amount to $6,689.9 million.
In November 2018, China assured Pakistan of a financial package to boost its foreign currency reserves, hinting that it would be bigger than that pledged by Saudi Arabia. With the anticipated $2.5 billion in deposits agreed recently, China's contribution in the current fiscal year alone will surge to $4.5 billion. Now during the two-day visit of Saudi Arabia's Crown Prince Mohammed bin Salman to Pakistan in February 2019, Saudi Arabia has signed investments worth $20 billion in Pakistan, with Salman announcing, "We are creating a great future for Saudi Arabia and Pakistan." The $20 billion investments include setting up a $10 billion oil refinery in southwestern city of Gwadar. Despite all this, the issue we must acknowledge there is little chance of Pakistan collapsing economically because of the support from China, Saudi Arabia and the US. Pakistan, already a de-facto province of China, is strategically is too important for her.
The CPEC doesn't only provide investment opportunities for Chinese companies, employment for Chinese nationals, and assimilating Pakistan culturally and financially, but it is also China's strategic highway for China to the Arabian Sea and the Indian Ocean. It is for this reason that all bridges on the CPEC are Class 50 so that heavy weapon systems, mobile missile launcher, rail guns and tanks can roll down when required. The PLA Brigade in Skardu region provides a springboard for operations in the south and towards the west. Chinese marines are already stationed in Gwadar and access of Pakistani coastline to PLA Navy (PLAN) provides tremendous strategic advantage to China. Saudi Arabia-Pakistan relations have always been strong because of the Wahabi-Sunni bond, besides other reasons including Saudi Arabia-Iran (Sunni-Shia) animosity. Pakistan provided regulars in covert mode for Saudi ground operations against Yemen and Pakistan also has a nuke package ready for Saudi Arabia should Iran turn nuclear.
The US has been warning IMF that Pakistan is likely to use any loan given to her for repaying China. However, such pressure may ease with indications that US-China may arrive at a trade agreement, given President Trump's eccentricity. The US is looking for safe exit from Afghanistan for which Trump is seeking Pakistan's cooperation. There is also the purported US fear that economic collapse of Pakistan will end up with nuclear weapons in hands of the terrorists, without acknowledging part of Pakistani army are already jihadis who call themselves Allah's army before saying they are Pakistan army. Trump would also be happy with Saudi investment in Gwadar, which would have impact on Iran's Chahabar. Besides, Taliban in control of Afghanistan, together with radical Pakistan, suit Trump's plan to mount more pressure Iran. Incidentally, the Central Bank of Afghanistan recently inducted $150 million into the country's foreign exchange reserves to boost Afghanistan foreign exchange reserves estimated at $7.5 billion. Afghanistan is burning with Pakistan-supported terror attacks, compared to Pakistan suffering odd terror attack in Balochisan and FATA. On balance, the thought that Pakistan will collapse financially is a bogey.