| | |
| --- | --- |
| | The Author is Former Director General of Information Systems and A Special Forces Veteran, Indian Army |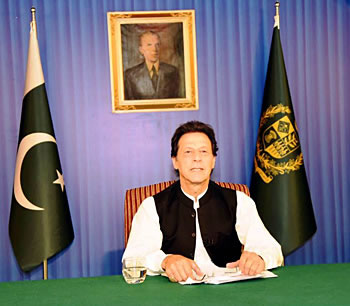 Pakistan's Prime Minister Imran Khan
The resolution submitted in Pakistan's Parliament on March 2, 2019 to grant the Nobel Peace Prize to Prime Minister Imran Khan for having taken the decision of releasing Wing Commander Abhinandan Varthaman of Indian Air Force (IAF) in a bid to de-escalate tensions between India and Pakistan, could go down in history as the biggest joke of the decade. Pakistan's National Assembly should have qualified it further by adding that if US President Donald Trump doesn't support the Nobel for Imran, Pakistan would heighten killing of American soldiers in Afghanistan through their proxies and see to it that logistics for them transiting Pakistan are hit harder. It is surprising, Imran hasn't already announced extension of tenure for Qamar Javed Bajwa, his army chief, due to retire in few months from now, especially since Bajwa has earned notoriety as the 'Butcher of Balochistan' and is currently focusing on killing women and children in Indian villages through heavy shelling. If releasing one pilot is the criteria for Nobel Peace Prize, how many Nobels should India have been awarded for releasing 93,000 Pakistani prisoners of war taken in erstwhile East Pakistan, many of whom were pilots of Pakistan Air Force. With Pakistan announcing it had shot down an Indian jet and had the pilot in their custody, India had warned Pakistan not to harm Wing Commander Abhinandan in any manner.
On February 28, during the joint session of Pakistan's National Assembly, Prime Minister Imran Khan interrupted opposition leader Shehbaz Sharif and announced, "In our desire for peace, I announce that tomorrow (Friday), and as a first step to open negotiations, Pakistan will be releasing the Indian Air Force's officer in our custody." Imran's surprise announcement came barely an hour after Shah Mehmood Qureshi had said that Imran was ready to talk to Prime Minister Narendra Modi to de-escalate India-Pak tensions. Qureshi's announcement had indicated that the release of Abhinandan was linked to resumption of India-Pakistan dialogue and Imran speaking to Modi, but India declined taking the call. Pakistan did release Wing Commander Abhinandan on March 1, but the fact remains that both Imran and Pakistani military's hands were tied. They just did not have another alternative, and this certainly was not only because of US talking to Pakistan. What gave the fait accompli to Pakistan was the fact that Pakistani villagers who caught up with Abhinandan after ejecting thrashed him, filmed the thrashing and in a bid to show their bravado, circulated the clip on social media in which Abhinandan was very clearly visible. According to veteran Air Commodore J.L. Bhargava of IAF, who crash-landed in Pakistan during the 1971 Indo-Pak War and remained in Pakistani custody for full one year, this is what possibly saved Abhinandan, adding, "Had the video not been circulated by the mob, it would have been extremely difficult to prove he was alive. Islamabad may even have denied his arrest, he could have ended up in a Pakistan jail for the rest of his life. Abhinandan's fate could have been similar to 54 soldiers who were labeled missing in action in the 1971 war." The radical credentials of Imran are well established, not because of the change in attire from his first wife the present third one, but because of his links with Taliban and his funding of the Haqqani seminary known as the 'Oxford of Global Jihad' is well documented, which has earned him the sobriquet of "Taliban Khan".
Imran's election campaign was openly supported by Fazlur Rehman Khalil, who was put on US-designated global terrorist list along with both his terrorist organisations Harkat-ul-Mujahideen and Ansar-ul-Ummah. Khalil is linked with Al Qaeda and his terrorists have been active in both Kashmir and Afghanistan. JeM's new 15-acre complex on outskirts Bahawalpur (Pakistan) to train thousands of young children for Jihad is supported by Imran and the Pakistani military. According to Husain Haqqani, former Pakistani diplomat, "The Imran Khan government is more beholden to Pakistan's military than any other civilian government in recent years. Khan is the product of the military's aversion to a genuinely popular civilian politician in power, backed by an electoral mandate, who might alter the country's overall direction". Imran also is the nephew of Lieutenant General A.A.K. Niazi who surrendered to India with 93,000 Pakistani prisoners when India liberated Pakistan in 1971. The move to open the Tarapore Corridor and organising the 'Sikh Referendum 2020' campaign at Kartarpur next year are part of ISI's Operation 'Express'. It is apparent that Imran is and will remain the puppet of the military. His call for dialogue with India echoes Qamar Javed Bajwa's proclamation a year back saying, "Ultimately they (India) will have to talk to us" – without adding that we will force this through terrorism. As for Pakistan's peace overtures to India, aside from heightening shelling of Indian villages, she is back to the old games, like: denying JeM involvement in the Pulwama car bombing; asking for dossiers from India – as was the case after terror attacks in Mumbai and at Pathankot air base – without taking any action; harping on need for dialogue while continuing to promote terrorism, and; planning multiple means to hit India including poisoning food of security forces, besides others. Most importantly, the farce of projecting Imran for Nobel Peace Prize having freed Wing Commander Abhinandan needs to be viewed against Pakistan not returning 54 Indian POWs captured in 1971? Imran (mirror image of Musharraf) and his military deserve brickbats in perpetuity, not peace prizes.