| | |
| --- | --- |
| | The Author is Former Deputy Chief of the Air Staff and Air Officer Commanding-in-Chief, Central Air Command, IAF |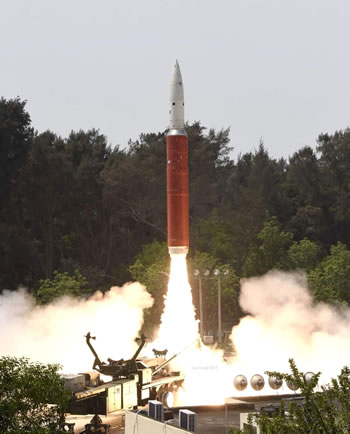 The validation of A-SAT capability by the successful test firing of the PDV Mk-II and destruction of the target satellite establishes India as a space weapons power
On March 27, 2019, India created history by successfully intercepting and interdicting a satellite in outer space with a completely indigenous Anti-Satellite (A-SAT) Missile. 'Mission Shakti' was a test conducted to launch an A-SAT Missile evolved from the Ballistic Missile Defence (BMD) programme at an Indian satellite in low earth orbit at 300 km altitude. This joint effort of DRDO and ISRO scientists requiring very high degree of precision and technical capability was fully successful and achieved all planned parameters. Prime Minister Narendra Modi congratulated and complimented all scientists and others associated with 'Mission Shakti' for the success, and said that it was a matter of great pride for all Indians.
India has undertaken 102 spacecraft missions for the launch of satellites for communication, earth observation and navigation, apart from satellites meant for scientific research, academic studies and exploration. India's space programme is important for India's security, economic and social infrastructure. DRDO has successfully developed and integrated complex technologies to build A-SAT Missiles to hit satellites that travel at extremely high speed and provide a very small window of opportunity to target. Despite capability to strike satellites up to 1,000 km above the Earth, the test was done in lower atmosphere at 300 km to prevent the problem of space debris. India's A-SAT capability is neither directed against any country nor a threat to any country but it is only to ensure India's interests in outer space. 'Mission Shakti' demonstrated India's capability to safeguard its growing space-based assets and deter adversaries from interfering with Indian space assets and proliferating A-SAT weapons.
Despite capability to strike satellites up to 1,000 km above the Earth, the test was done in lower atmosphere at 300 km to prevent the problem of space debris
With this test, India joins an exclusive group of countries consisting of the US, Russia and China which are capable of projecting military power in space. The US destroyed an orbiting satellite with 'Nike Zeus' missile armed with a nuclear warhead in May 1963. Thereafter, the US developed non-nuclear systems that destroyed 'Solwind P78-1' satellite at 555 km altitude in September 1985 and a non-functioning satellite at 247 km altitude. The USSR, in the early 1980s, was planning two MiG-31D 'Foxhounds' as launch platforms for A-SAT weapon. As per open source information, Russia has successfully tested its A-SAT weapon 'PL-19 Nudo' twice in 2018. China successfully tested its A-SAT weapon in January 2007 by hitting 'FY-1C' weather satellite at 865 km altitude, and in January 2010, it destroyed a medium-range ballistic missile using its A-SAT weapon, which is considered a continuation of A-SAT testing under the guise of BMD.
India is a signatory to the 'Outer Space Treaty 1967', the principal international treaty on space, which prohibits only weapons of mass destruction in outer space and not ordinary weapons. India has no intent to enter into arms race in outer space and has always maintained that space must be used only for peaceful purposes. India is against weaponization of outer space and supports international efforts to reinforce safety and security of space-based assets. At present, there is no legal binding instrument to prohibit placement of weapons in outer space or development and possession of A-SAT weapons, whether based in space or terrestrial. India is a party to all the major international treaties relating to Outer Space and is not in violation of any international law or treaty or obligation.
The Prime Minister summarised that the main objective of India's space programme was to ensure security, economic development and technological progress and that 'Mission Shakti' was crucial for achieving these three important objectives. Successful demonstration of India's A-SAT capabilities is culmination of years of hard work by DRDO and ISRO scientists that will provide India greater security and confidence to meet challenges to its increasing number of space-based assets in the future.