| | |
| --- | --- |
| | The Author is Former Director General of Information Systems and A Special Forces Veteran, Indian Army |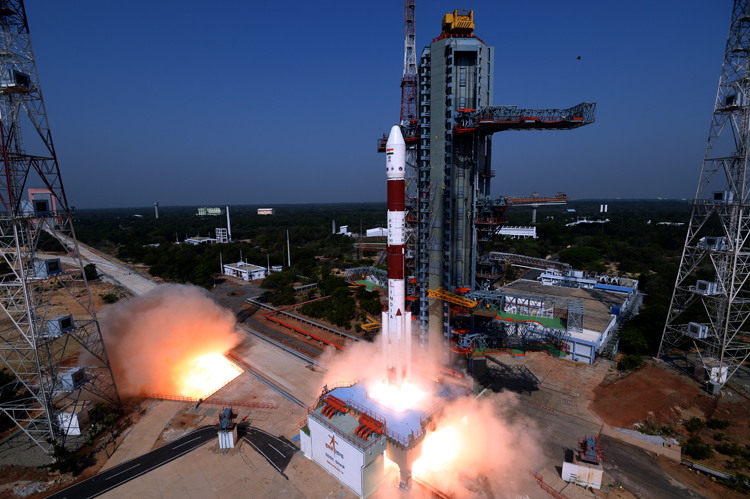 A file photo of the launch of PSLV-C45 on Monday, April 1 from the second launch pad at Satish Dhawan Space Centre in Sriharikota in coastal Andhra Pradesh
On April 1, 2019, ISRO successfully launched India's electronic intelligence satellite EMISAT in another hallmark achievement, the PSLV-C45 also carrying 28 international customer satellites from four countries -- Lithuania, Spain, Switzerland and the USA that were launched under commercial arrangements. These 28 other international satellites are 25 3U type, two 6U type and one 2U type nano satellites. Two are from Lithuania, one from Spain, one from Switzerland and 24 from the United States. Also according to ISRO the first stage, a new variant of the rocket PSLV-QL equipped with four Strap-On motors was used for the launch.
EMISAT was successfully injected into sun-synchronous polar orbit after its launch from Satish Dhawan Space Centre in Sriharikota at 9.30 am. These 28 satellites, with a combined weight of 220 kg, were released by lowering the fourth state to around 504 km orbit. This was the first time in ISRO's history that the fourth stage was ignited and further lowered to 485 km orbit to serve as an orbital platform for carrying out space borne experiments.
According to the ISRO chief, K. Sivan, 95 per cent of hardware for this mission was fabricated outside ISRO – by the private industry. The payload for EMISAT was fabricated in Bengaluru-based industry. At the press conference after the launch, Sivan said the satellite is now marching towards the 485 km orbit to do its function as an orbital platform for experiments, adding, "This time, the mission is very innovative as three experiments were attached to it – automatic identification system from ISRO for maritime satellite applications capturing messages transmitted from ships, automatic Packet Repeating System from AMSAT (Radio Amateur Satellite Corporation) and Advanced Retarding Potential for Ionospheric Studies (ARIS) from Indian Institute of Space Science, and Technology (IIST) for the structural studies of ionosphere."
Launch of EMISAT by India has been taken note of abroad. The 'Janes Defence Weekly' reported that EMISAT was placed into a 748 km sun-synchronous polar orbit about 17 minutes after lift-off. ISRO's Telemetry Tracking and Command Network in Bengaluru is expected to bring the satellite to its final operational configuration. EMISAT's payload was designed by the DRDO's Defence Electronics Research Laboratory (DRDL) in Hyderabad as part of Project Kautilya, while the ISRO built the satellite's body. The entire development project was completed in eight years and is modeled on Satellite with ARgos and ALtiKa (SARAL): a co-operative altimetry technology venture for oceanographic studies between the ISRO and France's National Centre for Space Studies (CNES).
EMISAT is a derivative of the ISRO's Indian Mini Satellite-2 (IMS-2) series of electronic intelligence satellites, which has a maximum launch weight of 450 kg and a payload of no more than 200 kg. Their architecture is similar to that of the ISRO's HySIS Earth-observation satellites that were launched in November 2018, which were designed to provide hyper-spectral imagery for various applications in agriculture, forestry, and in the assessment of coastal zones and inland waterways. EMISAT is likely to be placed in an elliptical orbit to optimize its "dwell time" for a particular area under observation. 'Particular areas' obviously will be kept under "dwell time" during critical times. Mission 'Shakti' marks several firsts as it would manoeuvre satellites in various orbits and orbital experiments including on maritime satellite applications. EMISAT will act as India's roving device for detecting and gathering electronic intelligence from enemy radars across the borders as it circles the globe roughly pole to pole every 90 minutes or so.
ISRO is gearing up to launch a slew of advanced military satellites this year that will enhance surveillance capabilities of security forces. This includes four new series Risat satellites and an advanced Cartosat-3 satellite. In mid-May, PSLV-C46 rocket will launch Risat-2B and thereafter in the fourth week of June, PSLV-C47 will launch Cartosat-3. Cartosat-3 is the advanced version with the capability to zoom up to a resolution of 0.2 metre (20 cm), enabling capture of clear images of very small objects like a gun or an enemy bunker. The Cartosat-2 series satellites had a resolution of only up to 0.5 metre. Risat-2BR1 will be launched in July, Risat-2BR2 in October and Risat-1A in November. Risat-2B series is a lighter version of the spy satellite with an X-band synthetic aperture radar that can penetrate clouds and zoom up to a resolution of 1 metre.
Later in November, ISRO will launch a new series of remote-sensing satellite Geo-Imaging Satellite-1 (Gisat-1) and Gisat-2. Gisat will carry a geo-imager with multi-spectral (visible, near infra-red and thermal), multi-resolution (50m to 1.5 km) imaging instruments that will enhance land mapping capabilities. Gisat has both military and civilian use. With Gisat, military can scan or map an area every other day. The satellite will provide near real-time pictures of large areas of the country under cloud-free conditions.