| | |
| --- | --- |
| | The Author is Former Director General of Information Systems and A Special Forces Veteran, Indian Army |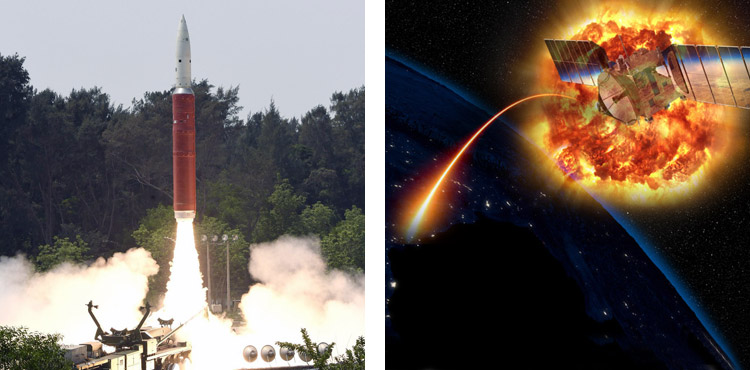 India's 3-stage Ballistic Missile Interceptor was tweaked to demonstrate India's Anti-Satellite capability by destroying a live satellite 300 km into the Lower Earth Orbit with a kill vehicle released from the Interceptor 3 minutes after its launch from the APJ Abdul Kalam Island off the coast of Odisha on March 27
March 27, 2019, was a historic day for India when it successfully shot down a satellite, enabling the country to join an elite club of countries with anti-satellite (ASAT) capabilities; the U.S., Russia and China. Prime Minister Narendra Modi in a live broadcast to the nation said that India had shot down a low-earth orbit satellite in space, propelling itself into an elite club of nations, which have mastered ASAT missile technology. He added that the intent of DRDO's 'Mission Shakti' is to defend India's space assets, not to start an arms race in space. The test was carried out off the coast of Odisha and on a low orbit satellite 300 km above surface level.
The fact that this anti-satellite technology is indigenously developed makes the feat all the more significant and valuable, considering that for many decades India was kept away from acquiring key technologies, forcing the country to develop its own space and nuclear capabilities. Having developed its own indigenous vehicles for launching commercial satellites, India has been in the forefront of launching satellites of other countries, attaining hallmarks in launching multiple satellites through single launch, and that too at comparatively low costs compared to foreign competitors. According to a government official, "This technological achievement (Mission Shakti) will have many spin-offs that we can exploit for civilian commercial use." Obviously the civil commercial use implies both for domestic and foreign applications. But most important is its military use in being a strategic deterrence, China having successfully demonstrated the capability in 2007.
Those denouncing the ASAT capability because of so many satellites in space, not knowing which one to shoot down, and arguing that such contingency may never occur, are myopic. ASAT capability is a strategic deterrence in its own field, as are nuclear weapons in theirs. Mission 'Shakti' is definitely 'Advantage India'. But there are more beneficiaries as well. One of the major beneficiary is the DRDO whose performance has been questioned time and again because of its output being far below its mammoth organisation and funding. But then missiles are one niche where DRDO has done well, the foundation of which was laid by Later President A.P.J. Abdul Kalam when in DRDO.
The remark by NASA administrator Jim Bridenstine that India's move to shoot down one of its own satellites was a "terrible thing" as it created about 400 pieces of orbital debris. Wonder if the dude wanted to shoot down a foreign satellite – US, China, which country. The CIA of course is mum because of the currently expanding Indo-US strategic partnership. In a significant development, China has established a secret complex of chemical lasers, microwave generators and other radio frequency weapons some 145 south of Urumqi, the capital of Xinjiang province to neutralize space vehicles of potential adversaries, from where the PLA would be able to simultaneously fire one to three laser guns simultaneously. According to the US Department of Defence (DoD), China will be able to deploy land-based laser guns by early 2020, and by end 2020s will be able to destroy all types of satellites in earth orbit. The space war has been heating up for some time, what with the US firing a space-based kinetic weapon, 'Rod of God', at China's Tianjin port on August 12, 2015, that killed 114 people and instantly destroyed six city blocks on the edge of the city of Tianjin. This was a weapon that can be dropped from high orbit to strike almost any land-based target. So while ASAT capability to shoot down enemy satellites is good, it is defence against space weapons and employment of land-based laser guns and microwave weapons that must find indigenous solutions in double quick time.