| | |
| --- | --- |
| | The Author is Former Director General of Information Systems and A Special Forces Veteran, Indian Army |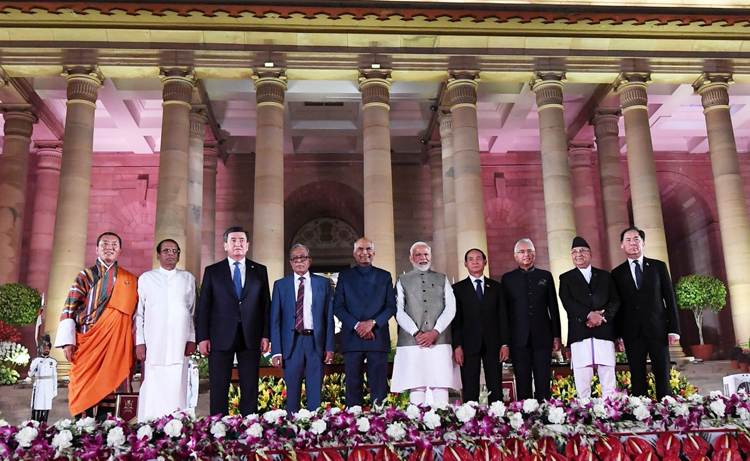 The President, Ram Nath Kovind and the Prime Minister, Narendra Modi with the leaders of BIMSTEC member nations, at a Swearing-in Ceremony, at Rashtrapati Bhavan, in New Delhi on May 30, 2019.
In a deft move of immense significance, Prime Minister Narendra Modi invited heads of the Bengal Initiative for Multi-Sectoral Technical and Economic Cooperation (BIMSTEC) nations to the swearing-in ceremony of his new government on May 30, 2019. BIMSTEC being the grouping of seven nations of South Asia and South East Asia comprising Bangladesh, India, Myanmar, Sri Lanka, Thailand, Bhutan and Nepal, it automatically negated the need to extend an invitation to Pakistan, which is only taking perfunctory steps for clamping down on terrorism. During the swearing in ceremony of NDA-II on May 26, 2014, Prime Minister Modi had invited heads of the SAARC countries, where Pakistan was represented by Nawaz Sharif, then Prime Minister of Pakistan. However, Pakistan has proved to be the rogue in achieving the aims of SAARC including improving connectivity, and has continued to export terror.
India is the largest economy in the BIMSTEC region. Within BIMSTEC, India is the lead country for cooperation in four priority areas: counter-terrorism and transnational crime, transport and communication, tourism and environment, and disaster management. Representation from BIMSTEC nations at the swearing-in ceremony on May 30 this year included: President Abdul Hamid of Bangladesh; President U Win Myint of Myanmar; President Maithripala Sirisena of Sri Lanka; Special Envoy Grisada Boonrach of Thailand; Prime Minister Lotay Tshering of Bhutan and; Prime Minister K.P. Sharma Oli of Nepal. Apart from BIMSTEC, Prime Minister Pravind Kumar Jugnauth of Mauritius and President Sooronbay Jeenbekov of Kyrgyzstan who is also current head of Shanghai Cooperation Organization (SCO) also attended the swearing in ceremony.
BIMSTEC is an important grouping that prominently is also in synch with Prime Minister Modi's Act East Policy (AEP), which he had announced in 2015. In a manner speaking, the invite to heads of BIMSTEC nations should have been expected because BJP's 2019 poll manifesto had significantly included, "To extensively leverage forums such as BIMSTEC, to accelerate regional coordination and economic co-operation with countries in our neighbourhood... We will actively pursue co-operation against global evils, such as terrorism ... To forward our 'Neighbourhood First' policy, we will extensively leverage forums such as BIMSTEC, to accelerate regional coordination and economic co-operation with countries in our neighbourhood." It may be recalled that after India hosted a mini-summit during the BRICS meeting in Goa in 2016, support for BIMSTEC gained further momentum.
The last BIMSTEC summit was hosted in Kathmandu on August 30-31, 2018. The recent swearing in ceremony in New Delhi also gave the chance for Modi to hold bilateral discussions with the invited heads of state, as required. India's lead role in counter-terrorism and transnational crime, transport and communication, tourism and environment, and disaster management are of great significance. With dissipation of the Islamic State in Iraq-Syria, the threat of terrorism to South and South Asia has increased. The Easter Sunday bombings in Sri Lanka, recent blasts in Bangladesh, announcement of an IS province in J&K, intelligence reports of IS cadres from Sri Lanka moving to South India and IS cadres establishing in north Bangladesh for undertaking attacks in India, all call for closer cooperation within BIMSTEC countries. It is in this backdrop that Prime Minister Narendra Modi is expected to make a brief stopover at Colombo on June 8 on his way back from his first overseas visit to Maldives on June 7 after being sworn in as Prime Minister a second time, for expressing India's support in Sri Lanka's war against terror, besides discussing other issues. Cross-border insurgent attacks astride the Indo-Myanmar border is being addressed but needs to be further intensified, as the situation is yet to stabilise despite cooperation between the armies of India and Myanmar. India's Act East Policy also includes connectivity of India's northeast with South East Asia through Myanmar, which requires acceleration. Nepal appears to be gearing towards another round of trouble by the Maoists. It has inexorably drawn more into China's orbit having accepted to be part of China's Belt and Road Initiative (BRI). At the same time, there are reports of the US nudging Nepal to join its Indo-Pacific Strategy.
India had conveyed last year itself that it is amenable to Nepal being connected with Indian rail lines all the way to Kolkata. However, India will remain concerned with the entrenchment of Pakistan's ISI and the Lashkar-e-Taiba (LeT) in the Terrai Region of Nepal bordering the Siliguri Corridor, as also Chinese projects in this region including oil drilling, considering that Chinese projects worldwide have covert presence of PLA to further Chinese national interest which may not be in synch with national interests of the host and / or neighbouring country. BIMSTEC nations should also be conscious of the creeping influence of China in the region, including through its debt-trap policy and strategy of 'deep coalitions'. This includes the port developments in Myanmar, Bangladesh and Sri Lanka, aside from Pakistan, which will facilitate movement and docking of Chinese vessels and submarines, both conventional and nuclear. In addition is the Kra Canal project in Thailand, that China wants reviewed and activated for quicker access by Chinese vessels to the Indian Ocean and avoiding the bottleneck in the Straits of Malacca. By all indications the tensions in Western Pacific will get duplicated in the Indian Ocean Region (IOR) in coming years, within the overall ambit of the Indo-Pacific construct. Sri Lanka assumed chairmanship of BIMSTEC on August 31, 2018. During the BIMSTEC meeting in Sri Lanka during 2019, areas of trade, customs facilitation, grid connectivity, and counter-terrorism are likely to figure prominently. The fast changing dynamics of the region certainly calls for greater cooperation amongst BIMSTEC nations.