| | |
| --- | --- |
| | The Author is Former Director General of Information Systems and A Special Forces Veteran, Indian Army |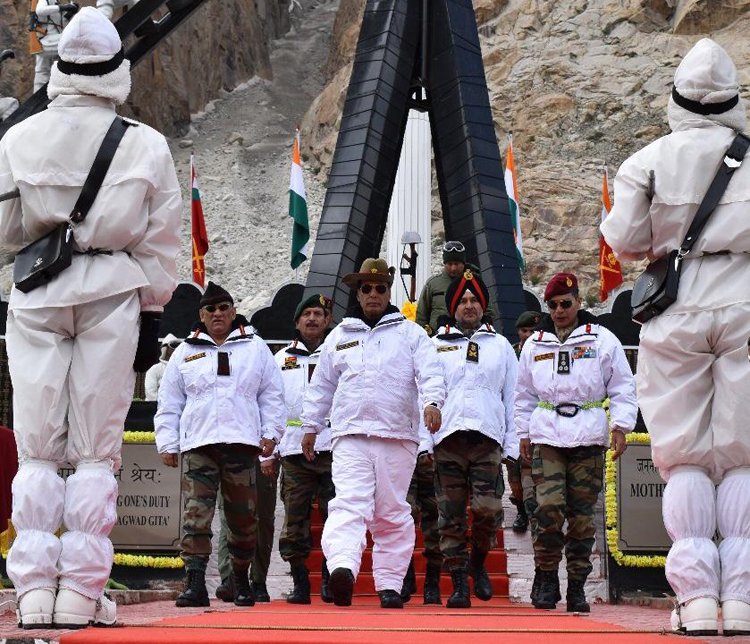 The Union Minister for Defence, Shri Rajnath Singh visiting the world's highest battlefield, Siachen, in Jammu and Kashmir on June 3, 2019. The Chief of Army Staff, General Bipin Rawat is also seen.
Concurrent to Prime Minister Narendra Modi-led NDA government assuming charge, the Niti Ayog has announced on May 29, 2019, that government will consider a slew of proposals over the next 100 days to complete unfinished goals of fine-tuning reforms like the bankruptcy code, spurring private investments, reversing slowdown in consumption, creating jobs and fixing farm policies.
Exactly 5-years back on May 29, 2014, Modi had spelt out 10 priority areas for the government, asking his ministers to set their own 100-day targets, Modi's priorities being:
removing hurdles to economic growth;
reforms for investment;
time-bound implementation of policy;
more freedom for bureaucracy, encouragement for innovation;
providing people-oriented government and governance;
system to resolve inter-ministerial issues;
stability and sustainability of government policy;
encourage transparency;
prioritising water, road, education, health and infrastructure, and;
reforms in infrastructure.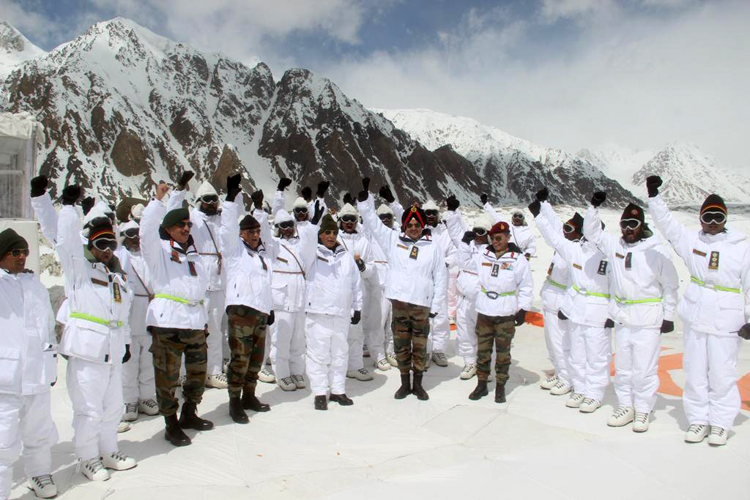 The Union Minister for Defence, Shri Rajnath Singh visiting the world's highest battlefield, Siachen, in Jammu and Kashmir on June 3, 2019. The Chief of Army Staff, General Bipin Rawat is also seen.
The priority of "more freedom for bureaucracy" compounded existing free-run of Ministry of Defence (MoD) sans military professionals, increasing hurdles for Armed Forces. "Time-bound implementation of policy" mattered little in absence of a national security strategy. The MoD announced no 100-day targets since it would have meant accountability. The government-appointed Shekatkar Committee had recommended a "packaged defence reforms" for saving 25,000 crore, but MoD accepted only those that would give more control (and money) to bureaucrats. As for the new NDA government, some ministries and organisations have commenced announcing 100-day targets. Of these, two announcements impact the Armed Forces and national security. First, Vice Chairman of Niti Aayog has announced that India may privatise or shut down 46 Public Sector undertakings (PSUs) in coming months. The catchword here is "may" and "coming months" but what are plans for the nine DPSUs that guzzle enormous funds, have sub-minimal output, sell products to Armed Forces at inflated prices and even produce sub-standard products, as pointed out by the Comptroller and Auditor General (CAG) periodically. Notably Arun Jaitley, Defence Minister in the earlier NDA government, had resolved to part-privatisation of DPSUs and even issued instructions, but eventually withdrew in face of threats-strikes-demonstrations by labour unions. Second, the Telecom Minister has announced auction of 5G spectrum within this year along with trials within 100 days. These aspirations are in keeping with times. South Korea ranks number one with fastest internet (65 per cent faster than the US) and Japanese are already looking into 7G. But India should be seriously concerned if Chinese companies like Huawei Technologies, China Mobile, China Unicom, China Telecom and state-owned broadcaster China Broadcasting Network Corporation Ltd are permitted to participate in setting up our 5G network, since it will have serious consequences for security.
India has rightly not joined the CPEC because it blatantly violated Indian Territory. As it is, India has meekly submitted to China's "Digital BRI" with billions of Chinese products with backdoors flooding India. India's telecom corporate sector is held hostage with the lure of profit and Chinese money. Giving China control of the 5G network in order to improve our information technology sector that we are hoping will drive the economy, will be a strategic blunder. Indigenous development is the key, or tie up with countries like Japan, South Korea and US. As for MoD, no 100-day targets have been announced yet, and may not, as in 2014.
The Union Minister for Defence, Shri Rajnath Singh visiting the world's highest battlefield, Siachen, in Jammu and Kashmir on June 3, 2019. The Chief of Army Staff, General Bipin Rawat is also seen.
On assuming charge as Defence Minister, Rajnath Singh has directed all four departments of MoD (department of defence, department of defence production, department of ex-servicemen, and department of defence research and development) to prepare detailed presentations for respective divisions and set time bound targets to achieve the desired outcome. Rajnath has mentioned that cutting the flab of Armed Forces will be a priority for him but would he consider the 6.5 lakh civilian-defence employees part of the flab? 6.5 lakh civilian-defence employees against 14.5 lakh Armed Forces are a ridiculous ratio, and on an average a civilian-defence employee costs five times more than his/her uniformed counterpart. Rajnath's first visit outside New Delhi was to J&K commencing with Siachen where he interacted with troops. Lauding the valour, sacrifice and patriotic fervour of every soldier serving in these challenging situations for national integrity, he said the country was proud of its soldiers. He stated that he will meet the requirement of soldiers and announced he would be writing to parents of soldiers joining the Armed Forces. These are laudatory words but eventually how Rajnath translates his plans to improve combat capacity of Armed Forces and towards welfare of soldiers and their families will matter. His predecessor, Nirmala Sitharaman on becoming Defence Minister had announced her two priorities were 'Make in India' and welfare of soldiers and families, but ended up working against the interest of Armed Forces.
Before and after general elections 2019 many scholars have written what are the tasks cut out for the new Defence Minister. An article titled 'Agenda for the Next Defence Minister' was penned in these very columns just before general elections. So, the tasks for Rajnath Singh are crystal clear. A former IAF Chief has recently written an open letter to the Defence Minister to address vital issue that need crying attention - among them the need to restructure the MoD. The question is whether these articles and letters are allowed to reach Rajnath Singh in the first place. Another more important issue is whether Rajnath Singh, despite his loads of experience and political clout, will be allowed full freedom of action, considering defence remained low priority for the previous NDA government and whether for expenditure over 100 crore, Rajnath will need to seek approval of Nirmala Sitharaman.
Three things will signal the future shape of defence under Rajnath: first, his will to fight the mafia that doesn't want a militarily strong India; second, defence allocation in the budget by the new NDA government on July 6, and; third, issue of orders to reorganize MoD by merging HQ IDS with it. India urgently needs a national security strategy, strategic defence review and chief of defence staff. Whether the government has the stomach for it and will Rajnath get adequate political support to affect changes, will unfold in coming months. Hasty publication of composition of Cabinet Committees by the government reduced Rajnath's participation in just two, eliminating him even from the Cabinet Committee on Political Affairs. It was rectified later, to include Rajnath in another four, according to one report after Rajnath threatened to resign. This is ominous since the initial list could not have been released in public without approval of at least the Home Minister, if not Prime Minister.