| | |
| --- | --- |
| | The Author is Former Director General of Information Systems and A Special Forces Veteran, Indian Army |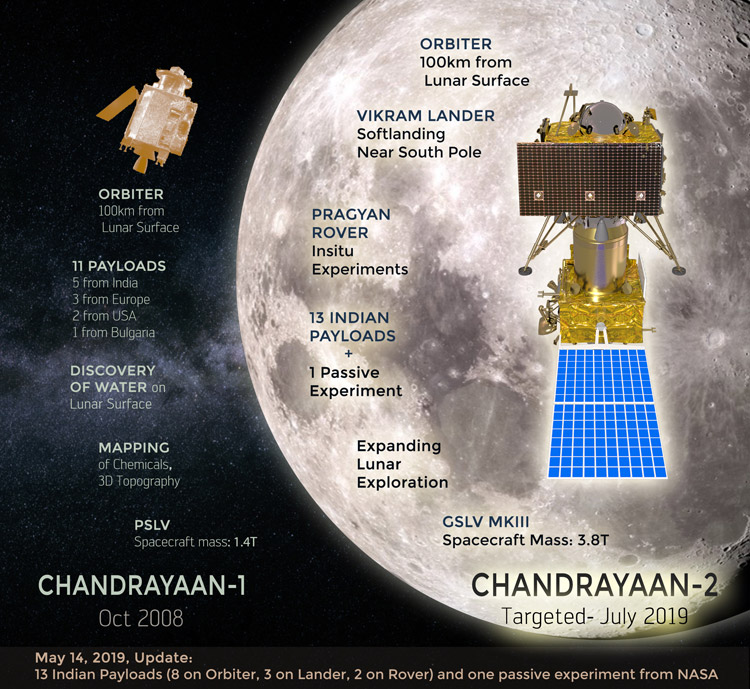 Chandrayaan-2 is slated to fly off to the moon on July 15. Chandrayaan-1 launched on October 22, 2008, not only made India become the fourth nation to join this elite lunar exploratory club after the US, Russia and China, India also discovered the presence of water on the moon for the first time, which was acknowledged by NASA. Chandrayaan-2 was to take off some four years earlier, but Russia could not provide the lander it had promised. India therefore had to develop its own lander.
ISRO had first planned to launch Chandrayaan-2 mission in October 2018, attempting what no country had done before in carrying a lander and a rover to the moon, with the rover spending 14 days on the surface of the Moon's 'South Pole'. Another launch planned in January 2019 was postponed perhaps because of a moon landing by China which was announced after the landing had been completed. Israel too had planned to land a spacecraft on the moon in February 2019, however, the mission was not successful. Multiple challenges of a moon landing include: trajectory accuracy, since distance to moon is 3,84,400 km and trajectory accuracy is influenced by moon's gravity, other astronomical bodies and solar radiation; deep-space communications due to distance and limited on-board power; predicting interjection of spacecraft and moon's path are very difficult with engine burns and moving positions of the moon; precise knowledge of 100 km away from moon is critical to success; soft landing on moon must take into account local gravity and landing site landscape features, and; lunar dust firing on-board engines close to surface results in backward flow of hot gasses and dust.
After Chandrayaan-2 reaches its lunar orbit, the lander will get detached from the orbiter and make a soft landing just after lunar sunrise on an ancient, table-flat plain some 600 km from the South Pole between two craters, Manzinus C and Simpelius N, at a latitude of about 70° south. The six-wheeled rover fixed in lander will then get released on the moon's surface. The rover has been designed in a manner that it will have power to spend a lunar day or 14 Earth days on the moon's surface, walking some 150-200 km, while undertaking several experiments and on-site chemical analysis of the surface. The rover is capable of sending data and images of the lunar surface back to the Earth through the orbiter within 15 minutes. After spending 14 earth days, the rover will go in a sleep mode but it is hoped it will come alive again when part of the moon where the rover lands gets sunlit and the rover's solar cells get recharged.
In addition to the rover, the orbiter will also capture images of the moon while orbiting it. Instruments aboard the lander and rover will collect data on the moon's thin envelope of plasma, as well as isotopes such as helium-3, a potential fuel for future fusion energy reactors. The orbiter itself will follow up on the discovery of water on the moon's surface by Chandrayaan-1. Chandrayaan-2 will undertake multiple tasks including 3D mapping, finding water molecules, checking out from minerals and the like, aside from landing where no one has landed earlier.
The rover weighing 25 kg will also carry two spectrometers for probing the lunar surface's elemental composition. The surface is thought to be made up of rocks more than four billion years old that solidified from the magma ocean that covered the newly formed moon. The data would be compared with those from Apollo-era missions that landed in other ancient highlands closer to the equator. ISRO's Chandrayaan-1 was launched by PSLV rocket but GSLV Mk II will launch the heavier 3,290 kg Chandryaan-2. Latter is a challenging mission since it would be carrying an orbiter, a rover and a lander to the moon for the first time. Once the GSLV rocket carrying the spacecraft is launched, the orbiter will reach the moon's orbit in one to two months, the moon's orbit being 3,82,000 km from the earth's surface. ISRO has earned glory with the Mangalyaan mission, is set for a manned mission to space through the 'Gaganyaan' project, and has announced plans for a space station.
On June 27, 2019, ISRO announced formation of a public sector undertaking, named 'New Space India Limited' (NSIL) for commercially exploiting the research and development work of ISRO, plus co-produce Polar Satellite Launch Vehicle (PSLV) and launch satellites through Small Satellite Launch Vehicles (SSLVs). Functions of NSIL will include: small satellite technology transfer to industry; manufacture of SSLVs, which ISRO is developing in collaboration with the private sector, and; production of PSLV through Indian industry. NSIL will also look after the production and marketing of space-based products and services, including launch and application, developed by ISRO centres and the constituent units of the Department of Space (DoS) and marketing spin-off technologies and products and services both in India and abroad. NSIL would enable Indian Industries to scale up high-technology manufacturing and production base for meeting the growing needs of Indian space program and would further spur the growth of Indian industries in the space sector.