| | |
| --- | --- |
| | The Author is Former Director General of Information Systems and A Special Forces Veteran, Indian Army |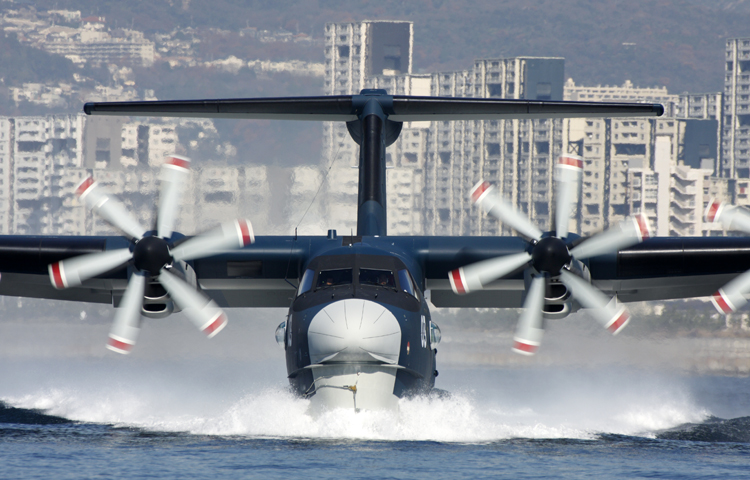 ShinMaywa US-2
With Japanese Prime Minister Shinzo Abe slated to come to India in September-October this year for the annual bilateral summit with Prime Minister Narendra Modi, discussion has emerged in the media about India procuring the Japanese ShinMaywa US-2i amphibious aircraft. The issue has been under discussion between the two countries over past eight years but no decision was arrived at. Both the Indian Navy and the Indian Coast Guard are reportedly eyeing purchase 12-18 of these amphibious Search and Rescue aircraft (SAR) to enhance their reach and capability; the deal amounting to $1.65 billion. In 2010, the Navy had sought information about amphibian aircraft Japan's ShinMaywa, Canada's Bombardier for its CL-415 platform, Russia's Beriev Be-200 and US/German Company Dornier for its Seastar CD2.
Interestingly, Japan had offered to place two ShinMaywa US-1A aircraft (predecessor of ShinMaywa US-2) in the Andaman and Nicobar Islands free of cost, to be operated jointly by India and Japan for sea surveillance in face of growing piracy at sea. The suggestion was made in 1997 during the visit of then Naval Chief, Admiral Vishnu Bhagwat to Japan who was the first Service Chief from India to be officially invited by the Japan Self Defense Forces (JMSDF). Admiral Bhagwat was shown the ShinMaywa US-1A aircraft, including its interior with the onboard equipment. Japan was looking at positioning such surveillance aircraft in various islands for collectively dealing with sea piracy and security in conjunction other countries. Ironically there was no response from India, which is not surprising as lack of strategic sense has been the hallmark of our policy makers. There were expectations that contract for the order of US-2i would be signed in November 2016 but it was deferred by India.
On 21 March 2018, Japanese Ambassador to India Kenji Hiramatsu told media that talks on ShinMaywa US-2i amphibious aircraft were still on and but hoped there may be some progress on the issue during the visit of Prime Minister NarendraModi to Japan later that year. Unofficial reports earlier had talked of difficulties in price negotiation and transfer of technology (ToT) which India was insisting upon. However, Japan has now offered to manufacture the aircraft in India with the transfer of technology (ToT). Tokyo has offered the possibility of exports to third countries and suggested setting up of MRO and manufacturing spare parts too in India.
Japan's ShinMaywa US-2i at take-off weight of 47.7 tonnes has a maximum operating range of 4,700 km but can carry 20 passengers or 12 stretchers since it has a crew of 11 and considerable onboard electronic warfare equipment. However, the Russian Beriev Be-200 Altair with take-off weight of 37.2 tonnes has a maximum operating range of 3,300 km but significantly can carry 12 tonnes of water or 72 passengers. China signed a contract with Russia in June 2017 for purchase of four Beriev Be-200 Altair multipurpose amphibious aircraft, which are yet to be delivered. India would also do well to look at the Russian Beriev Be-200 Altair amphibious aircraft considering each of these can accommodate 72 passengers. Ahead of the annual bilateral Modi-Abe summit this year, foreign and defence ministers of both countries will meet for the first ever 2+2 Ministerial Meeting to discuss cooperation in defence, security and foreign policy issues. Obviously, the US-2i amphibious aircraft will also be discussed. The government reportedly is keen to pursue US-2i deal through government-to-government (G2G) route instead of direct commercial negotiations. With increased Chinese footprints in the IOR, amphibious capability assumes importance for India. Safeguarding maritime interests is a key role for the Navy. We are endeavouring to improve the amphibious capability but our Navy is still designed more for 'Sea' rather than for 'Shore' operations. There are no dedicated marines either.
The central armed police forces are continuing to expand beyond numbers of the Indian military but Navy's case for a Marine Brigade has been gathering dust in the Ministry of Defence past two decades. Navy's amphibious capability consists of nine older tank landing ships (LST) of various sizes and capabilities. The Shardul class ships are latest ones which are hybrids of LST and Landing Platform Dock (LSD) design. They are an evolution of the Magar class amphibious landing ships. Shardul and Magar class can carry 10 armored vehicles, 11 armoured personnel carriers and more than 500 troops. Post Navy's experience in the 2004 Tsunami, Navy inducted the INS 'Jalashwa' (former USS Trenton - Austin-Class LPD), following which the DAC approved construction of four such vessels in India.
The speed with which China is progressing its Maritime Silk Road (MSR) and concurrently building its power projection, including amphibious capability, in the Indo-Pacific poses a strategic challenge to all nations, specifically because China disregards global norms and is ruthless in achieving its ambition. India is yet to fully optimise the defence potential of its island territories. Our amphibious capabilities are being built but at too slow a pace because of various reasons; lack of focus, inadequate finances, procedure and red tape. The government must find a balance between importing weapon systems for geopolitical appeasement, extremely low defence allocations despite publicity of a $3 trillion economy, bulk of it going towards committed liabilities as capital expenditure, plus the game of "in-principal approval" for public consumption.