| | |
| --- | --- |
| | The Author is Former Director General of Information Systems and A Special Forces Veteran, Indian Army |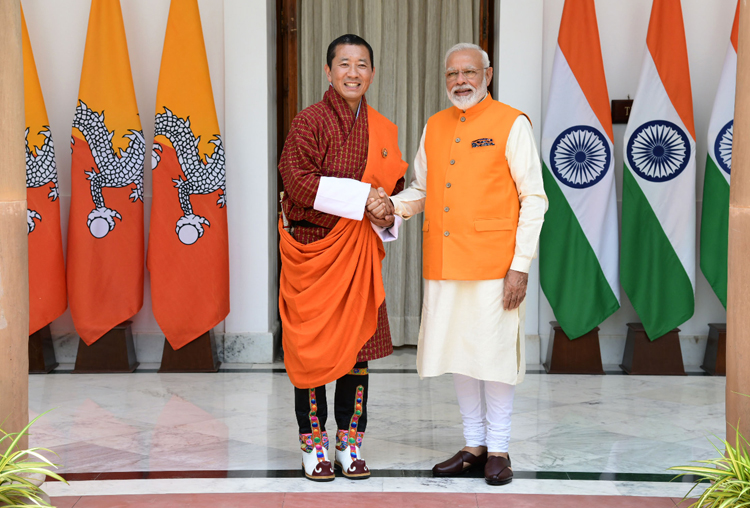 The Prime Minister, Narendra Modi meeting the Prime Minister of Bhutan, Dr. Lotay Tshering, at Hyderabad House, in New Delhi on May 31, 2019.
Prime Minister Narendra Modi is scheduled to visit Bhutan on August 17-18. After assuming the premiership second time, Modi's visit is in line with government's focus on 'Neighbours First' policy; which will further strengthen India's special relationship with Bhutan. In line with the 2007 India-Bhutan Friendship Treaty, both countries have been closely cooperating with each other on issues relating to their national interests. It may be recalled that Bhutan was the first country Modi visited after becoming Prime Minister for the first time in 2014, which indicated the priority New Delhi accords to Bhutan.
According to a Bhutanese newspaper that quoted Bhutan's Prime Minister Lotay Tshering, India and Bhutan are to sign four to five memoranda of understanding (MoUs) during Modi's forthcoming visit. Some major announcements are also expected. After becoming prime minister second time in 2019, Modi had invited leaders of the Bay of Bengal Initiative for Multi-Sectoral Technical and Economic Cooperation, a South and Southeast Asian economic grouping, for his swearing in on 30 May. Lotay Tshering was one of those who attended the event in New Delhi. EAM S. Jaishankar visited Bhutan on his first trip abroad after assuming office in June. Later, Foreign Secretary Vijay Gokhale visited Thimphu to pave the way for Modi's visit.
China claims territories in 23 countries while sharing land borders with only 14, which indicates the height to which China's illegal claims go. In the same vein, China claims four areas of Bhutan; Beijing claims 89 sq km in Doklam and about 180 sq km in Sinchulumpa and Gieu. Boundary talks between China and Bhutan have been ongoing and both countries agreed status quo will be maintained till boundary is resolved. But China broke the agreement and made a major intrusion in Doklam during 2017, which resulted in a 73-day India-China standoff. China claimed on July 5, 2017 it had a "basic consensus" with Bhutan and there was no dispute between the two countries. However, on August 10, 2017 Bhutan rejected Beijing's claim that Doklam belongs to China. The Doklam standoff was effected without violence but China thereafter has consolidated in north Doklam. On January 17, 2018, satellite imagery showed PLA fully occupying north Doklam with about Brigade-strength with new helipads with permanent cemented bases, enabling landing by largest PLA helicopters. Another set of satellite imagery of January 15, 2018 showed China building roads and posts in Shaksgam Valley.
The Chinese dragon follows a policy of slowly strangulating its targets and can wait for years. There is no doubt that Bhutan is firmly in Beijing's crosshairs. Mao Zedong had said, "Tibet is the palm of China and Ladakh, Nepal, Sikkim, Bhutan and NEFA (now Arunachal Pradesh) are its fingers." This was reiterated by Deng Xiaoping and Xi Jinping is following the same legacy. Xi is tightening its grip on Nepal after the China-initiated and supported Maoists insurgency claimed 19,000 plus killed in Nepal's civil war and internally displaced 100,000 to 150-000. China has pulled out all stops to absorb Nepal politically, economically and strategically. China's immediate gains included Nepalese curbs on Tibetans and Buddhists, making their lives hell, with many handed over to China. With such vicious pursuit, peaceful Bhutan would appear easy prey to China. After the Doklam standoff, Beijing-based analyst RupakSapkota (under obvious influence of China) wrote that voices in Bhutan were becoming louder and gradually gaining momentum in advocating closer ties and more cooperation with China, adding, "Bhutan will try to have more room for diplomatic manoeuvre in the future, since China can offer Bhutan more economic support and tourism exchanges than India." China has been pushing to open its embassy in Bhutan. Presently, Bhutan has diplomatic missions from India, Bangladesh and Kuwait. In recent years, the CCP has been calling for Bhutan's active participation. Bhutan did not participate in the China's BRI Forums in 2017 and 2019. But Beijing remains focused on intensifying engagement with the newly elected government in Thimphu, in an effort to wean it away from New Delhi's sphere of influence. The amount of Chinese capital poured into Bhutan has recently intensified and so have Chinese tourists, but Bhutanese government is wary of China's revisionist global ambitions and has preferred to retain its strategic friendship with India. At the same time, China's policy of mixing soft power diplomacy with economic aid has yielded great dividends in many countries and it will keep at bringing Bhutan firmly under its sphere of influence; charm offensive, political warfare, diplomacy and debt trapping applied simultaneously. Soon after his election, Prime Minister Lotay Tshering chose to visit India first, which was seen as a reflection of Bhutan's desire to maintain special ties with New Delhi. India will need to monitor Beijing's machinations to promote anti-India currents in Bhutan. During his forthcoming visit, Modi is expected to focus on assistance for Bhutan's economic development and cooperation in hydropower. There are indications that Bhutan is looking for change in its economic relationship with India and move from aid to investments. Modi's visit should take India-Bhutan relations to the next level.