| | |
| --- | --- |
| | The Author is Former Director General of Information Systems and A Special Forces Veteran, Indian Army |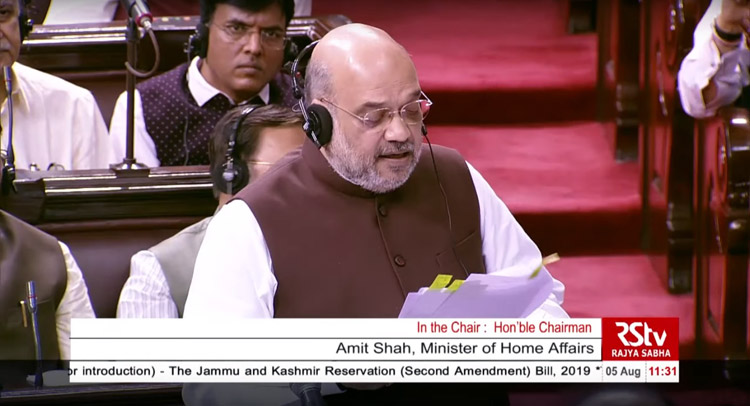 KASHMIR REBOOT: While announcing the repeal of separate status for Jammu and Kashmir and the re-organisation of the state into two separate Union Territories of J&K and Ladakh, Home Minister Amit Shah told Parliament that Article 370 was the root cause of terrorism in the state
In a historic announcement in Parliament on August 4, Government announced the Presidential decree of abrogating Article 370 and reorganisation of J&K State into the Union Territories of J&K. This was is a remarkable step long awaited. Removal of Article 370 has corrected the wrong done by Nehru without consulting his Home Minister and later stating Article 370 was only "temporary". The statements by Governor J&K on August 3 that nothing was happening with respect to Articles 35A and 370 was part of the subterfuge needed for the surprise announcement. Induction of additional 35-38000 troops in view of forthcoming elections by the end of the year considering the five out of 22 districts of J&K (before the current reorganisation) was hardly excessive. If elections are to be held in J&K during September-October before the snows set in, induction of this quantum of additional troops is normal.
During the meeting between US President Donald Trump and Pakistani Prime Minister Imran Khan on July 22, Trump claimed that Prime Minister Narendra Modi asked him to mediate on Kashmir. Again on August 2, Trump raised the Kashmir mediation offer again while replying to a reporter by saying, "If they wanted somebody to intervene and I spoke to Pakistan about that... I spoke frankly with India about it... if they wanted me to I would certainly intervene." This confirms Trump was lying in claiming Modi asked him to mediate on the issue. Raising the issue of Kashmir time and again, Trump appears panicky for his next presidential bid. North Korea and Iran have shown him two fingers and he needs theatrics to attract votes. For Pakistan, Trump's offer of mediation on Kashmir and Beijing also reiterating that third party mediation is needed, has not worked out. India also called Pakistan's bluff offering to grant consular access to Kulbhushan Jadhav the very next day, in presence of Pakistani officials, that too at specific time of 3.30 pm. So Pakistan has increased cross-border firing even using cluster bombs against civilian targets, increased infiltration attempts and BAT actions comprising regulars-terrorists mix; seven of them were gunned down by Indian Army closed to the LoC in Keran Sector.
Pakistan's wants to increase hostility and invite punitive action by India to help internationalise the Kashmir issue more, hoping increased pressure from US and China to mediate. It is this reason why Pakistan is indirectly signalling to US that helping US exit Afghanistan would be proportional to US help in resolution on Kashmir. Pakistan is vigorously spreading fake news, assisted by J&K politicians and agents our side of the border' to include: militants supported by Chinese army have captured at least five Indian posts in Tangdhar Sector of J&K; Yasin Malik is dead and additional troops are inducted before announcement can be made; India wants to see Afghanistan peace talks fail; India is firing cluster bombs on villages in POK; additional troop induction in J&K is to change Kashmir's Constitutional Status; J&K State Police has been disarmed, and; India has again undertaken two cross-border raids on terror launch pads in POK. Abrupt cancellation of Amarnath Yatra looked like India was chickening out. Just a week back we were patting our backs that infiltration was almost stopped and terrorists were being gunned down every day, terrorist leadership was in disarray and there is none to lead. Then were intelligence inputs of five Pakistan-backed JeM terrorists having infiltrated from POK who could attack Indian security forces or carry out major terrorist attacks in the Valley. Reports of recovery of sophisticated arms and ammunition with POF markings emerged. The Srinagar-based Corps Commander held a press conference showing a weapon recovered with a telescope. A mine with POF marking was also shown. Calling off Amarnath Yatra appeared like few terrorists with whatever arsenal could hold India to ransom. But with the announcement in Parliament on August 5, everything fell into place including exodus of tourists, induction of additional troops, house arrest of some politicians.
Government wanted to make these historic changes before next Independence Day, and was catering for sudden US announcement of pulling out from Afghanistan that would enable Pakistan focus more on India. As Pakistan's nuclear bluff was called with the Balakot airstrikes, Pakistan-supported terror, separatists and indigenous jihadi bluff needed to be called off in one go, which has been remarkably achieved in one stroke. As far as Pakistani cries of India changing Constitutional Status of Kashmir go, Kashmir is integral part of India and only POK is disputed. The most significant part of the government announcement is that Union Territories of J&K and Ladakh are now under the Constitution of India, and erstwhile special status of J&K has evaporated in thin air. Armed Forces are now eligible to vote in next J&K elections, and their franchise must be ensured. Government follow up action should include: politicians involved in terror financing, supporting terrorists and amassing money must be prosecuted swiftly; speaking for Pakistan or terrorists organisation like ISIS, and displaying such posters, attire or flags must be declared treason and acted upon; return of Kashmiri Panditsto their homes; institute government inquiry into ethnic cleansing of Kashmiri Pundits and action taken against those responsible – Supreme Court judges who refused to entertain PIL demanding inquiry against such ethnic cleansing must also be interrogated by government-instituted inquiry; Yasin Malik who boasted to Tim Sebastian on 'Hard Talk', BBC few years back that he had killed four IAF personnel must be hanged, and; stone-pelting of security forces should be designated terrorist act. Pakistan will not stop generating terror but ironically India has failed to address the adverse sub-conventional asymmetry it has vis-à-vis Pakistan and China. For lack of sub-conventional clout in Afghanistan, Trump is soft on Pakistan, and we cannot punish Pakistan in the right measure. Our political hierarchy believes there would be no war but fail to acknowledge the sub-conventional war we have been fighting and will continue to fight till we develop credible deterrence at the same sub-conventional level.