| | |
| --- | --- |
| | The Author is Former Director General of Information Systems and A Special Forces Veteran, Indian Army |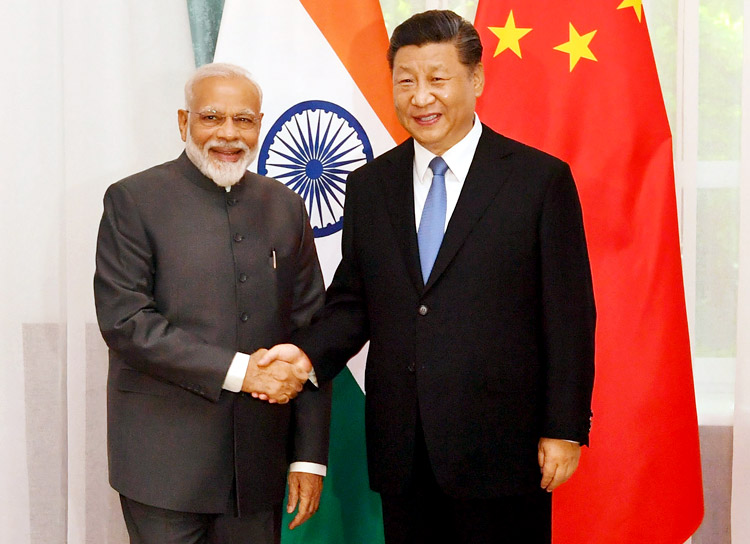 Prime Minister Narendra Modi meeting the President of the People's Republic of China Xi Jinping, on the sidelines of the SCO Summit, in Bishkek, Kyrgyz Republic.
As time approached for the second informal summit between Prime Minister Narendra Modi and Chinese President Xi Jinping in October 2019, China took the despicable step of orchestrating a closed door meeting of the United National Security Council (UNSC) on Kashmir; revealing its nefarious designs and intent to stab India in the back yet one more time. The first informal summit between Modi and Xi was held at Wuhan in China on April 27-28, 2018. Following this summit, MEA issued a statement saying that PM Modi and President Xi reviewed developments in India-China relations from the strategic and long-term perspective: "They agreed to significantly enhance efforts to build on the convergences through the established mechanisms in order to create the broadest possible platform for the future relationship. They also agreed that both sides have the maturity and wisdom to handle the differences through peaceful discussion within the context of the overall relationship, bearing in mind the importance of respecting each other's sensitivities, concerns and aspirations", the statement read. But ironically the Chinese media didn't even make any reference to "strategic guidance to their respective militaries" other than quoting from Indian media.
One positive of the Wuhan summit, however, was that China finally agreed to a UN resolution to declare Jaish-e-Mohammed (JeM) chief Masood Azhar, as global terrorist albeit it was symbolic and more so because China had little choice with the world fed up of Pakistani terror. The more significant fallout was that in FY 2018-19 our trade deficit with China came down to $53 billion from $63 billion in the previous fiscal, and exports to China rose by 31 per cent from the previous year. Yet, the scuffle between an Indian Army patrol and PLA north of Pangong Tso Lake on September 11, 2019, was reminiscent of an uglier clash in the same area in August 2017 wherein PLA soldiers had attacked an Indian patrol with iron rods and stones and our soldiers had also retaliated, while the Doklam standoff was concurrently on. Luckily the recent face off was de-escalated and disengaged fully after delegation-level talks between the two armies. Withdrawal of the special status and reorganisation of J&K did stun China along with other countries, especially China's bosom pal Pakistan, but China could have spoken directly to Pakistan rather than surreptitiously sneaking up to the UNSC hoping it could buy world opinion. China's deliberate act of taking the Kashmir issue to the UNSC was a huge setback to India-China relations. Before this, China was sending some signals about resolution of Sino-Indian border albeit the sincerity of that was doubtful. Some utopians in India started hallucinating that China would agree to the old 1960s proposal by Zhou en-Lai to Nehru that China will accept the McMohan Line as Sino-India border if India gave up Aksai Chin. The factual position today is that China is not only in illegal occupation of Aksai Chin (38,000 sq km) and Shaksgam (5,180 sq km), both Indian Territory, but has incrementally sliced away huge swathes of India amounting to some 645 sq km, of which 400 sq km is in Ladakh alone.
China is mining close to the LAC and its hunger for territory has increased with its increasing military prowess. The Chinese action of approaching UNSC on Kashmir cracked Sino-Indian relations and Chinese foreign minister Wang Yi's visit to India for the next round of boundary talks was postponed for reasons not explained officially. Worse was China threatening India that if Huawei's proposal for developing India's 5G network were not considered Beijing may deny market access to important Indian products? At the Wuhan summit, Modi had agreed to promote the China initiated Bangladesh-China-India-Myanmar (BCIM) Economic Corridor, passing through the northeast on the Calcutta-Kunming axis. However, with strained ties, China's illegal claims on Arunachal Pradesh and its evil designs of fomenting trouble in our northeast, the project may not have a smooth future. Recently, Zhang Jun, China's permanent representative to the UN met his Indian counterpart Syed Akbaruddin ahead of the UNGA meet to reportedly discuss multilateral cooperation. The Indian media, with its propensity to read too much into any and every issue, interpreted this as China reaching out to India to smoothen ruffled figures. But the fact remains that China under its present leadership cannot be trusted. Pakistan has leased Gilgit-Baltistan (Indian Territory) to China for 50 years, through which the Karakoram Highway and the CPEC have been developed by China without any reference to India. The China-Pakistan anti-India nexus has cemented further with Pakistan crying that its jugular 'Kashmir' is being violated by India. Thousands of PLA troops and Marines are stationed in Pakistan occupied J&K (PoJK) and Pakistan. China has signed a major oil deal with Iran and plans to deploy 5000 PLA troops in Iran. Gwadar is being developed as a PLAN base, Jiwani peninsula is to host a joint China-Pakistan military base, and plans are afoot to link Gwadar and Chabahar by road - distance between the two being 170 km. The forthcoming Modi-Xi informal summit and subsequent ones will continue to be held under the shadow of China's policy of ambiguity and deceit. As for resolution of the border issue, China will prefer to wait another few decades as long as it enjoys an advantage at the bargaining table that can give it extra territory, however small. China's territorial hunger is insatiable, as is its need for energy and mineral reserves. India will, therefore, require to work with China that can't be trusted in the foreseeable future, until it proves itself otherwise.