| | |
| --- | --- |
| | The Author is Former Director General of Information Systems and A Special Forces Veteran, Indian Army |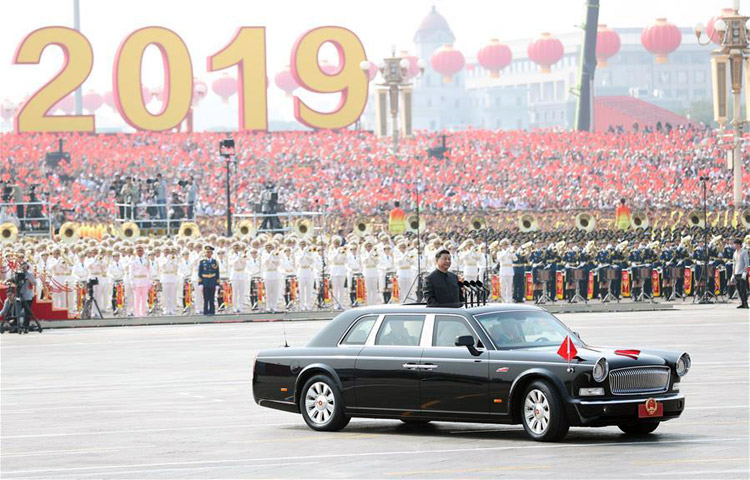 Chinese President Xi Jinping, also general secretary of the Communist Party of China (CPC) Central Committee and chairman of the Central Military Commission, reviews the armed forces during the celebrations for the 70th anniversary of the founding of the People's Republic of China in Beijing, capital of China October 1, 2019
China's 70th anniversary celebrations displayed its military and economic might with the biggest ever military parade on October 1, even as Hong Kong witnessed massive demonstration on the same day with hundreds of youth battling police and locals also out on the street. An 18-year youth was shot and injured on October 1 in Hong Kong with the police commissioner saying use of live ammunition was legal and reasonable. More than 180 people were arrested. Police termed the protests most violent with at least 25 police officials injured.
The celebrations came at a time when China is facing: heightening trade war with US; US-led multi-pronged attack on Huawei; economic slowdown; global concern over China detaining some 1 million Uighurs in concentration-like camps in Xinjiang; western concern over China meddling in nomination of next Dalai Lama; continuing protests in Hong Kong, and; China under lens for espionage and intellectual property theft. During the banquet on September 30 in The Great Hall of the People, Xi maintained his benign mask despite Hong Kong and spoke of China having caught up in great strides and was now leading the world by saying, "We are now marching at the forefront of the times, with boundless energy!" said Xi. "Over the last 70 years, with perseverance and strenuous efforts, the Chinese people have impressed the world with their achievements. Unity is iron and steel. Unity is a source of strength. It is what enabled the Chinese people and the Chinese nation to move forward against all risks and challenges from one victory to another. The complete reunification of the motherland is the inevitable trend. It is what the greater national interests entail and what all Chinese people aspire to."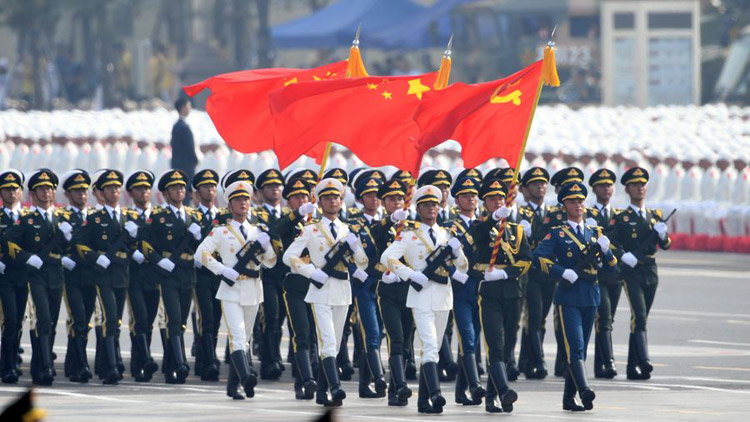 A formation of Guard of Honor takes part in a grand military parade celebrating the 70th anniversary of the founding of the People's Republic of China in Beijing, capital of China October 1, 2019.
Celebrations for 70th anniversary of the founding of Peoples Republic of China were kicked off with President Xi Jinping and other Chinese leaders including former Presidents Hu Jintao and Ziang Zemin took their places atop the Gate of Heavenly Peace on north end of the Tiananmen Square at 10 AM on October 1. 56 cannons fired 70 times as a formation of soldiers goose-stepped forward to raise the national flag. With thousands of people waving Chinese flags, Xi opened his speech, excerpts of which are, "It was 70 years ago today that Chairman Mao stood at this very place and announced solemnly to the world founding of the PRC, which marks an end to more than 100 years of humiliation and suffering... There's no force that can shake the foundations of this great nation. No force can stop the Chinese people and the Chinese nation forging ahead. China's yesterday is already engraved in the history of mankind. China today is created by hundreds of millions of hardworking Chinese and China's tomorrow will be even more prosperous! Long live the great People's Republic of China! Long live the great Communist Party of China! Long live the great Chinese people." Thereafter, Xi inspected the troops on parade in an open limousine. According to China's Ministry of National Defence some 15,000 military personnel, 580 pieces of military equipment and 160 aircraft featured participated in the parade. It showed the unprecedented scale of technological advancement of China; deep-sea drones and an intercontinental ballistic missile (ICBM) among the advanced weapons on public display for the first time at a parade.
According to Jane's Defence Weekly, 20 years back anniversary parades only displayed Russian and Ukranian equipment, but now it was all China-made. The new model DF-41 road mobile ICBM, which can carry a warhead payload of 10 multiple, independently targetable re-entry vehicles (MIRV), can reportedly target any part of the globe. A MIRV warhead can be guided towards a specific target, so one could potentially hit 10 different targets over a wide area. Variety of unmanned systems displayed in the parade showed China's focus increasingly information-driven warfare and the future battlefield environment. China having militarised the South China Sea, Japan and South Korea feel they are in the crosshairs of Beijing. But the pace at which China is building its military might, it is preparing for conflict with the US. This pace is likely to pick up further with US concentrating more on space and even fired an unarmed nuclear-capable Minuteman III ICBM on October 2, 2019, which travelled some 6,720 km from California over the Pacific Ocean and landed near the Kwajalein Atoll in the Marshall Islands. Together with military modernisation, China's is going consolidating in the Indian Ocean Region (IOR) at incredible pace. An article in the China Daily in mid-2014 had revealed Chinese plans to build 18 bases in the IOR termed "Overseas Strategic Support Bases". Another article in the China Daily Mail on November 22, 2014 quoting Sri Lankan sources confirmed these plans: naval bases in Hambantota (Sri Lanka), Gwadar (Pakistan) and Myanmar; naval supply base at Walvis Base (Namibia); strategic supply bases in Djibouti, Yemen, Oman, Kenya, Tanzania, Mozambique, Seychelles, Madagascar and "other parts" of IOR for supplying, berthing and maintenance. China has recently announced placement of 5000 PLA troops in Iran. A joint military base is also planned in the Jiwani peninsula of Pakistan. The China-Pakistan anti-India nexus should be of particular concern to India.