| | |
| --- | --- |
| | The Author is Former Director General of Information Systems and A Special Forces Veteran, Indian Army |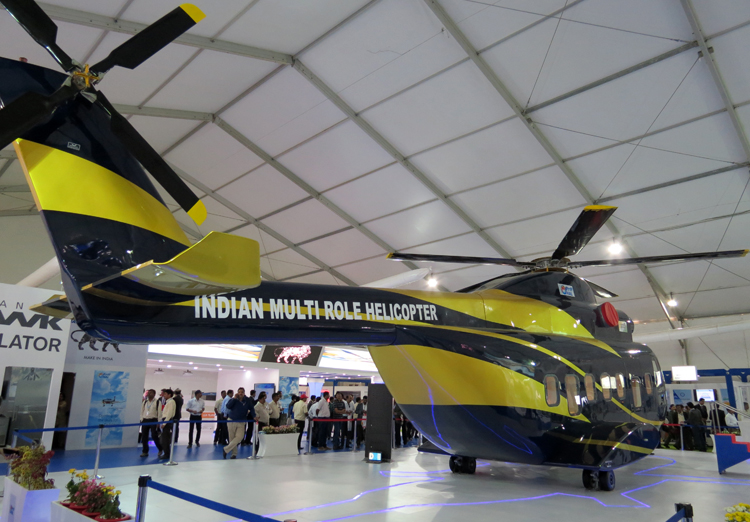 Indian Multi Role Helicopter (IMRH)
News reports of August 2019 indicate that India is set to embark on a 10,000 crore Indian Multi Role Helicopter (IMRH) project; to develop an indigenous medium lift helicopter that will replace all imports in that class for the Armed Forces – namely Mi-17 helicopters. The IMRH was released as a concept at the Aero India show in 2017. Work has reportedly begun on seeking cabinet approval for the project. However, knowing our red tape, bureaucratic wrangles and the mammoth requirements, replacing the entire medium lift helicopter of the Armed Forces with the indigenous IMRH may take number of years, if not decades. The annual requirement of Armed Forces is being assessed at over 550 x IMRH, and exports are also being looked at by HAL. But the question is can HAL really have such huge annual production capacity especially with multiple helicopter programmes running like the in-service Advanced Light Helicopter (ALH), Light Combat Helicopter (LCA) under production and the Light Utility Helicopter (LUH) being developed?
How much time would it take to develop the prototype after the project is cleared by the CCS, completion of successful trials, who will be the strategic partner, will HAL need to expand and if so, what would be the funds required for expansion? Will it be better to have multiple production facilities for the IMRH, in addition to the HAL? During the recent visit of Prime Minister Narendra Modi to Vladivostok in Russia, he was shown two 'Made for India' helicopters; the light multirole Ka-226T and advanced-medium multirole MI-1712A. As per a yet to be inked $1-billion deal, India is to procure first 60 x Ka-226 from Russia in fly-away condition, with balance 140 made in India through a Russian Helicopters-HAL joint venture (JV). Latter will increase the workload of HAL. The Mi-1712A helicopter is to be delivered to Indian private firm Global Vectra Helicorp Ltd and was awaiting DGCA clearance. As of July 2018, Russian Helicopters had delivered to India 110 units of the Mi-4, 128 units of the Mi-8 and about 160 units of the Mi-17 type. In that month (July 2018) Russia handed over to India the final batch of three Mi-17V-5 military transport helicopters under a previously signed contract, even as it was getting ready to ink yet another deal for another 48 such helicopters. The contract with Rosoboronexport, a company of Rostec State Corporation, entailed a total of 151 units of the Mi-17V-5 helicopters, produced by the Kazan Helicopter Plant, part of Russian Helicopters company.
Mi-17V-5 helicopters are amongst the most technically advanced helicopters of the Mi-8/17 type, equipped with complex navigation and electronic display KNEI-8. The IMRH project will involved a tough development program, which will include multiple destruction tests to prove the sturdiness of the design before it can be certified for military use. Though the concept was released at the Aero India show in 2017, work for designing the IMHR and build prototypes for testing could not commence for lack of financial approvals to get to the next stage. This itself reflects poorly on the decision making process in the country and the Ministry of Defence (MoD) in particular. HAL sources say that once funds are allocated, the first helicopter could make it to the skies for testing within two years, adding, "We now have proven technology when it comes to helicopter design. This would be a larger chopper but the design concepts and experience is in place to take it forward." All this looks encouraging but given the track record of HAL in meeting timelines, it may be very ambitious to say the least. For example, the Tejas fighter aircraft development has been agonizingly slow despite deliberate media blitz pulling the wool over eyes of the public.
Recent media coverage of naval variant of the indigenous single-engine Tejas Mk1 was only a technology demonstrator. For carrier landing, the Navy needs a twin engine fighter, which means a totally new design that may take many more years. The Tejas programme commenced in 1983 and the first technology demonstrator flew 18 years later in 2001. Against usual norms, it was made to enter IAF service with just the initial operational clearance (IOC) 14 years later in 2015, Final operational clearance, which should be mandatory before entering service with IAF, was obtained only in February 2019. And as on date, IAF only has some 12 Tejas Mk1 fighters.
HAL is promising production of Tejas Mk2 in six years while it is still on the drawing board and will require a completely new engine and fuselage. With such record, HAL promising prototype of IMRH within two years of CCS approval and annual production of even 50 x IMHR is an impossible task, given the work culture and striking unions as happening today. Ironically, vote-bank politics and rampant corruption has made the government immune to the dire need for privatising government's defence-industrial complex, beyond taking perfunctory steps. The least that could be done is give 49 per cent shares in all entities of government's defence-industrial complex including HAL to the private sector. This will bring professionals in the governing bodies that would streamline productivity and usher discipline. Bureaucrats of the Department of Defence Production (DoPD) have no technical expertise and we fail to even learn from ISRO which is performing commendably because it is manned by professionals, free from bureaucratic interferences. The IMRH project will be an important indigenous defence project. Hopefully, it will be handled speedily by experts, with required government focus.