| | |
| --- | --- |
| | The Author is Former Director General of Information Systems and A Special Forces Veteran, Indian Army |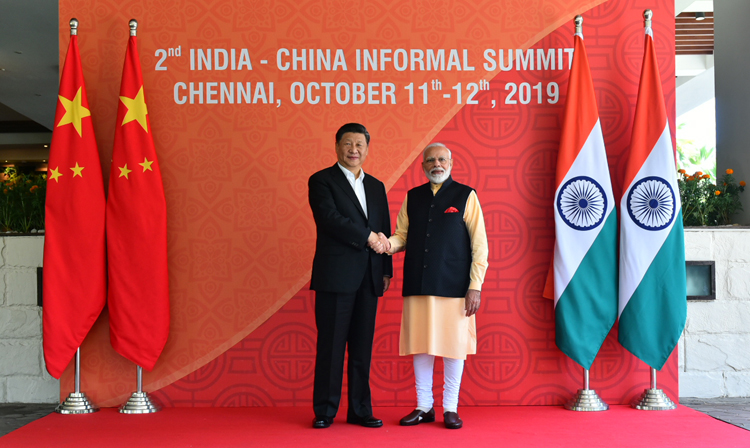 Prime Minister Modi meets Xi Jinping, President of China at Hotel Taj at Mamallapuram, Tamil Nadu on October 12, 2019.
The second informal summit between Prime Minister Narendra Modi and Chinese President Xi Jinping was held at Mamallapuram (UNESCO heritage) on October 11-12, which Modi termed "Chennai connect". The high-level Chinese delegation accompanying Xi Jinping included Ding Xuexiang, member political bureau of Central Committee; Yang Jiechi, member political bureau of Central Committee, and Foreign Minister Wang Yi. Ironically the summit came in the backdrop of fresh tensions in India-China bilateral relations. China earlier opposing India's entry into NSG, membership of UNSC and protecting Pakistani terrorist at the UN has now added J&K. China approached UNSC on Kashmir after India revoked Article 370 in J&K, saying, "China is seriously concerned about the current situation in Kashmir", adding, "If Muslims collectively oppose India's move, it is hard for India's system to control the situation". China's foreign minister raised the Kashmir issue at UNGA and China's Vice Foreign Minister protested over India's exercise 'Him Vijay' in Arunachal Pradesh even though not close to the LAC, precluding need to inform China. Before coming to India Xi told Pakistan's PM Imran Khan he was watching the situation in Kashmir and would support Pakistan in issues related to its core interests; Kashmir is Pakistan's core interest. Our MEA responded by saying, "India's position has been consistent and clear that Jammu and Kashmir is an integral part of India. China is well aware of our position."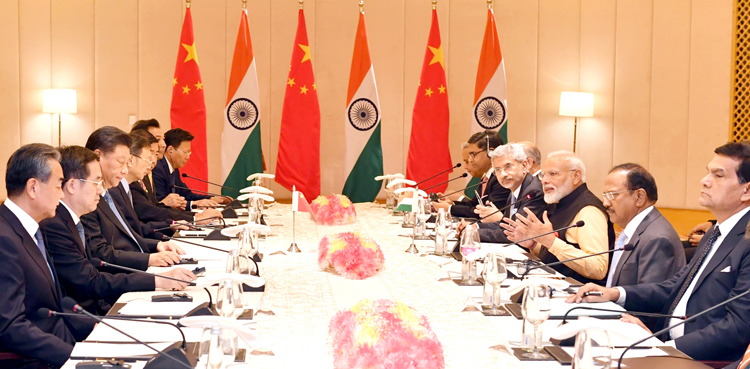 Prime Minister Narendra Modi and President Xi Jinping of the People's Republic of China, at the delegation level talks.
India never commented on China's treatment of Uyghur's in Xinjiang or the situation in Hong Kong. India didn't even protest China's muscling tactics in Vietnam's waters where Block 128 is leased to India's ONGC for drilling oil. Mamallapuram was a flourishing post in ancient times facilitating India-China trade. Modi accompanied Xi on a tour of the heritage site discussing issues along the way on October 11. Their discussion continued till late in the evening over an extended dinner, main focus being exchange of views on national vision and governance. Modi told Xi of his renewed mandate for economic development and Xi said China would help India in this. There was also brief conversation about radicalisation and terrorism, which was dubbed as a "common" challenge. But this is routine in bilateral-multilateral forums world over. The irony is that the stance of individual nations remains unchanged.
Prime Minister Narendra Modi and President Xi Jinping of the People's Republic of China, at Arjuna's Penance, in Mamallapuram, Tamil Nadu on October 11, 2019.
China continues to covertly support Pakistan's terror attacks in India and Afghanistan; shielding Pakistan under the excuse it too is victim of terrorism. On October 12, Modi and Xi had a 50-miniute one-to-one dialogue followed by delegation-level talks. Modi welcomed Xi and said, "We have decided to manage our differences prudently, and will not let them become disputes", adding that a new era will begin in Sino-Indian relations with the "Chennai connect" and that bilateral strategic communications increased following the Wuhan summit. Xi's response was he had engaged in candid discussion with Modi on bilateral relations, heard his concerns and would respond to them in due time. Foreign Secretary Vijay Gokhale later briefed media that China is ready to address India's concerns on trade deficit and has proposed high-level trade discussion between India's Finance Minister and Chinese Vice President. China also accepts concerns over RCEP, and that modalities to balance these trade concerns will be worked out later. India's annual exports to China are $15 billion while imports are $85 billion, leaving India with a deficit of $60 billion.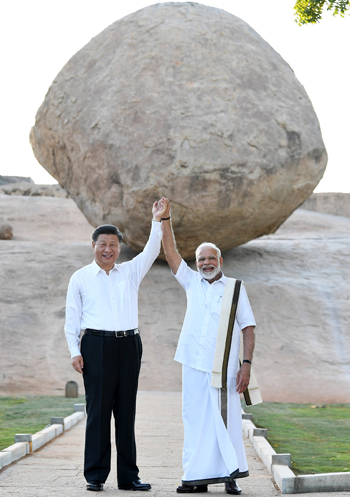 Prime Minister Narendra Modi and President Xi Jinping of the People's Republic of China at Krishna's Butter Ball, in Mamallapuram, Tamil Nadu on October 11, 2019.
China allows zero duty access on 311 items for export from Pakistan but none to India. China saying concerns over RCEP will be worked out later is ominous since it obviously wants India to first sign the RCEP. But with India joining RCEP it would have to reduce duties on more than 75 per cent goods imported from China. This implies dumping of more Chinese goods in Indian markets, hitting Indian industries. During the 'Chennai connect', India and China also agreed to invest in IT in each other's country. This special mention may prove to be China's masterstroke in grabbing India's 5G network Already some Indian companies rooting for Huawei appear to be bought over by China. Some scholars opposing 5G going to Huawei on grounds of national security have gone silent, perhaps sensing some official sources. Question remains whether we want cheaper 5G by Huawei or spend little more on another source with better security guarantee and no hidden agenda. India and China also agreed to enhance people-to-people contact. 70 events are planned to celebrate 70 years of India-China diplomatic relations. But China's stance towards India has hardened despite Wuhan; seen through multiple actions by China, who is also now openly siding with Pakistan. Pakistan's poor economic situation help China draw it more into its gravitational pull. With China heading FATF, Pakistan may escape being blacklisted too. China is in no hurry to settle the border with India. China's cumulative GDP is around $14 trillion in comparison to India's $2.8 trillion. China's annual defence spending of $250 billion dwarfs India's at $54 billion. China's military modernisation and border infrastructure are superior to that of India. China will prefer to wait a border settlement as long as it has upper hand at the bargaining table, which can give it extra territory. To-date China has never admitted intruding into Indian Territory; always claiming it is Chinese territory. Inviting the India defence minister to visit China is mere formability. In Chennai, India only expressed concerns about the trade deficit and RCEP plus denouncing terrorism in general, leaving out other concerns.
This may be construed by China as weakness. The tangible gains for India from the second Modi-Xi informal summit may be as little as from the first one at Wuhan, even as we may humour ourselves by saying that strategic communications have been further enhanced. As a corollary, it was laughable hearing some of our TV channels saying Pakistan must be very worried with China standing by India's side, one even stating that Pakistan must be "shivering". Finally, taking China for granted would be very foolish. Ironically, our main focus remains on Pakistan and not on China, which should be the case.