| | |
| --- | --- |
| | The Author is Former Director General of Information Systems and A Special Forces Veteran, Indian Army |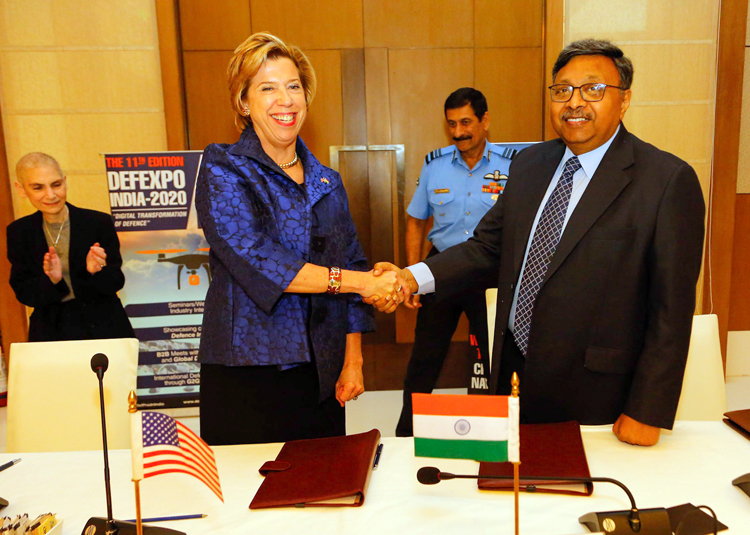 Co-chairs for the 9th India-US DTTI meeting in New Delhi, US Under Secretary of Defense for Acquisitions and Sustainment Ellen Lord and Secretary Defence Production Subhash Chandra signalling intent to turn the bilateral Defence co-development framework outcome driven
The ninth Indo-US Defence Technology and Trade Initiative (DTTI) held at New Delhi on October 24, 2019 has reportedly focused on collaboration in drone swarms, counter-drone measures and other hi-tech military technologies. The DTTI was set up in 2012 to jointly develop high-tech military technologies like infantry combat vehicles, advanced helicopters and jet engines. India has always been poor in developing engine technology. Recall, former President A.P.J. Abdul Kalam when in DRDO had identified five technologies bridging which could make India a superpower; one of these was engine technology. Post the recent 'Dhruv' helicopter crash landing in which the Northern Army Commander and others on board miraculously escaped, news highlighted four Dhruv helicopters crashed in last five years killing 13, five out of seven Dhruv exported to Ecauador crashed and the deal was cancelled. The US having secured arms contracts from India worth $17 billion since 2007 is naturally keen, like many other countries, for joining 'Make in India'. However, the DTTI since 2012 has seen little payoff because of abhorrence by the Ministry of Defence (MoD) in promoting indigenous private industry and instead insisting on foreign OEMs tying up joint ventures within the governmental defence-industrial complex (GDIC) which has poor work culture.
There are strikes in HAL, concerns about safety of Dhruv helicopters and non-availability of spare parts. Fact remains GDIC has been unable to absorb high end technology to the required degree. In addition is the red-tape of our bureaucracy. The rhetoric about DTTI transforming the 'buyer-seller' relationship into co-development and production of advanced weapon systems has only remained a pipe dream. Now a key Indo-US project aimed at sharing technology for building fighter jet engines has been suspended after the two sides could not come to an agreement on specifics because of what media describes as "lack of initiative from the industry". But the question is what about the 'initiative by the MoD' to get this important project in past seven years? When will MoD stop drifting - does government have an answer? Co-chairing the ninth DTTI meeting on October 24, Ellen M. Lord, Undersecretary of Defence for Acquisition and Sustainment referred to the Indo-US jet engine problem and said, "The original project is suspended right now. But we are talking about other potential engine working group items. I know that in the past there have been frustrations with progress under DTTI but I can assure you that we are making considerable progress now." In this DTTI meeting, there was joint agreement on seven projects in the short-term, medium-term and long-term projects. The three short-term projects are to be finalised with six months or so and include: air-launched small aerial system (drone swarms): light-weight small arms technology, and; intelligence, surveillance, targeting and reconnaissance (ISTAR) systems.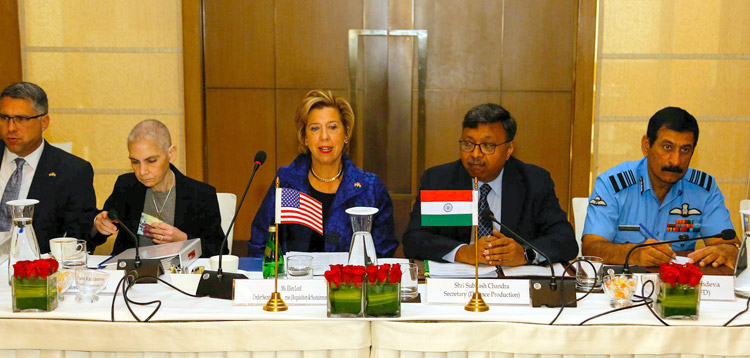 Secretary (Defence Production) Subhash Chandra and US Under Secretary of Defence for Acquisition and Sustainment Ellen M. Lord co-chairing the Defence Technology and Trade Initiative (DTTI) meeting in New Delhi on October 24, 2019.
The two medium-term projects include: maritime domain awareness (MDA) solutions and virtual augmented reality solutions for aircraft maintenance (VAMRAM). The two long-term projects include: terrain-shaping obstacles (lethal munitions), and; anti-drone technology termed 'counter-UAS rocket artillery and mortar systems. Projects related to the air-launched systems can be used from the C-17 Globemaster-III and C-130 Super Hercules aircraft already acquired by the IAF. The cutting edge technology of counter-UAS systems will boost military's combat potential in 21st century warfare. The focus on drone technology has increased with the deadly Houthi attack on Saudi Arabia's oil facilities on September 14 this year using a mix of drones and missiles.
The US base in close proximity too was taken by surprise. Media reports of October 10 reveal that the US Air Force and DARPA are presently testing new hardware and software configured to enable 4th-Generation aircraft to command drones from the cockpit in the air, bringing new levels of autonomy, more attack options and a host of new reconnaissance advantages to air warfare. Working with BAE Systems at Edwards Air Force Base in California, USAF test pilots are combing ground-based simulators with airborne leer jets to demonstrate how 4th generation cockpit avionics can direct drones from the air. At the moment, the flight path, sensor payload and weapons disposal of airborne drones such as Air Force Predators, Global Hawks and Reapers are coordinated from ground control stations. However, due at least in part to rapid advances in autonomy, the concept of an autonomous or semi-autonomous wingman is arriving even faster than expected. India is already facing drone threat from across the border with Pakistan with latter hell-bent to incite terrorism in Punjab and other states. China has a well advanced drone industry and has been demonstration swarm drone technology past few years, some of which will continue to be shared with Pakistan. India needs swarm drone and anti-drone technology at the earliest. Government needs to be focused on this and must rope in both the DRDO and private players for it. The standard operating procedure for DTTI is also likely to b finalised in the next 'Two Plus Two' dialogue which is likely to be held in December. Both countries have also finalised the Industry Security Annex (ISA) that will allow the US to safely transfer classified military technology to Indian private sector companies. ISA will be an adjunct to the Communications, Compatibility and Security Arrangement (COMCASA) which both countries designed in September 2018.