| | |
| --- | --- |
| | The Author is Former Director General of Information Systems and A Special Forces Veteran, Indian Army |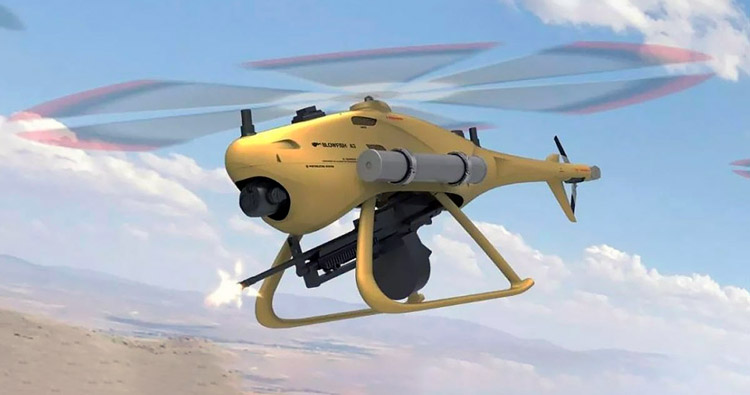 Blowfish A3
Despite the Kartarpur Corridor having become operational, Pakistan's hate-India campaign shows no signs of abating. This is not surprising because this is the very basis for the Pakistan army to maintain complete control over the country with the polity and the judiciary toeing their line submissively. About a decade back Sri Lankan officers on a training capsule in Pakistan were informed about Pakistani army plans to revive terrorism in Punjab (India), as a prelude to which narcotics were being flooded into the state. The recent recurring incidents of China-made Pakistani drones violating India airspace to deliver arms and ammunition to terrorists, terror-supporters and ISI modules across the border indicate there is no change in Pakistan's intent. But an enhanced drone threat is likely to come knocking on our doors pretty soon.
Gregory C. Allen, Chief of Strategy and Communications in the Joint Artificial Intelligence Centre at the US Department of Defence (DoD) has pointed out that "despite expressing concerns about artificial intelligence (AI) arms race, most of China's leadership sees increased military usage of AI as inevitable and is aggressively pursuing it. China already exports armed autonomous platforms and surveillance AI." According to Allen, Guangdong-based Chinese UAV manufacturer Zhuhai Ziyan, is in negotiations with the governments of Pakistan and Saudi Arabia to sell them its Blowfish A2. The 1.87 m long, 0.62 m tall helicopter drone Blowfish A2 with a maximum take-off weight of 38 kg, the Blowfish A2 can carry 12 kg payload; surveillance radar, jamming devices, guns or bombs, flying at 130 km an hour. Ziyan has also demonstrated its Blowfish A3 at the MAKS 2019 Air Show at Moscow during August 2019.
The Blowfish A3 is presently under deployment with Emirates forces. Blowfish A3 is an electric-powered vertical takeoff and landing (VTOL) drone that only three minutes of preparation before the takeoff for a range of 90 minutes. It is also able to carry 15 kg of armament; mini-rockets or a magazine of eight vertical tubes to bomb at a minimum altitude of 300 m of the military objectives with 60mm shells or 81mm grenades. It is also capable of carrying automatic weapons without modifications, from machine gun to riot control devices; armed with a machine gun it can autonomously perform more complex combat missions, including fixed-point timing detection, fixed range reconnaissance and targeted precision strike. The most significant part is that the Blowfish A3 can operate in a swarm at over 80 km. Chinese weapon manufacturers have no compunctions about selling drones advertised as capable of full autonomy, including the ability to conduct lethal targeted strikes. China's domestically developed helicopter drones carrying proximity explosive mortar shells, grenade launchers and machine guns can now form swarms and engage in coordinated strikes. The intelligent swarming attack technology enables as many as 10 unmanned helicopter drones to autonomously form up into a swarm. With the single push of a button, the drones swarm can autonomously take off, avoid colliding in the air and find their way to the designated target. On receipt of order to attack, they will engage they will engage the target autonomously in a coordinated manner, after which the system will lead the drones back to base and land automatically.
The drones swarm can be in different combinations depending on the mission; carrying proximity explosive mortar shells, grenade launchers, machine guns or suicide attacks. Given the fact that morals have no relevance for China and its stated concept of 'unrestricted warfare', the suicide mission drones could be armed with CBRN bombs. Ziyan is already negotiating with Pakistan for the Blowfish A2. The Blowfish A3 will likely follow soon and since Pakistan has already put terrorists in military uniforms and also operate together, India should be prepared for such drone swarms beyond the short-distance border action team (BAT) actions. In wake of the recent use of drones by Pakistan, both our Ministry of Defence (MoD) and Ministry of Home Affairs (MHA) are seized with the problem. The Army and IAF are in the process of taking counter measures. Union Home Minister Amit Shah chaired a meeting on October 4, 2019, with the Director Generals of all central armed police forces (CAPF) to review the current status of border security and measures to be taken to strengthen it further. The issue of Pakistan employing drones across the border was raised why the IAF and the BSF were unable to detect these drones. News reports of October 11 state that MHA has issued directions to the BSF to adopt anti-drone technology. The BSF is examining the matter, specifically working on 'detection, identification and interdiction', and trying to figure out the real threat from drones.
According to a BSF official, "It is necessary to understand the threat perception. The BSF is trying to identify whether these drones are being used by anti-national elements for smuggling of arms to carry out terror activities in India or it is just a cross-border crime. As most of such acts are done during night hours, it is difficult to observe drones through naked eyes. Even radars cannot detect these drones. With the current information, it is learnt that these drones are GPS-enabled and move through RF (radio frequency) signals." However, it would be prudent for India to look beyond waiving off the issue of border-level crime and isolated drone drops, which really were not few considering no less than eight drone drops were found out during September 2019 and some were probably not even detected. It is not possible that these drone operations were without the knowledge of the Pakistani military. Pakistan is a rogue nation backed by Beijing. Therefore, prudence demands that we be prepared for drone swarms without hiding behind the excuse that such enemy action would amount to major escalation. Soft targets too are now prone to drone attacks. We must be prepared for isolated drone operations as well as drone swarms. America's Lockheed Martin recently demonstrated their Advanced Test High Energy Asset (ATHENA) laser weapon system for the US Air Force, successfully engaging and shooting down multiple fixed wing and rotary drones. The BSF has appointed a committee to look into the issue but it would be prudent to configure a committee at the national level taking all stake holders, DRDO, scientists and private industry on board considering complexity of the threat and the gestation period required for requisite counter measures to be instituted.