| | |
| --- | --- |
| | The Author is Former Director General of Information Systems and A Special Forces Veteran, Indian Army |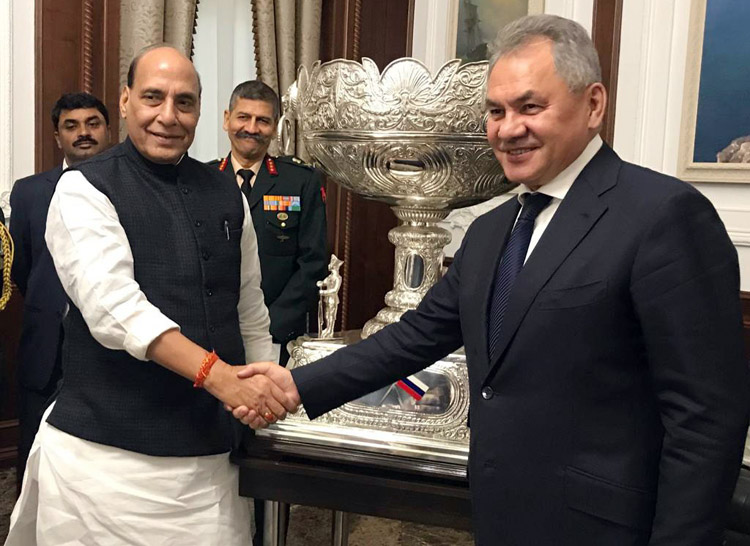 Union Minister for Defence Rajnath Singh meeting the Defence Minister of Russia, General Sergey Shoigu before the India-Russia Inter-Governmental Commission on Military and Military Technical Cooperation (IRIGC-M&MTC) meeting, in Moscow, Russia on November 6, 2019.
Defence Minister Rajnath Singh arrived in Moscow on November 5 for a three day visit to Russia. This was his first visit to Moscow as Defence Minister. The main agenda for his visit was to co-chair the 19th India-Russia Inter-Governmental Commission on Military and Military-Technical Cooperation (IRIGC-M&MTC) and discussing modalities pertaining to defence co-production between the two countries. Concurrent to his visit our Ministry of Defence (MoD) had issues a statement that Rajnath was expected to hold extensive discussions with Defence Minister of Russia General Sergei Shoigu covering all areas of military-to-military cooperation and defence industrial cooperation. He was to also to jointly (with Russian Minister of Industry and Trade Denis Manturov) inaugurate the 'India-Russia Defence Industry Cooperation Conference', aim of the Conference being discussing ways to promote defence industrial cooperation between India and Russia, transfer of technology (ToT) and investment in India in the defence industry under the 'Make in India' programme. Rajnath Singh was also scheduled to visit St Petersburg where to place a wreath at the Piskarevsky Memorial Cemetery honouring the soldiers and civilians who laid down their lives during the Second World War.
Ahead of Rajnath's visit to Moscow, MoD had been working to implement an agreement to manufacture spares and equipment for Russian origin equipment in India and identifying specific items for joint ventures for production. The India-Russia inter-governmental agreement (IGA) on mutual cooperation in joint manufacturing of spares, components, aggregates and other material related to Russian or Soviet origin arms and defence equipment was signed on September 4, 2019 during the 20th India-Russia Annual Summit at Vladivostok. Both governments are to coordinate the effort and the Society of Indian Defence Manufacturers (SIDM) has been tasked to identify specific companies that would be allowed to take part in the initiative after assessing the competence of individual firms.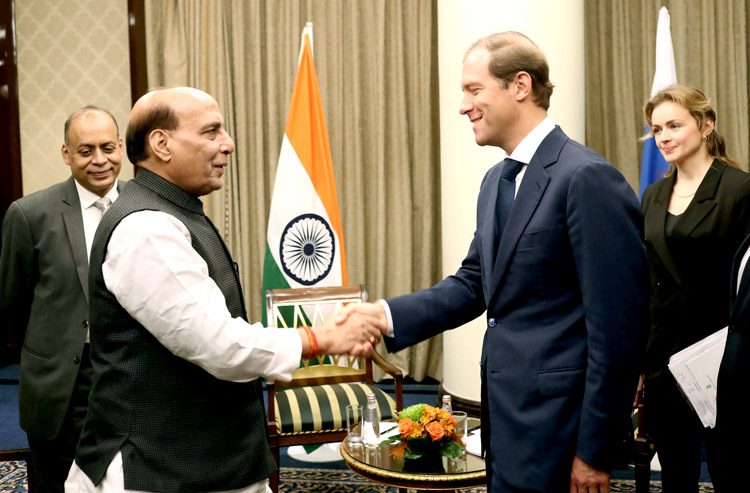 Rajnath Singh meeting the Minister of Industry and Trade of Russia Denis Manturov, in Moscow, Russia on November 5, 2019. Defence Secretary Ajay Kumar is also seen.
During his visit, Defence Minister Rajnath Singh was to be accompanied by senior bureaucrats and discussions were to include all ongoing military programme between the two nations, including the S-400 air defence system that presently being manufactured in Russia for delivery to India next year. Addressing CEOs of Original Equipment Manufacturers (OEMs) from the Russian defence industry after jointly inaugurating the India-Russia Defence Industry Cooperation Conference in Moscow on November 5, Defence Minister Rajnath said, "We are eager to see several joint industrial activities in India on the basis of the existing agreement." The Indian side highlighted the IGA on mutual cooperation signed in September 2019, which defines broad framework of cooperation for manufacturing of spares in India by way of collaboration between the Indian industry and Russian OEMs. Rajnath assured that India would provide orders for procurement of agreed quantities at mutually decided price for a period not less than five years (which would help reduce costs and timelines of supplies, and progressive indigenisation of spares). Rajnath stated that India was ready to explore opportunities and co-production of high-end defence equipment with Russia. He also invited Russian manufacturers to participate in the forthcoming DefExpo 2020 (February 5-8) scheduled to be held in Lucknow, Uttar Pradesh, with the Russian Minister confirming participation. Both Ministers also welcomed the outcome of the India-Russia Defence Industry Conference held in Moscow on November 5, 2019. The Russian side affirmed its readiness to operationalise joint venture lndo-Russia Rifles Private Limited for the manufacture of Kalashnikov AK 203 rifles in India.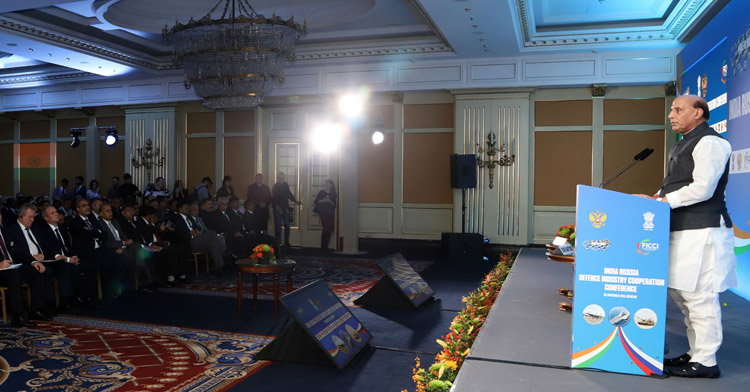 Rajnath Singh addressing the 'India-Russia Defence Industry Cooperation Conference', in Moscow, Russia on November 5, 2019.
During the 19th IRIGC-M&MTC meeting on November 6, General Shoigu, terming India "an exclusive strategic defence partner" for Russia reaffirmed Russian resolve to support India in the field of counterterrorism and underlined Moscow's resolve to extend all possible support to enhance India's defence capabilities Including cutting-edge military technology under the 'Make in India' policy. Russia agreed to constitute specific teams to ensure proper maintenance support and supply of spares for crucial weapon platforms ranging from the S-400 Triumph, Sukhoi-30MKI fighter jets and T-90S main battle tanks. Both sides agreed to intensify efforts to finalise a cooperation programme for 10-year period beginning 2021. India made an advance of $850 million and asked the Russian Federeation to expedite supply of the S-400 Triumph Air Defence Systems, the overall contract being $5.43 billion (40,000 crore) for the five S-4400 Triumph systems that was inked in October 2008. The official statement said the two countries expressed satisfaction on the progress in implementing ongoing contracts concluded in the recent past. Both leaders reviewed progress of the two working groups on Military and Military Technical Cooperation. It was agreed that the forthcoming Tri-Service INDRA Exercises will be a major milestone in military cooperation between the two countries. The Russian Defence Minister requested for participation of an Indian contingent in the parade honouring the 75th anniversary of the Great Victory of the Soviet Military to be held in Moscow during 2020, which Defence Minister Rajnath Singh accepted and confirmed India participation. It may be recalled that Russian President Vladimir Putin had already extended an invitation to Prime Minister Narendra Modi to attend the victory celebrations next year. There was speculation in the media earlier that India and Russia will possibly sign the Reciprocal Logistics Support Agreement (RLSA) during Defence Minister Rajnath Singh's visit to Moscow, allowing militaries on either side to use the bases and ports for repair and maintenance of equipment, warships and planes, besides seek refueling and logistics from each other. However, there is no confirmation of the ELSA having been signed.
There was also speculation that Russia would raise the Self Propelled Air Defence Gun Missile System (SPAD-GMS) project with Rajnath Singh on sidelines of the IRIGC-MTC meeting. However, there is no official word about it. The Indian Army is looking to procure five regiments SPAD-GMS, which will have 104 systems, of gun missiles systems, including 4,928 missiles and 1,72,260 rounds of ammunition. Notwithstanding this, India-Russia partnership is taking an upswing with Russian promises made during visit of Defence Minister Rajnath Singh's visit, including maintenance support for Russian-Soviet origin weapon systems, collaboration under Make in India, and transfer of high-end technology.