| | |
| --- | --- |
| | The Author is Former Director General of Information Systems and A Special Forces Veteran, Indian Army |

SiG 716 Assault Rifle
Media reports of December 14 indicate that soldiers deployed on the borders with Pakistan and China have finally started receiving new assault rifles after a wait of almost 15 years. These happen to be ex import from US firm Sig Sauer, which is a slap on the indigenous governmental defence-industrial complex, particularly the Ordnance Factory Board (OFB), who despite spending enormous amount of money in terms of crores of rupees over decades have not been able to produce a single small arm for the Armed Forces which could truly be classified state-of-the-art.
The Army has received the first consignment of 10,000 Sig Sauer assault rifles. A total of 72,400 of these rifles were contracted in February 2019 at the cost of 638 crore under the fast track procurement (FTP) route. The delivery of balance rifles is expected to be completed by February 2020. Of these 72,400 rifles, Army is to get 66,400, Air Force share is 4,000 while Navy will get 2,000. These 7.62x51mm caliber Sig Sauer rifles with an effective range of 500 metre have been imported to meet the immediate operational requirement. These rifles incorporating modern technology are compact and easy to maintain in field conditions. The 7.62x51mm SIG716 rifles are an advanced assault rifle platform with a 16 inch barrel, M-LOKTM handguards and a six position stock. The SIG716 is currently available in patrol and DMR configurations. India is procuring the patrol rifle configuration in line with the request for information (RFI) that the Indian Army had issued in February 2018. Out of the 72,400 x 7.62x51mm SIG716 assault rifles, Indian Army would receive 66,400, while Indian Air Force and Indian Navy would get 4,000 and 2,000 of these rifles respectively. The Armed Forces require 8.1 lakh assault rifles for the three services, out of which Army alone needs 7.6 lakh rifles to replace the INSAS rifles.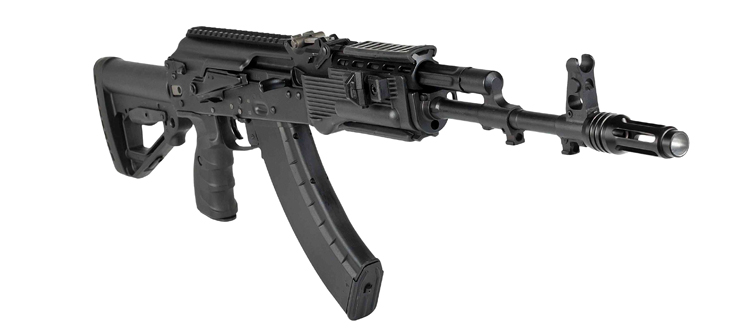 AK-203
According to Alexey Krivoruchko, Chief Executive Kalashnikov Concern (formerly Izhmash), the firm had been interested in producing AK series of rifles in India since 2008 and had been having earnest discussions with Indian companies from 2015 to establish a joint venture in India. It may be recalled that in September 2018, media reported India rejected the "Russian" proposal to produce AK series of rifles in India in joint venture with the Adani Group. By then the government was already under severe pressure due to the Rafale controversy. When Kalshnikov actually made the offer to Adani Group was kept under wraps but had it been accepted, the need for go for the SIG716 assault rifles would probably not have risen. But MoD told Russia that Kalashnikov would have to tie up with a government entity i.e. OFB. The rejection bit was possibly delayed to enable procurement of the SIG assault rifles simultaneously, not only keeping both the US and Russia happy, but also MoD bureaucrats with imports being the lucrative option. It also avoided possible accusations of favoritism towards the Adani Group, and gave a fillip to the OFB which has not been able to produce a single state-of-the-art small arm over past 72 years, though established in 1802 and presently having 1,64,000 employees. By getting OFB involved in this venture, MoD also could deflect from the rising concerns for the need to downsize the governmental defence industrial complex (DRDO-OFB-DPSUs), which are sucking hugely on taxpayers money with grossly poor outputs despite MoD overseeing their functioning and joint secretary level MoD bureaucrats appointed to all the boards of these entities.
Most of the balance of the Army or rather the military is to be equipped with the AK-203 assault rifle being produced in India with Russian collaboration. Ordnance Factory at Korwa in Uttar Pradesh is to manufacture 7,45,000 AK-203 rifles, with effective range of 300 meter, in collaboration with Russia; a joint venture that may be worth over 12,000 crore. The Army is to get over seven lakh of these AK-203 rifles, Air Force 29,000 and the Navy 13,600. The final contract with Russia is likely to be signed in early 2020. Army Chief General Bipin Rawat had earlier stated that The entire Army cannot be equipped with state-of-the-art assault rifles because of budgetary constraints. Since supply of seven lakh plus AK-203 will take some time, perhaps Army could review the decision unless it wants to continue with the 5.56 INSAS with a variety of faults.