| | |
| --- | --- |
| | The Author is Former Director General of Information Systems and A Special Forces Veteran, Indian Army |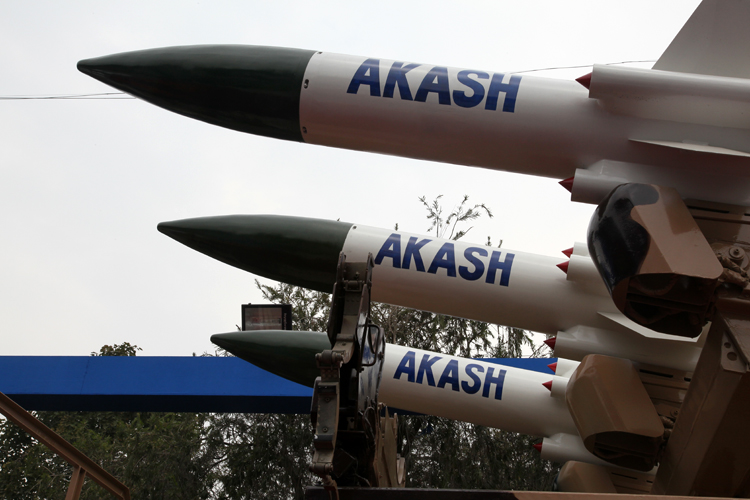 Akash missile
The 'Akash' missile indigenously produced by the Defence Research and Development Organisation (DRDO) is in the news again for the wrong reasons. Though not in public domain, the details emerging in media now with respect to the Akash Missile System are shocking to say the least. It is reported in media that on June 3, 2018, an Akash Missile's Transportation and Loading Vehicle (TLV) in an IAF squadron suffered a sudden burst of tube followed by shearing off wheel bolts due to the impact. Significantly, three squadrons of Akash Missiles of IAF (commissioned between 2013-2015) reported in February 2019 that that the missile system remained down or simply broken and sometimes even out of order during 90 per cent of the time since their commissioning.
The malfunction of Integrated Air Compressor and Storage Facility (IACSF) revealed another shocker and the IAF mentioned it on record that the IACSFs of Akash Missile System units are unserviceable due to wobbling and vibration, pneumatic leakage, breaking of mounting pads and bolts. A missile had failed to take off during combined guided weapon firing exercise 'CROSSBOW-18' and a team of Missile System Quality Assurance Agency (MSQAA), BDL and DRDL was constituted to investigate the failure. Bharat Dynamics Limited (BDL) under the Ministry of Defence (MoD) and the DRDO hid the truth about malfunctioning Akash Missile system and poor quality of spare parts, as also did the Director General Aeronautical Quality Assurance functioning directly under the Department of Defence Production (DoDP) of MoD. That the DoDP and MoD are party to such corruption goes without saying. Media has quoted the Comptroller and Auditor General (CAG) stating categorically in 2017 that the Akash Missiles cannot be trusted in situations of war. In emergent situations, several Akash squadrons may not be able to respond adequately because deficiencies in many of the system including hydraulic oil leakage and container pressure leakage, which is pending since 2017.
Notably there is no back-to-back agreement with vendors for equipment under warranty, making it difficult to repair the faults. Media also reports that certain spares, especially those of sub-vendors (procured by BEL) were being received at Akash Missile System units without 'Quality Assurance' certification and on a few instances it came to light that these spares were old and fake. In a letter, it was noted: "On few instances it has been noticed that the items were not new/authentic." It would not be surprising that it was to wash off responsibility and accountability from such grave defaults that MoD's bureaucracy recently authorised 'self certification' by government and private entities supplying defence equipment to Armed Forces. According to the media, in a meeting chaired by Air Vice Marshal Rao high failure rate of one of the systems of Akash Missile was discussed, as also lacunae in analysis of faults and mismatch in software versions used, with the AVM questioning that if the Defence Research and Development Laboratory (DRDL) is the authority then why doesn't it have intellectual property rights of all designs related to Akash Missile System? Eight critical snags in Akash Missile Systems were reported after the CAG report of 2017 which were pending for three-seven months. CAG had recommended that MoD must ensure better synchronisation of various agencies involved to ensure timely completion and quality improvement of Akash Missile System to bring down failure rate. However, many snags were not rectified citing lack of spares.
Akash was one of the five core missile systems of the integrated guided missile development programme launched by DRDO in 1984; Akash was to replace the Russian Kvadrat System with the Army for providing air defence cover for mechanised forces during manoeuvre battle. Some 23 years later, when the trials were done in 2007 the Army found that while on the move, Akash could not negotiate undulating ground appropriately and had difficulty in acquiring even slow moving helicopters, leave aside fast moving aircraft. The Army therefore rejected Akash outright because it did not meet the requirement of providing air defence for mechanised forces during manoeuvre battle. So Akash was 'given' to the IAF. The IAF did not mind because IAF deploys air defence weapons for protection of vulnerable points and vulnerable areas in layers. So, Akash became one of the air defence weapon in this multi-layered air defence.
In early 2015, media reported that the Army was to get "Improved Akash Weapon System" which was 96 per cent indigenous. But the Army found that this so called 'Improved Akash' is still incapable of providing air defence for mechanised forces during manoeuvre battle like the vintage Kvadrat. So, the Army perforce had to use the 'Improved Akash' in static role. It is for the same reason, that the Navy rejected Akash; for problem of stabilisation. What should be a matter of grave concern is that we already have the technology of guns firing on the move past several years; naval guns aboard ships and tanks in Army - the T-90 Russian tank being by far the best for accuracy on the move. Then why could this technology not be incorporated in the Akash Weapon System despite three decades of development – to acquire and engage targets on the move? The answer is that the system puts tremendous pressure on the Services on the plea that when so much money and time has been spent on developing a product / system, at least buy "some" to compensate the development / part development costs.
Such pressure is invariably at the level of the Defence Secretary or Secretary Defence Production, even by Defence Ministers at times. The question is where we go from here when even strategic weapon system stand degraded by defence agencies threatening national security? Can we progress beyond deflecting blame to each other? Ironically, the government shows no will to reorganise the MoD by inducting military professionals, the vital need being to merge HQ Integrated Defence Staff (IDS) into MoD, the very purpose for which the former was raised.