| | |
| --- | --- |
| | The Author is Former Director General of Information Systems and A Special Forces Veteran, Indian Army |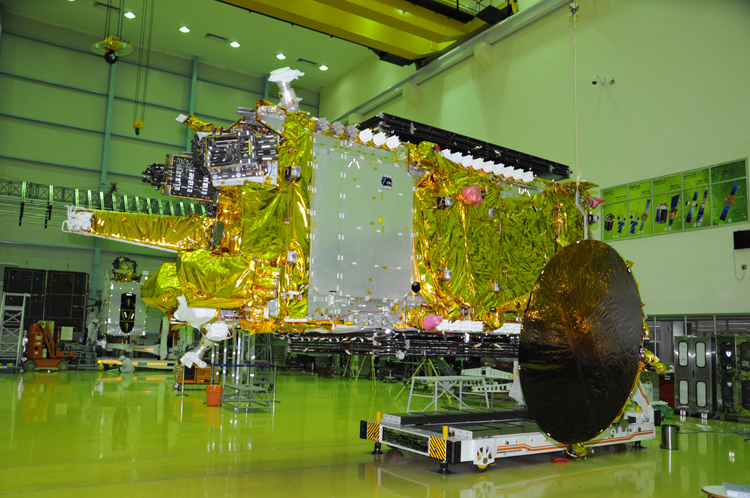 In June 2020, ISRO is planning to launch a mega satellite 'GSAT-20' which will provide high speed internet of 100 Gbps (gigabits per second) or more to India's rural and remote areas. GSAT-20 is the second five-ton class satellite after GSAT-11 (shown here).
There is more good news in the offing from ISRO. By mid 2020 or rather June 2020, ISRO is planning to launch a mega satellite 'GSAT-20' which will provide the high speed internet of 100 Gbps (gigabits per second) or more to India's rural and remote areas. GSAT stands for 'Geo synchronous Satellites' and GSAT-20 is a part of GSAT series satellites developed by ISRO. GSAT-20 is the second five-ton class satellite after GSAT-11. It will be the second heaviest satellite built by ISRO. An official of the Department of Space (DoS) stated on November 28, 2019, that GSAT-20 will solve India's connectivity problems. During the recent India SATCOM Conference organised by Broadband India Forum (BIF), ISRO chief K. Sivan also said, "GSAT-20 is to be planned in mid-2020. Next-generation high throughput satellites will address connectivity issues". In addition to providing high-speed internet in rural areas of India, GSAT-20 is also expected to provide in-flight internet connectivity. This will be a big boost to government's 'Digital India' programme and showcase prowess of high-speed communication technologies of India. It is notable that fastest internet service providers in China presently are maximum of 50 Mpbs (megabits per second): AT&T offering internet at speeds up to 20 Mbps; Spectrum offering internet at speeds up to 50 Mbps; Viasat offering internet at speeds up to 25 Mbps, and; HughesNet offering internet at speeds up to 25 Mbps. Compare this to GSAT-20 providing high speed internet at 100 Gbps or more with one Gigabit equaling 1,000 megabits.
Interestingly, Russia is testing its 'sovereign' internet commencing December 23, 2019 for the reliability of its domestic internet infrastructure in the event that the country is disconnected from the worldwide web. Russia enacted the 'Sovereign Internet" Bill in November in response to what the west describes as 'aggressive nature" of the US national cyber security strategy', which accuses Moscow of carrying out hacking attacks, as a means to ensure the internet continues functioning in Russia. According to the law, all communications operators, messengers and email providers must participate in the tests, as well as state-run institutions and security services. President Vladimir Putin told journalists on December 19 that a free internet and a sovereign internet did not contradict one another.
On December 7, 2019, China launched seven civilian satellites on using mobile launch vehicles normally used to fire military rockets. The first launch in the morning sent one remote sensing satellite into orbit, while six satellites were sent into orbit in the evening. Latter were possibly for communications and navigation. The satellites were launched using KZ-1As rockets, a lightweight solid fuel projectile developed by the China Aerospace Science & Industry Corporation (CASIC), using technology initially for use by the military. The KZ-1A was first launched in 2017 and the December 7 dual launches were its fourth and fifth missions this year, all of which were completed successfully. The rockets reportedly had high delivery accuracy, short preparation time and low cost. These launches proves that such rockets allow for the speedy launch of replacement satellites if China's communication or navigation network in space was damaged or came under attack – an important capability in space warfare.
Significantly, North Korea announced on the same day (December 7) it had conducted a very important test at its Sohae satellite launch site without revealing details, but claiming this would have an important effect on changing the strategic status of North Korea, without giving any details of the test. North Korea had earlier stated that it had shut down the Sohae satellite launch site. ISRO chairman K. Sivan has confirmed that ISRO too is working on developing mobile launch pad but will not be using military technology as used by China. Instead ISRO will build a mobile launch pad for the proposed small satellite launch vehicle (SSLV) class of vehicles. ISRO has already requested for Rs 120 crore for a new launch pad for SSLV, which will be part of the new spaceport being proposed in Kulasekarapattinam, a town in the Tamil Nadu's Tuticorin. The process of acquisition of more than 2,000 acres of land in Kulasekarapattinam has already begun. The DRDO had successfully demonstrated capabilities hitting a satellite in space using a missile on March 27, 2019. This technology can reportedly be turned around to provide the spin off as a mobile launcher. However, K. Sivan has said ISRO will not be working with DRDO on this but instead focus on building mobile launch pads at the second spaceport coming up in Tamil Nadu.
Presently ISRO has been using the Satish Dhawan Space Centre (SDSC) at Sriharikota in Andhra Pradesh for all the launches. SDSC will continue to serve the space agency with PSLV and GSLV launches even in the future. Sivan told media, "For the Gaganyaan mission, we will require some changes to be made and those modifications will be carried out at Sriharikota." ISRO has planned at least two experimental flights of SSLV in 2010 and is also looking at involving private players for development of future rockets. The space agency has been opening up opportunities for the private sector with the first official expression of interest (EOI) inviting private consortiums to build as many as five PSLVs issued in August 2019. ISRO is aiming at major milestones in coming years; from a mission to the Sun ('Aditya') to 'Chandrayaan-3', and from 'Gaganyaan' (human spaceflight mission) to 'NISAR', a joint project with America's NASA.