| | |
| --- | --- |
| | The Author is Former Director General of Information Systems and A Special Forces Veteran, Indian Army |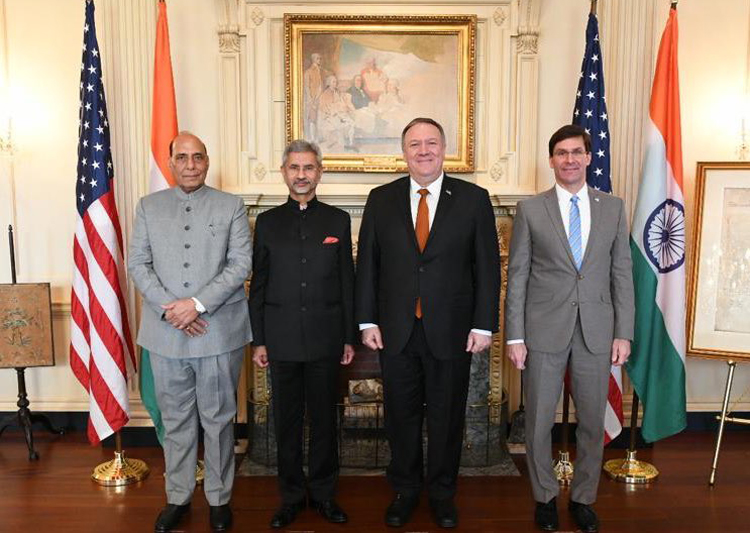 DOUBLE BARREL AGENDA SETTING: Defence and External Affairs Ministers Rajnath Singh and S Jaishankar with the US Secretaries of State and Defense Michael Pompeo and Mark Esper at the 2+2 Ministerial in Washington DC
December 18, 2019 saw the Indo-US 2+2 Ministerial Dialogue at Washington DC; External Affairs Minister S. Jaishankar and Defence Minister Rajnath Singh from India and the US side represented by Secretary of State Michael R. Pompeo and Secretary of Defence Mark T. Esper. Media referred to this dialogue being held in the shadow of President Donald Trump's impeachment and reaction to the Citizenship Amendment Act (CAA) in India. Democrats reportedly have only 47 votes compared to 67 required to send Trump home, so it is more of an attempt to reduce Trump's chances win the next presidential election. The CAA was not discussed at the 2+2 Dialogue but EAM Jaishankar shared India's perspective on the CAA with leadership of the US Senate Foreign Relations Committee. Before the dialogue, EAM Jaishankar and Defence Minister Rajnath called on President Donald Trump in his White House office. At the 2+2 Dialogue, both sides discussed ways to expand their '21st century partnership', welcoming unprecedented levels of mutual military cooperation enabled through enhanced exercises like the tri-service 'Tiger Triumph' held for the first time, greater information sharing, expanded defence trade, placement of liaison officers, and defence enabling agreement including the recently concluded Industrial Security Annex (ISA) to promote defence collaboration between private sectors of both countries.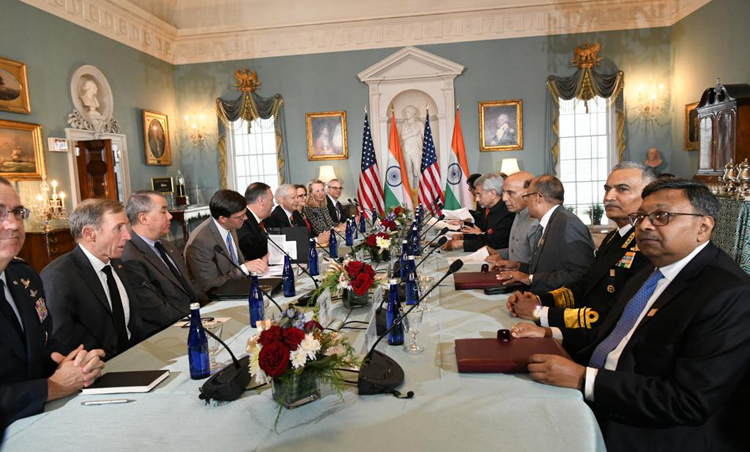 CLEARING THE DECKS: Delegation-level talks with the Foreign Affairs and Defence establishments on the same table aimed at giving depth and momentum to India-US strategic ties
Big-ticket defence deals were not discussed though US Defence Secretary Mike Esper expressed satisfaction over the current rate of defence trade (US$ 18 billion annually) and improved interoperability and better understanding by saying, "it is not just about equipment, hardware, software, what it (greater defence trade) does is it gets to improve interoperability between our two countries and our militaries, a better understanding of the way to work and fight better together if called upon to do so." Both sides resolved to deepen the bilateral partnership for addressing global and regional threats, and enhance maritime security under an overreaching commitment to work together in support of a free, open and inclusive Indo-Pacific region. They welcomed new initiatives to further strengthen people-to-people ties, new exchange programme for parliamentarians and young innovators, expansion of university research partnership, increased judicial cooperation, and a new Science and Technology Agreement. The joint statement issued on conclusion of the 2+2 Dialogue included: "The Ministers called on Pakistan to take immediate, sustained and irreversible action to ensure that no territory under its control is used for terrorism against other countries in any manner, and to arrest and prosecute the perpetrators of cross-border terrorist attacks including 26/11 Mumbai and Pathankot. India appreciates US support at the United Nations for terrorist designations, including of JeM's Masood Azhar, and the United States welcomed changes in Indian law that will facilitate further cooperation on terrorism designations." Pakistan's engagement with terrorist organisations like Al Qaeda, ISIS/Daesh, LeT, JeM, Haqqani Network, Hizb-ul Mujahideen (HuM), Tehrik-e-Taliban Pakistan (TTP) are of concern to both India and the US. At the joint press conference after the dialogue, Pompeo spoke about: the growing US-India Strategic Partnership; common values of democracy, freedom, respect for the rule of law as great foundation for mutual expanding partnership; new agreements on space exploration, defense industrial collaboration and new initiatives to help secure internships for innovators, and US support to India's Coalition for Disaster Resilient Infrastructure; progress in trade deal; US crude and LNG exports to India of over US$ 6 billion in past 24 months; common vision for the region with allies and partners including Japan and Australia; both countries working towards a stable Afghanistan, and; mutual discussion on China especially risks from China-built communication networks including 5G and China's unfair and predatory economic activity in the Indo-Pacific presenting a risk to freedom. Defence Secretary Esper spoke similarly, emphasising on: strong defence relationship; strengthening mutual robust maritime partnership and expanding military-to-military cooperation, and; ISA facilitating collaboration between both defense industries, plus three agreements under the Defense Technology and Trade Initiative (DTTI) enabling co-producing and co-developing critical technologies. Defence Minister Rajnath Singh spoke on multiple issues including: mutual cooperation being critical to the security and management of global commons; important milestones achieved by way of hotline between Indian defence minister and US Secretary of Defense, first tri-service exercise, link established between NHQ and USINDOPACOM, posting an ELO at NAVCENT in Bahrain, enabling most of US-origin platforms in India with secure communications, and conducting defense policy group dialogue after a gap of almost four years; signing of ISA before the 2+2 Dialogue; India and US can come together in the Indo-Pacific Oceans Initiative announced by PM Modi during the 14th East Asia Summit at Bangkok on November 4, 2019; mutual discussion on situation in Afghanistan, Pakistan, Nepal, Sri Lanka, and the Indian Ocean region in general, and; India's interest in expanding scope of the Military Cooperation Group (MCG) by participation of senior officers from CENTCOM, AFRICOM, and Joint Staff from the US side, with HQ IDS heading the MCG in India.
EAM Jaishankar stated that recent months have witnessed five ministerial-level visits between the two sides apart from institutionalized dialogues and parliamentary exchanges, which demonstrate the intensity of the engagement. He further emphasized on: discussion to leverage respective strengths to benefit entire Indo-Pacific region; cooperation to advance free, open, inclusive, peaceful, and prosperous Indo-Pacific based on the recognition of ASEAN centrality; promoting UN peacekeeping capacity-building of partners in the Indo-Pacific; welcomes the US as founding member of the Coalition for Disaster-Resilient Infrastructure; appreciate Secretary Pompeo's remarks on 11th anniversary of the 26/11 Mumbai attack and discussion on addressing such challenges, including working closely together with the FATF; mutual cooperation in challenges and evolving practices in adjudicating counterterrorism cases, and further facilitate exchanges in the areas of criminal jurisprudence; agreement on water resources for collaboration in quality assessment of the management of water, and; appreciation of US support for the Chabahar project, which will immensely benefit Afghanistan. The growing aggressiveness of China has egged the US for greater cooperation with India as also other nations of Indo-Pacific. The US views Pakistan merely through the prism of terrorism, with little focus on China's support to Pakistan in generating terror. Far more significant is Pakistan acting as the platform for Chinese operations in the Indo-Pacific, within which the Makran Coast of Pakistan is the Chinese vector for domination of the Straits of Hormuz and challenge the US and allies. Joint China-Pakistan naval drills with live ammunition in northern Arabian Sea Persian Gulf are indicators of future conflict. These are issues that dialogues like the 2+2 need to examine closely.