| | |
| --- | --- |
| | The Author is Former Director General of Information Systems and A Special Forces Veteran, Indian Army |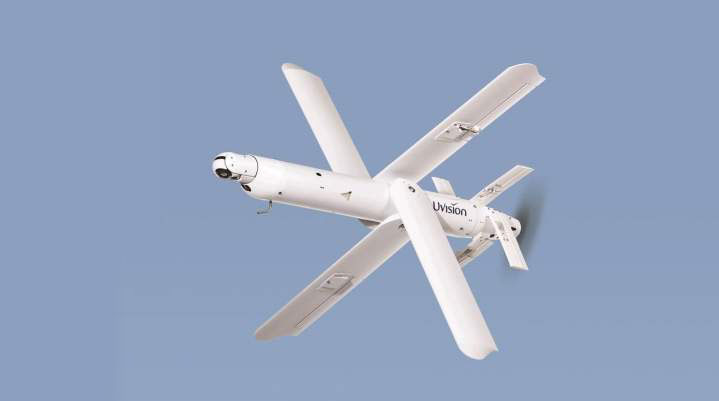 Hero-30
In 2016, US Companies were looking to market the Hero-30 loitering munition to the US military. Hero-30 is a man-portable unmanned aerial vehicle (UAV) or drone designed for about 30 minutes loiter with a 0.5 kg warhead. Launched from a canister via air pressure and powered by an electrical engine in flight, it can transmit a video-feed and strike the target like a missile. The low explosive yield mitigates the chances of collateral damage. Loitering munitions can provide a breakthrough against enemies well protected by their surroundings, like built up areas, as also top attacking tanks and armoured vehicles. Loitering munitions are considered a mix of cruise missiles and drones. Once launched, they can 'loiter' in the air and wait for its target, or conduct reconnaissance and surveillance operations. It then launches a 'suicide attack' like a missile after finding out its location. Some types of loitering munitions can even return to the base for future deployment.
The US already had the Switchblade loitering munition but with loiter time of 10 minutes. The current news is that China's PLA has invited tenders to procure two different types of loitering munitions, as seen from the PLA's website on March 9, 2020. The details and number of such systems to be procured have not been disclosed, amongst the announcement that also seeks tenders for several other items - including two types of fuel air explosive and two types of terminal-phase, laser-guided munition. This information is listed as 'confidential'. In the category of loitering systems, the PLA already has the indigenous CH-901 and WS-43. The CH-901 is 1.2 m long drone weighing 9 kg. It has a top speed of 150 kmph, an operation radius of 15 km and an endurance of 120 minutes. The WS-43 has a range of 60 km, carries a warhead of 20 kg and can loiter over the target area for 30 minutes. The WS-43 can also be launched from a rocket launcher.
The Indian Army too has issued a Request for Information (RFI) on March 6, 2020, for procuring 100 x loitering munition systems, which will be deployed with the infantry using man-portable platforms. The Army is looking at September 2020 as the target for issuing the tender and the required quantity to be delivered within 18 months of the contract. The operational and broad parameters set out in the RFI include: man portable platform with sensors integrated with munition for surveillance by day and night and also pinpoint strikes; light weight, easy to carry and operate; flight endurance of at least 30 minutes and a range of not less than 15 km (LOS); controlled by ground controller through data link; warhead to destroy personnel and soft skinned targets; all weather capability across the spectrum of conflict in Indian terrain and climatic conditions; overall weight not more than 20 kg and operable by 1-2 persons; operate up to 4,500 m above mean sea level (AMSL) and not less than 300 m above ground level (AGL); should have anti jamming and anti spoofing properties; maps should include Raster, Digital terrain elevation data, GIS ready maps in SHAPE file format and GIS geo references should be displayed in latitude-longitude or Indian Military Grid Reference (IMGR); should fulfill relevant EMI/EMC requirements as per military standards, and; capable of being air dropped, placed on a platform system and flexible enough to slither down man-packed from helicopters.
Launching loitering munition in advance implies the defender will find it very difficult to locate where the munition was launched from. Loitering capability gives advantage to the attacker in reducing the launch and travel time, plus the advantage of surprise. Given the rapid advancements in technology and the fact that loitering munition systems are cheaper than the armed reconnaissance drone, more countries should be expected to produce and use loitering munitions, which could become a common sight on the modern battlefield. Naturally the Original Equipment Manufacturers (OEMs) will market these to other countries. Concurrently, the use of hard-kill protection suites and radio jamming as part of electronic warfare technology would also become very common. But going by the old adage of mine versus anti-mine, solutions would eventually be found to counter loitering munitions – same way as the existing invincibility of hypersonic platforms will eventually find a counter some day in future. Hopefully the India Army gets these 100 x loitering munition systems in the visualised time frame to boost its combat potential.