By Lt. General P.C. Katoch (Retd)


Former Director General of Information Systems, Indian Army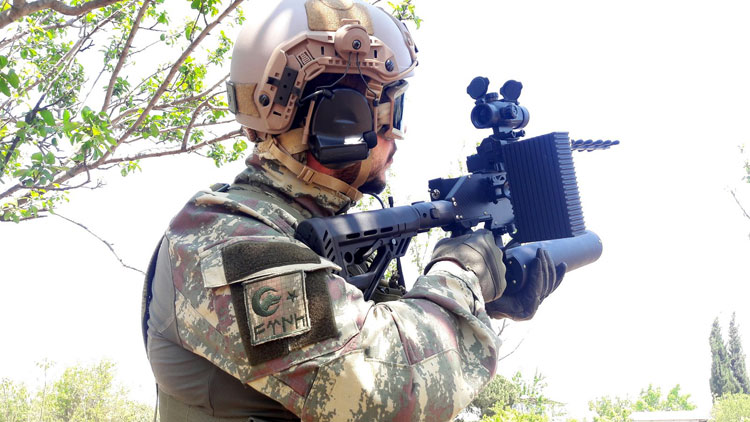 ES-60 Electromagnetic Anti Drone Gun
The yesteryears race of mine and anti-mine has long since been overtaken by the race of drone and anti-drone. These technologies are evolving at a terrific pace with newer inventions showing up periodically that have also been reported in these columns from time to time. On March 15, 2020, Harp Arge, Turkey's first electromagnetic anti-drone systems manufacturer, unveiled its newest anti-drone weapon' ES-60 Electromagnetic Anti Drone Gun' produced with the latest antenna technology, allowing for reduced size and weight. The ES-60 is designed to inflict high-speed electromagnetic interference to disrupt communications between drones and their control units and cause enemy devices to malfunction. According to Harp Arge, which has been working to improve capabilities of Turkey's drone systems, the anti-drone gun ES-60 has a weight of 2.5 kilograms and is capable of combating rogue drones within a 3-kilometer range. The company said the new antenna technology installed enabled the company to reduce the size and weight of the weapon to an impressive extent. The company further added that the jamming weapon is produced using more than 70 per cent of locally sourced content and would only be provided to government agencies as per weapons regulations. Harp Arge added that they had been working on the design and prototyping of an anti-drone gun for a long time but that its production was made possible only after it was acquired by Istanbul-based Ekba Holding in early March 2020. The company has now been included in the Cemd Defense Corporation group that operates as part of the Ekba Holding and will start mass production of the ES-60 after establishing its assembly line. Harp Arge focuses on meeting the Turkish military's need for unmanned systems, electronic warfare and robotics.
An electromagnetic anti-drone weapon developed by the firm earlier 'Drone Killer' has seen high demand abroad, with the company launching a marketing study partnership with a Turkish construction and defense industry firm. The first exports of the weapon were made to Azerbaijan after successful tests by the country's military in 2017. Interestingly, Harp Arge was established only in 2016. The Drone Killer is able to capture and neutralise the threatening drone up to one k.m. at a certain angle in the air through the jammer frequency spreading by the directional antenna in front of it. According to the target class, the drone systems can react differently. In some classes, the system may interrupt the connection of the drone with the controller and hang it in the air until the battery runs out, or it may take down the drone by interrupting the connection with the controller. At the 3rd High Tech Port exhibition held in Turkey during November 2017, Aselsan (another Turkish firm) launched a prototype of the portable IHASAVAR (Man-Portable Drone Jammer) system with the IHTAR anti-drone system, which is able to detect and deter micro and mini UAV systems. Given the close military cooperation between Turkey and Pakistan and the recent Islamist embrace of Turkish President Recep Tayyip Erdogan and Pakistani PM Imran Khan, Pakistan would definitely get these anti drone guns if not already possessing them.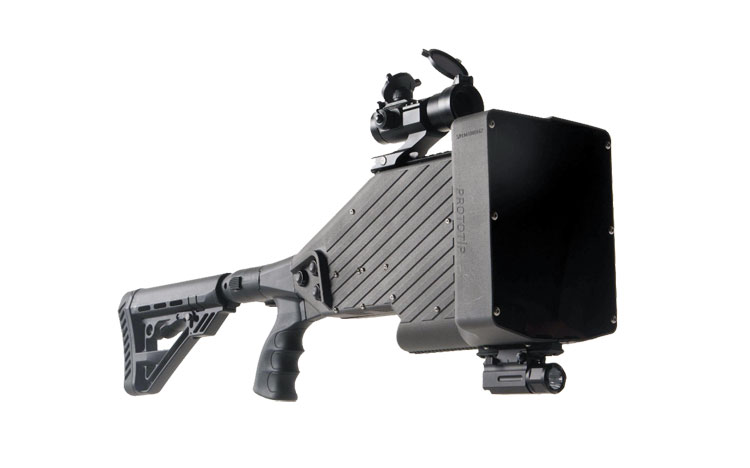 ES-60 Electromagnetic Anti Drone Gun
News reports of September 30, 2019 quoting official sources had said that India has an estimated over six lakh rogue drones or unregulated unmanned aerial vehicles (UAVs) and that security agencies are also analysing modern anti-drone weapons like 'sky fence' and 'drone gun' to counter terror or similar sabotage bids by these aerial platforms. During the visit of US President Donald Trump to India on February 24-25 this year, an indigenously developed anti-drone system was deployed to cover Trump travelling 22 km from Ahmedabad airport to Motera stadium, accompanied by Prime Minister Narendra Modi, to attend the 'Namaste Trump' event organised as a sequel to the 'Howdy Modi!' event at Houston last year. The indigenous Anti-Drone System equipped to instantaneously detect, identify and destroy hostile drones was successfully tested on February 21, 2020 in destroying a drone ahead of Trump's visit. Terra Drone of Indonesia successfully completed a pilot project in March 2020 of a drone equipped with Ground Penetrating Radar (GPR) system flying the equipped drone at different altitudes and speeds to map tunnels and underground utilities at the Bandung Institute of Technology campus. Comparing the drone-data with infrastructure records of the university by geophysicists' it was found the drone precisely mapped underground assets. This shows potential to use drones substituting humans in jobs that are dark, dirty and dangerous like mapping the sewerage, underground electricity and tunnels under a city. It can also be used to model post-blast areas in open-pit mines, as also in construction and utilities - to locate underground pipes, map conditions of assetsand detect hazards like pipeline leaks.
Concurrently, the Swedish startup 'Inkonova' has developed a unique drone named 'Tilt Ranger' to explore underground caverns and mines quickly and safely without the use of GPS. Tilt Ranger comes with wheels or has a land vehicle version to suit requirements of the consumer. Tilt Ranger can run, climb and fly. Its rotors can tilt to support its movement or carry the drone's full weight. With 20 minutes of flying time and three First Person View low lux, cameras for dark environments, the pilot can use an on-screen display to see what's going on even in dark, dangerous and hard-to-reach scenarios. The Tilt Ranger carries a one kg laser scanner and utilises a technique called SLAM to calculate distances and develop an accurate map of the environment. Inkonova successfully mapped a 30,000 cubic metres underground mine in Mali in just 10 minutes. There are plans to adapt and try using Tilt Ranger help decommission nuclear power plants. Inkonova aims to develop a system allowing drones to work autonomously in underground situations. The firm is developing an autonomous navigation system for aerial drones to operate despite being deprived of GPS and light, and space-tight environments. All these inventions having military and civil applications should be of interests to Indians working on similar technologies, as also the policy makers.