| | |
| --- | --- |
| | The Author is Former Director General of Information Systems and A Special Forces Veteran, Indian Army |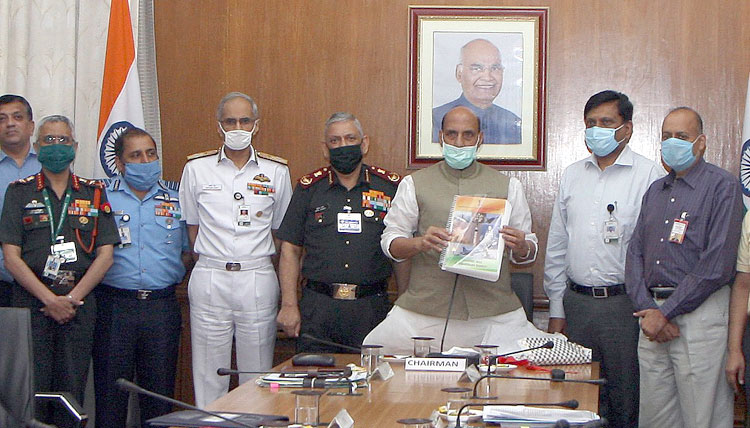 DEFENCE MINISTER RAJNATH SINGH RELEASED THE NEW DEFENCE ACQUISITION PROCEDURE (DAP) AT THE DEFENCE ACQUISITION COUNCIL (DAC) MEETING ON SEPTEMBER 28, 2020.
Defence Minister Rajnath Singh released Defence Acquisition Procedure (DAP) 2020 on September 28, 2020 which is an improvement on the Defence Procurement Procedure (DPP) 2016. Releasing the document Rajnath Singh said, "Happy to unveil the new Defence Acquisition Procedure (DAP)-2020 Document today... after incorporating comments and suggestions from a wide spectrum of stakeholders. The DAP 2020 has been aligned with the Prime Minister Narendra Modi's vision of 'Atmanirbhar Bharat' and empowering the Indian domestic industry through 'Make in India' initiative with the ultimate aim of turning India into a global manufacturing hub….." A new procedure has been included as a new chapter in DAP and structured as an enabling provision for Services to procure essential items through Capital Budget under a simplified procedure in a time bound manner. He also clarified that in the new DAP, only companies having more than 50 per cent Indian ownership will be allowed to participate in 'Make in India' categories of procurement including under Strategic Partnership, Make I and 2 and Indian Designed, Developed and Manufactured (IDDM) categories.
DAP 2020 aims at simplifying procurement process, enhancing ease of business and reducing time delays, is effective from October 1, 2020 and will be valid for five years. Together with the new Foreign Direct Investment (FDI) policy, DAP 2020 has provisions to encourage FDI to establish manufacturing hubs both for import substitution and exports while protecting interests of Indian domestic industry. The induction of a separate chapter dedicated to acquisition of 'Information and Communication Technology (ICT)' systems is a good step given the changing nature of technology and battle conditions. DAP 2020 permits the military to take equipment on lease. Military equipment like light transport aircraft, land attack vehicles and unmanned aerial vehicles (UAVs) could soon be taken on a lease basis, bringing down upfront costs and giving military the flexibility of operating systems at a time of its choosing.
Salient features of DAP 2020 include:
overall enhancement of indigenous content in all categories of procurement;
individual contract (IC) to be calculated on 'Base Contract Price'- Total Contract Price less taxes and duties;
promotes indigenous military material and rewards vendors using indigenous raw material;
explores options for operating base applications like Fire Control System, Radars, Encryption, Communications etc on indigenous software in Buy (Indian- IDDM) and Buy (Indian);
rationalisation of trials and testing procedures and multiple measures to promote make and innovations, design and development, and addressing voids;
ensures no equipment mentioned in the list is imported;
spares to be indigenised;
RFPs to explore willingness of foreign vendors to progressively undertake manufacture and setup an indigenous ecosystem at the spares/sub component level;
new category of Buy (Global – Manufacture in India) incorporates 'manufacture of either the entire/part of the equipment, maintenance, repair and overhaul through its subsidiary in India;
co-production facilities through inter-governmental agreement;
buyers right to optimise costs and system through indigenous eco system;
mandatory setting up of Project Management Unit (PMU) to support contract management, facilitating advisory and consultancy support in specified areas to streamline acquisition process;
formulation of SQRs on verifiable parameters based on analysis of 'comparative' equipment available in world and domestic markets;
single stage accord of Acceptance of Necessity (AoN) in cases up to 500 crore;
Long Term Perspective Plan (LTIPP) renamed Integrated Capability Development Plan (ICDP) covering 10 years instead of 15 years.
DEFENCE MINISTER Rajnath Singh unveils Defence Acquisition Procedure – 2020
The Offset guidelines have been revised, wherein preference will be given to manufacture of complete defence products over components and various multipliers have been added to provide incentive in discharge of Offsets. But the key change is waiving off the offset clause on government to government buys that will result in reducing acquisition costs. The Comptroller and Auditor General (CAG) report tabled in Parliament on September 23 had severely criticised the government's offset policy saying that foreign vendors made various offset commitments to qualify for the main supply contract but later, were not earnest about fulfilling these commitment, mentioning the Rafale deal too in which Dassault Aviation and MBDA defaulted in their offset obligations including by not providing engine technology for the Light Combat Aircraft (LCA) to the Defence Research and Development Organisation (DRDO). CAG observed that from 2005 till March 2018, 46 offset contracts were signed with foreign vendors totaling 66,427 crore. Under these contracts, by December 2018, 19,223 crore worth of offsets should have been discharged by the vendors. However, the offsets claimed to have been discharged by them was only 11,396 crore, which was only 59 per cent of the commitment. Moreover only 48 per cent (5,457 crore) of these offset claims submitted by the vendors were accepted by the Ministry of Defence (MoD) which increases the offset default to 13,748 crore. So where was the oversight and why were these vendors not taken to task and penalised.
Over the years, successive Defence Procurement Procedure (DPP) have been issued and each time the individual document is supposed to be the ultimate. No doubt enormous forethought and hard work has gone into defining DAP 2020 after interaction and inputs from all stakeholders but ultimately it is the implementation which matters or as they say the proof of the pudding lies in its eating. Success of DAP 2020 will be contingent on the following:
one, degree of corporatising of Ordnance Factory Board where need is disinvestment and privatisation;
two, inclusion of users (military) in all levels of corporatising OFB;
three, shed continuing bias towards DRDO-OFB-DPSUs to provide real level playing field to private sector;
four, accountability and control of the bureaucracy over governmental defence-industrial complex – Army has pointed out to MoD that funds spent on faulty ammunition during 2014-2020 could have been used to buy 100 x 155mm artillery guns, and;
five, degree of engagement allowed to military – for example, DAP 2020 is supposed to help military in acquisitions through Capital Expenditure. But Capital Expenditure continues under the Defence Secretary, not under the Chief of Defence Staff (CDS). So how much of the red-tape will get reduced only time will tell.
Finally one thing certain is that we need to modernise our military and build hard power in quick time faced with the increasing China threat. DAP 2020 needs to be earnestly implemented keeping this as the aim.