| | |
| --- | --- |
| | The Author is Former Director General of Information Systems and A Special Forces Veteran, Indian Army |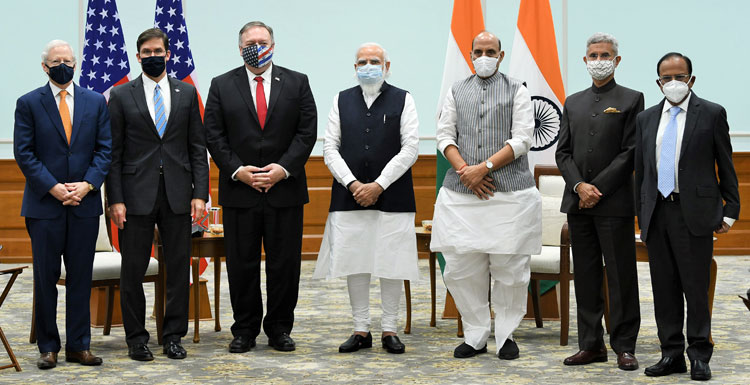 US Secretary of State Mike Pompeo and the US Defence Secretary, Dr. Mark T. Esper calls on the Prime Minister Narendra Modi in New Delhi on October 27, 2020.
The third India-US 2+2 Ministerial Dialogue held last month in New Delhi between Defence Minister Rajnath Singh and External Affairs Minister S. Jaishankar of India with US Secretary of State Mike Pompeo and Secretary of Defence Mark T. Esper in backdrop of Chinese intrusions in Eastern Ladakh, aggressive posture in Western Pacific, heightening India-China trade war and global pandemic because of the China Virus.
US Secretary of State Mike Pompeo called the 2+2 Ministerial Dialogue an important step in aligning "our democracies" against encroachment by Chinese authoritarianism. US Secretary of Defence Mark T. Esper also directly named China at the press conference at the end of the dialogue, saying, "Based on our shared values and common interests, we stand shoulder to shoulder in support of a free and open Indo-Pacific for all, particularly in light of increasing aggression and destabilising activities by China." The Indian side refrained from naming China directly though Defence Minister Rajnath Singh mentioned aggression from the north.
Both countries signed the Basic Exchange and Cooperation Agreement on Geospatial Cooperation (BECA) enabling sharing of satellite and topographical data to monitor Chinese naval activities including submarine deployments in the Indian Ocean, as also military access to US data base covering the Line of Actual Control (LAC) and PLA deployments, providing enhanced surveillance and greater accuracy to fly drones. A bilateral technical agreement for maritime information-sharing was also reached and a decision taken to hold the inaugural Industrial Security Annex (ISA) summit later this year to further cement bilateral defence trade and technology cooperation.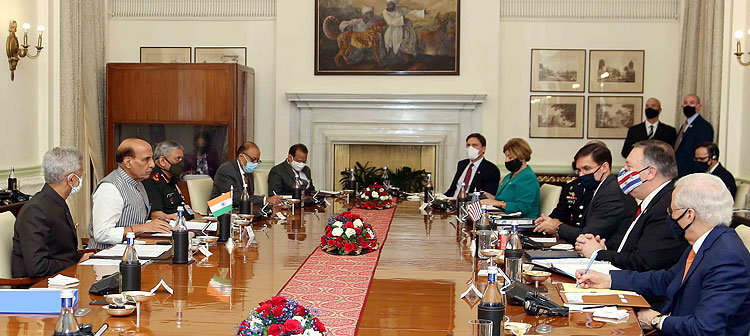 Minister for Defence Rajnath Singh and the Union Minister for External Affairs Dr. Subrahmanyam Jaishankar with US Defence Secretary Dr. Mark T. Esper and US Secretary of State Mike Pompeo at the India-USA 2+2 Dialogue, in New Delhi on October 27, 2020.
Defence Minister Rajnath Singh said the two sides held comprehensive discussion on range of key issues, and called the inking of BECA with the US is a "significant move". Noting that defence projects for joint development of equipment had been identified by the two sides, he said, "our military-to-military cooperation with the US is moving forward very well." India can now procure long-range drones from the US. The two nations are looking to increase co-production and co-development of defence equipment. External Affairs Minister S. Jaishankar said India-US national security convergences have grown and the Indo-Pacific was a focus of the discussion.
In terms of defence and security, India and the US already have increased logistical support and maritime cooperation. Recently, a US Navy P-8 maritime patrol aircraft had landed at Port Blair, as also US Navy's USS Nimitz aircraft carrier, on way to Western Pacific, conducted an exercise with the Indian Navy in the Indian Ocean. During 2019, Indian and US militaries had conducted the first tri-service exercise. The second Australia-India-Japan-US Ministerial Quadrilateral (QUAD) Dialogue was recently held at Tokyo on October 6, 2020 and Australia is joining the India-Japan-US trilateral Malabar exercises. India has established the Information Fusion Centre for the Indian Ocean Region (IFC-IOR) that has a Liaison Officer (LO) from the US Navy and an Indian LO is positioned at NAVCENT in Bahrain. The 2+2 dialogue reaffirmed commitment to deepen bilateral defence consultation-collaboration, explore opportunities for cooperative capacity-building with partners across the region, and increased cooperation between the Indian military and the US Central Command and Africa Command.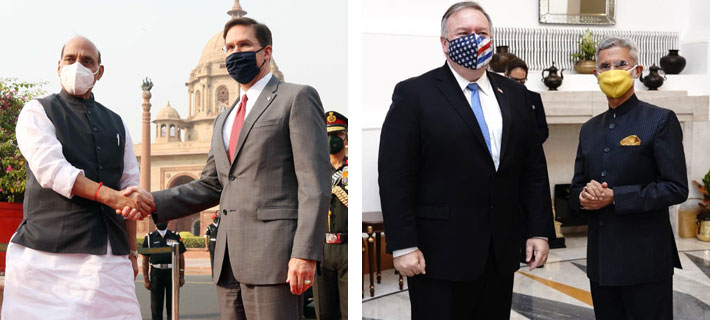 (Left) Minister for Defence Rajnath Singh receiving US Defence Secretary Dr. Mark T. Esper in New Delhi on October 26, 2020. (Right) Dr. S. Jaishankar with US Secretary of State Mike Pompeo
The 2+2 Ministers resolved to fast track projects under the Defence Technology and Trade Initiative (DTTI). The first meeting between the Indian Defence Innovation Organization (DIO-iDEX) and US Defense Innovation United (DIU) was held in July 2020 and the inaugural Industrial Security Annex (ISA) Summit later this year. Meeting of the Military Cooperation Group (MCG) is scheduled later this year to review military-to-military engagement. The 2+2 reaffirmed counter-terrorism cooperation and called upon Pakistan to ensure its territory not used for terrorist attacks and expeditious prosecution of perpetrators of multiple terror attacks in India. India looked forward to US participation in the upcoming Aero-India during February 2021. US is giving 11,000 sets of extreme cold clothing to India for troops deployed along the LAC, just like it had done in 1962.
Pompeo has stated that India and the US are force multipliers together and could provide "joint deterrence" against China's aggression; both countries share a democratic vision in the face of the Chinese Communist Party's tyranny. In a media interview after the 2+2 Dialogue, Mike Pompeo said, "The battle in the world … is between freedom and authoritarianism and India, like the US, has chosen democracy and freedom and sovereignty … the US is ready to do things it can do to help deliver safety and security to the Indian people …. When it comes to the Chinese Communist Party, the entire world is the frontline... This is a global challenge and the freedom-loving world must take it on together.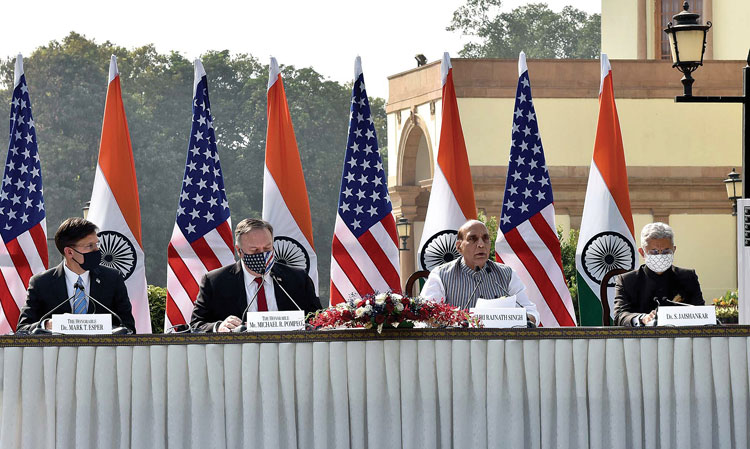 DEFENCE MINISTER RAJNATH SINGH AND EXTERNAL AFFAIRS MINISTER DR SUBRAHMANYAM JAISHANKAR WITH US SECRETARY OF STATE MIKE POMPEO AND US DEFENCE SECRETARY DR MARK T. ESPER AT THE JOINT PRESS STATEMENTS AFTER THE INDIA-USA 2+2 DIALOGUE.
There is no doubt that US has recognised China as its prime enemy. The recently signed US-Maldives Framework Agreement for defence and security is indicative of this, as were the visits of US Secretary of State Mike Pompeo to Sri Lanka, Maldives and Vietnam after the 2+2 Dialogue. India-US partnership is important in face of Chinese aggression. The question of reliability of US cooperation, however, remains in light of the following:
During the 1971 Indo-Pak War, US threatened India by deploying an aircraft carrier in the Bay of Bengal. Even British sent a flotilla to the Arabian Sea. It is Soviets who came to India's assistance.
The US in a not too distant a past was in favour of UNSC resolutions against India. Again, the veto of Soviet Russia protected India.
During the 1999 Kargil Conflict, the US switched off its satellites affecting navigation of Indian naval ships that forced their return to ports.
US has been in counter-terror cooperation with India past several years. But it refused to provide Indian intelligence agencies access to David Coleman Headley – prime witness in the 2008 Mumbai terrorist attacks engineered by Pakistan.
India and the US were sharing intelligence even before signing of BECA and US would have been monitoring PLA movements given its comprehensive data base. So how come it did not warn India that China had built a new road 4 km short of Galwan and was mobilising for attack in Ladakh?
India wanted a package agreement with the US as per reports of yesteryears but the US prolonged the process for some reason dealing with one foundational agreement at a time.
There is no doubt that in geopolitics there are no permanent friends and enemies but US priority in the Indo-Pacific has always been on the high seas. How will it assist India in case China forces war on India astride the Himalayas? Will it go beyond intelligence sharing, weapon sales and a flag march in Indian Ocean to warn China - how? The US also needs to address the issue of reliability of which most of its partners remain in doubt.