| | |
| --- | --- |
| | The Author is Former Director General of Information Systems and A Special Forces Veteran, Indian Army |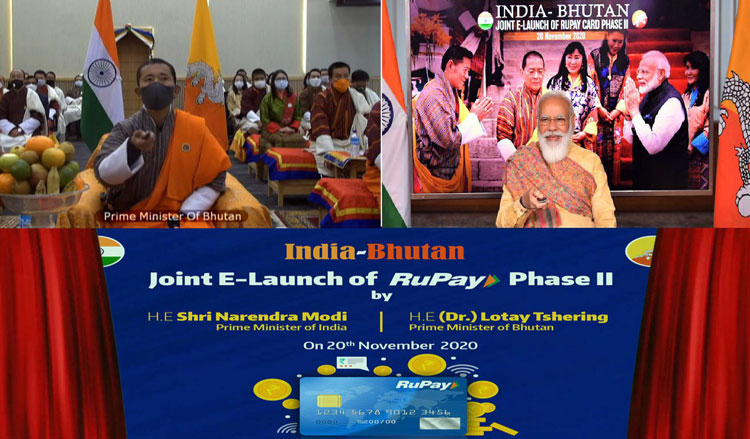 PRIME MINISTER NARENDRA MODI AND PRIME MINISTER OF BHUTAN DR. LOTAY TSHERING JOINTLY LAUNCH THE RUPAY CARD PHASE-II IN BHUTAN IN A VIRTUAL CEREMONY IN NEW DELHI ON NOVEMBER 20, 2020.
During the virtual meeting between Indian Prime Minister Narendra Modi and Bhutan's Prime Minister Lotay Tshering on November 20, 2020, Modi announced, "I am happy to tell you that ISRO is planning to send a Bhutanese satellite to outer space next year and work is going on in full pace. For this, four Bhutanese space engineers will be trained in India from December by ISRO. I congratulate these Bhutanese nationals." The occasion was also used by both leaders for jointly launching the RuPay Card Phase-II, Phase-I of the project having been launched during visit of Modi to Bhutan in August 2019. Phase-I of RuPay cards enabled visitors from India to access ATMs and Point of Sale (PoS) terminals across Bhutan. Phase-II allows Bhutanese card holders to access RuPay network in India.
The India-Bhutan space project was first announced during Modi's Bhutan visit in August 2019 where he also inaugurated a ground Earth station for South Asia Satellite in Thimphu. The India-led South Asia Satellite Project was launched in 2017 of which Afghanistan, Nepal, Bhutan, Bangladesh, Sri Lanka, and the Maldives are part. Pakistan refused the Indian offer saying it has the necessary satellite cover from China. India has offered Bhutan the gift of increasing the bandwidth on an additional transponder on the satellite as required by Bhutan. The India-Bhutan space project binds both countries closer who already share a special partnership, anchored in mutual understanding and respect, reinforced by a shared cultural heritage and strong people to people links.
Bhutanese engineers participating in the space project are from Bhutan's Department of Information Technology and Telecom which comes under the Ministry of Information and Communication. Phase-I one of the training of Bhutanese engineers at ISRO's UR Rao Satellite Centre (URSC) is being conducted from December 28, 2020 to February 25, 2021, which will involve theoretical and technical aspects as also visits to labs and test facilities. Phase-II of their training will focus on developing the satellite for Bhutan - INS-2B. The satellite will be used to map Bhutan's natural resources and for disaster management. An India-Bhutan Joint Working Group (JWG) is implementing the project. The Embassy of India in Bhutan issued a statement saying, "Cooperation in new frontiers such as space technology has been given an impetus by the leadership of the countries and will be bolstered further through the joint development of the small satellite for Bhutan."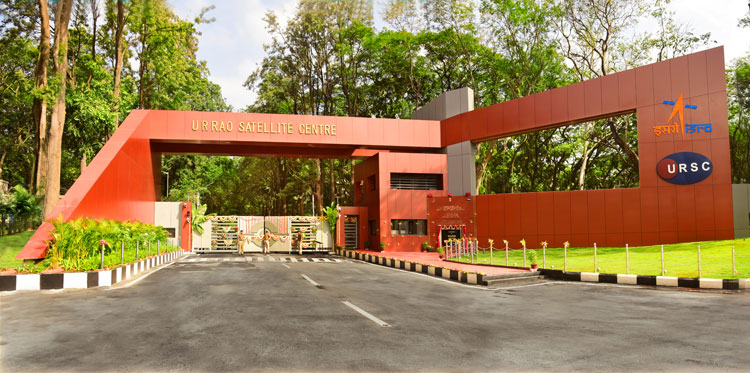 UR Rao Satellite Centre
Not many may have heard of the Indo-Russian joint experiment (Project 'SING') on the spectroscopic study of gas nebulae, which is to take place at a Chinese orbital space station. Earlier, in a document published on the website of the United Nations Office for Outer Space Affairs (UNOOSA), it was reported that a joint experiment of Russian and Indian scientists was selected to be carried out at the projected Tiangong manned national orbital station of the PRC. Mikhail Sachkov, Deputy Director for Scientific Work of the Institute of Astronomy of the Russian Academy of Sciences (the main scientific organisation in the project) has now recently stated that the Russian-Indian experiment will now begin in 2023, not in 2022 as previously announced. The Institute of Astronomy of the Russian Academy of Sciences also showed the appearance of the spectrograph, which will create a map of the sky in the ultraviolet range from the Chinese orbital station.
According to Sachkov, China will deliver equipment for the joint Russian-Indian experiment to its space station free of charge. India and Russia will not have to pay the PRC for using the station either. This is no surprise because China will obviously benefit from the experiment. Sakharov explains that the design of SING consists of two parts: the Cassegrain telescope, which has a parabolic primary mirror and a hyperbolic secondary mirror, and a high-slit spectrograph and that the working wavelength range is from 140 to 270 nanometers. He also says, "The main burden of work on testing the device lies with our Indian colleagues. All work is carried out by the Institute of Astronomy of the Russian Academy of Sciences (Moscow, Russia) and the Indian Institute of Astrophysics (Bangalore, India)." He further explained that with the help of the Russian-Indian instrument, it will be possible to carry out spectroscopy of extended objects, and not separately obtain direct images of sky sections with high spatial resolution and spectra of individual sections of nebulae.
Sachkov has not mentioned why the experiment has been postponed from 2022 to 2023. However, this could possibly be because of the Chinese aggression in Ladakh during May-June 2020. What would be the state of India-China relations in 2022-2023 is difficult to predict though the signals from China are certainly not good. China has consolidated the intrusions in Ladakh it made during 2020 and gives no indications it will withdraw. China is not even freeing the 39 Indian sailors stuck in China in two merchant ships anchored in Chinese waters (one since June 13, 2020 and the other since September 20, 2020) and is not allowing them to unload their cargo as well.
With the growing itch for global domination and hunger for Indian territories, there is every possibility of China turning more rogue by 2023. It continues to actively support insurgencies and terrorism in India in concert with Pakistan. In such case, why should India agree to use a Chinese orbital station? ISRO Chairman K. Sivan announced in 2019 that India will not join the International Space Station (ISS) but will instead build a 20-tonne space station of its own by 2030 after the 'Gaganyaan' mission in 2022. If we do not want to use the Chinese space station and the ISS, alternatives could be America's 'Axiom Station' or NASA's 'Artemis' scheduled to be launched in 2024.