| | |
| --- | --- |
| | The Author is Former Director General of Information Systems and A Special Forces Veteran, Indian Army |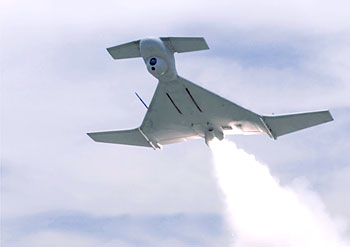 Harop After Launch
The Azerbaijan-Armenia conflict over Nagorno-Karabakh last year has brought to fore how drones can be effectively uses to destroy enemy troops, tanks, artillery and air defence systems, transforming the battlefield in favour of which side is proficient in deploying drones effectively. In this instant case, it was Azerbaijan that had a clear advantage. Videos of destruction being caused became a daily affair on social media while the conflict was on. Azerbaijan also had the benefit of Turkish-Pakistani intervention by way mercenaries and regular troops in covert mode fighting on its side. But the maximum casualties Azerbaijan inflicted on Armenia was through unmanned attack drones. Azerbaijan used Israeli Harop loitering munitions 'Kamikaze Drones' and Turkish Bayraktar TB2 armed drones. Azerbaijan also used the ingenuity of deploying a decoy drone-biplane to cause the Armenian military to activate their radars and missile batteries disclosing their positions before unleashing the main armed drones' assault.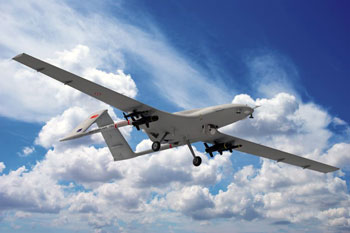 Bayraktar TB2
As per media reports, India is accelerating plans to develop an air-launched swarm drone system designed to attack enemy air defences similar to the ones deployed by China across the Ladakh border for reducing vulnerability of pilots and fighter jets to ground based air defences. In 2017, Hindustan Aeronautics Limited (HAL) began developing the Combat Air Teaming System (CATS) in conjunction NewSpace Research and Technologies. Armed with stealth and artificial intelligence (AI), CATS is designed to fly nearly 100 km ahead of conventional fighters to engage enemy. One Sukhoi Su-30 can carry 30 to 40 of these kamikaze-type drones. Three types of drones are being developed including a glide bomb and an air-launched swarm drone system named 'Alpha-S' - a metre-long drone carrying 1.5 tonnes of explosives, designed to be air-launched from fighter aircraft. The drones fly in formation at speeds of 100 kmp/h scouting targets of opportunity including missile sites to attack them. The Indian Air Force (IAF) has done preliminary testing of CATS in Pokhran but its fielding was estimated to take another two-three years. In December 2018, news reports indicated that the Adani Group and Israel-based Elbit Systems had established a joint facility in Hyderabad for manufacturing Hermes 900 and Hermes 480 medium altitude long-endurance UAVs for the Indian and global market.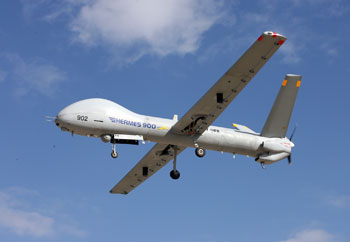 Elbit Systems Hermes 900
Drones tilting the battle in favour of Azerbaijan in its fight with Armenia over Nagorno-Karabakh was reported in media around the world. A news report from Moscow in November 2020 read: Drone strikes — targeting Armenian and Nagorno-Karabakh soldiers and destroying tanks, artillery and air defence systems — provided a huge advantage for Azerbaijan in the 44-day war and offered the clearest evidence yet of how battlefields are being transformed by unmanned attack drones rolling off assembly lines around the world. The expanding array of relatively low-cost drones can offer countries air power at a fraction of the cost of maintaining a traditional air force. The situation in Nagorno-Karabakh also underscored how drones can suddenly shift a long-standing conflict and leave ground forces highly exposed.
But learning from the Azerbaijan-Armenia conflict, Russia has taken a significant step in counter drone warfare. Latest news reports indicate that Russia is developing a helicopter drone to assist anti-aircraft weapon systems in their counter-drone missions. The project has been accelerated after commencement of the conflict between Armenia and Azerbaijan began in mid-2020. According to an official of the Russian military-defence complex, this new drone will track down small and low-speed enemy drones at low and extremely low altitudes, thus filling a void in Russia's military capabilities. Without providing specifics he referred to various types of Turkish-made drones used during the Azeri-Armenian conflict that helped Azeri forces break Armenia's defences. The source said the helicopter drone has been under development since November 2020 and that research and development efforts were accelerated in response to the "increasing role of attack drones during the last local conflicts." According to the source, the new model will be developed using existing technology to speed up manufacturing.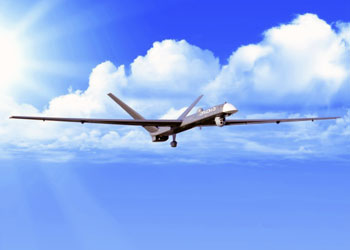 ORION-E UAV
Scouting for a helicopter drone in 2012, the Russian Navy reportedly wanted to test the Horizon Air S-100 drones licensed by a local manufacture through the Austrian company Schiebel. However, the idea was dropped. However, the above mentioned helicopter attack drone currently under development in Russia is not the only one. Russia is also developing another helicopter attack drone weighing 2.5 to 3 tonnes with a range of 20-30 km as reported in Russian publications.
Russia's current medium-altitude, long-endurance is the 'Orion', designed by the Saint Petersburg-based firm Kronstadt Group. It is being referred to as the equivalent of the American Predator. Orion was presented as a multiuse aircraft during the Army-2020 defence expo held in Moscow during August 2020. With a cruise speed of 120 km/h, range of 250 km, endurance of 24 hours and service ceiling of 7,500 m, Orion can carry four guided bombs or four missiles and has maximum payload of 200 kg. Russia reportedly used the Orion to fire missiles in Syria during 2018.