| | |
| --- | --- |
| | The Author is Former Director General of Information Systems and A Special Forces Veteran, Indian Army |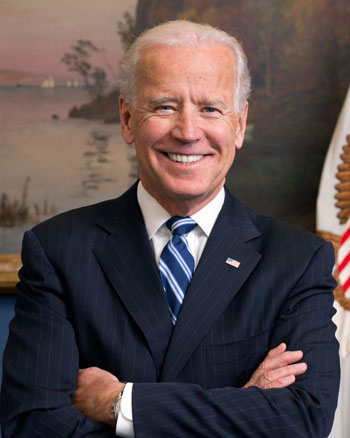 Joe Biden, the new President of U.S. is expected to continue America's commitment to the Indo-Pacific region
Three documents released in Washington DC during January 2021 are notable. One is the fact sheet covering activity of the Wuhan Institute of Virology in China, which leaves little doubt about China's deceit and disinformation about the origins of the COVID-19 pandemic that has already resulted some two million killed globally and over 10 million infected. This itself indirectly indicates China is very much responsible for the Wuhan Virus. Whether China will still get away after systematically obliterating all possible evidence and even delaying inspection by the in situ team of WHO officials only time will tell. The second document titled 'Views on Election Community Assessment: Foreign Threat to the 2020 US Election' signed by John Ratcliffe, Director US National Intelligence on January 7, 2021 says that China actively interfered in the 2020 US elections and that the CIA played down this influence in its policy papers. Readers can draw their own inferences.
The third document was the Trump administration declassifying the "United States Strategic Framework for the Indo-Pacific" on January 12, 2021. Released just a week before Joe Biden takes over as POTUS, the plan focuses on America's continuing dominance in the region, accelerating India's rise as a counterweight to Beijing and the ability to defend Taiwan against an attack. The Framework had been approved by President Donald Trump in February 2018.
Releasing the document, National Security Advisor Robert O'Brien said in a statement that it provides the overarching strategic guidance for US actions over the past three years and was being released to show America's commitment for keeping the Indo-Pacific region free and open long into the future. He further said, "Beijing is increasingly pressuring Indo-Pacific nations to subordinate their freedom and sovereignty to a 'common destiny' envisioned by the Chinese Communist Party. The US approach is different. We seek to ensure that our allies and partners – all who share the values and aspirations of a free and open Indo-Pacific can preserve and protect their sovereignty."
TRILATERAL EXERCISES BETWEEN THE JMSDF, ADF AND U.S. NAVY SUPPORT SHARED GOALS OF PEACE AND STABILITY WHILE ENHANCING REGIONAL SECURITY IN A FREE AND OPEN INDO-PACIFIC REGION
Key highlights of the above strategic framework include the following:
China aims to dissolve US alliances-partnerships in the region exploiting vacuums and opportunities created by diminished bonds.
China is seeking dominance through cutting-edge technologies including artificial intelligence and bio-genetics which poses profound challenges to free societies.
China is taking increasingly assertive steps to compel Taiwan's unification.
Need to counter China's predatory economic practices that freeze out foreign competition.
Build a global consensus against China's industrial policies and unfair trading practices.
Work closely with allies and like-minded countries to prevent Chinese acquisition of military and strategic capabilities.
Accelerate India's rise and capacity to serve as a net provider of security and Major Defence Partner - solidify an enduring strategic partnership with India underpinned by a strong Indian military.
Strengthen capacity of emerging partners in South Asia including the Maldives, Bangladesh, and Sri Lanka.
Deny China sustained dominance in first island chain during conflict and defend first-island-chain nations dominating all domains outside the first island-chain.
Enable Taiwan develop effective asymmetric defence strategy and capabilities to engage China on its own terms.
Maximise pressure on Pyongyang to cripple North Korea's weapons of mass destruction programmes, setting conditions for negotiations.
Help South Korea and Japan acquire advanced conventional military capabilities and draw South Korea and Japan closer to each other.
Promote and reinforce Southeast Asia and ASEAN's central role in the region's security architecture.
Promote integrated economic development model in the Indo-Pacific.
China, with its policy of ambiguity and deceit, expectedly criticised the above US framework blaming America's malign motives in sensationalising the China threat. But the fact remains that China's Communist Party (CCP) has become more emboldened and treacherous after biologically bombing the world with the Wuhan Virus. As for the China threat, Beijing's lies that it is a bogey is disproved by not only the pandemic attack but its actions in Eastern Ladakh, South China Sea, illegal territorial claims on land and sea against multiple countries, muscle flexing, debt trapping countries and economic bullying around the world.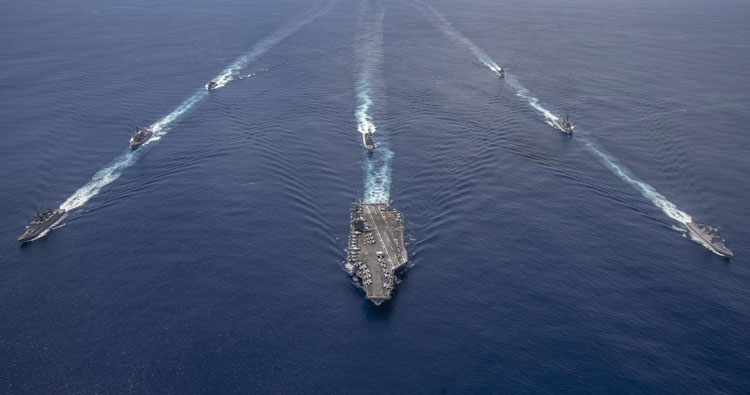 U.S. NIMITZ CARRIER STRIKE GROUP ALONG WITH INDIAN NAVY SHIPS STEAM IN FORMATION DURING A COOPERATIVE DEPLOYMENT IN THE INDIAN OCEAN JUNE 20.
There is little doubt that China considers America as its foremost enemy and President Xi Jinping with his China Dream intent on world domination will do everything possible to crush the US to the extent possible. China would like to get the US engaged in multiple hotspots around the world including in the South China Sea and advance China's integration of Taiwan while the US is battling the pandemic and reviving its economy.
The 'United States Strategic Framework for the Indo-Pacific' will be carried forward by the Joe Biden administration because Biden understands the China threat as much as did Trump. On December 28, 2020, Biden had slammed China for its doings, spoke of his resolve to rebuild alliances, and stated, "As we compete with China and hold China's government accountable for its abuses on trade, technology, human rights, and other fronts, our position will be much stronger when we build coalitions of like-minded partners and allies to make common cause with us in defence of our shared interests and values."
News reports of January 13, 2021 indicated that Biden was set to create a post of 'Indo-Pacific Coordinator' within the National Security Council (NSC) and appoint veteran foreign policy expert Kurt Campbell to focus on challenges emerging from China in the Indo-Pacific. Campbell has also served as assistant secretary of state for East Asian and Pacific Affairs in the Obama administration and helped frame America's 'Pivot to Asia' strategy.
The above confirms that US Strategic Framework for the Indo-Pacific approved by Donald Trump will continue to be implemented in full by the Joe Biden administration. The future course of US-China relations will probably become clearer from events within 2021 itself but as US fights the raging pandemic, for which Biden has already released $1.9 trillion, China will maximise pressures all around using every fair and foul means in order to weaken America's Indo-Pacific strategy.