The Indo-French relationship in space is spread over different facets of space science, technology and applications, including sounding rocket development, liquid engine development, hosting of payloads, joint satellite realisation, training programmes, satellite communication experiment and satellite launches.
| | |
| --- | --- |
| | The Author is Former Director General of Information Systems and A Special Forces Veteran, Indian Army |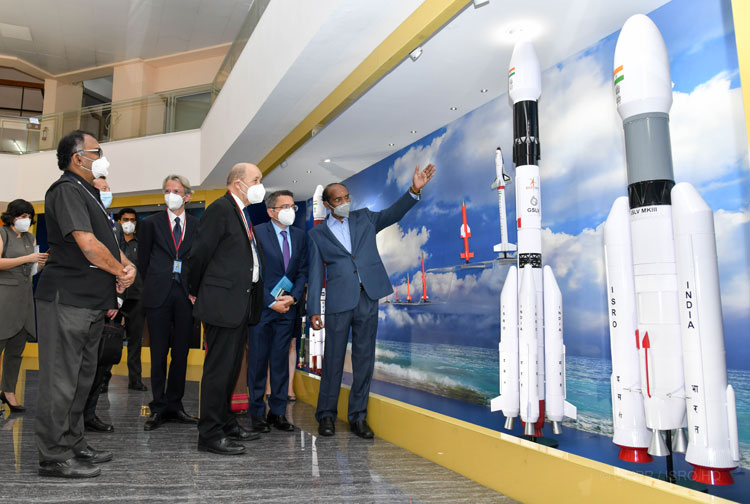 JEAN-YVES LE DRIAN, FRENCH MINISTER FOR EUROPE AND FOREIGN AFFAIRS, VISITED THE HEADQUARTERS OF INDIAN SPACE RESEARCH ORGANISATION (ISRO) AND HAD DISCUSSIONS WITH DR. K. SIVAN, SECRETARY, DEPARTMENT OF SPACE/ CHAIRMAN, ISRO AND OTHER SENIOR OFFICIALS.
It had been reported in these columns earlier that though India's Gaganyaan mission has been delayed due to the COVID-19 pandemic, the Indian Space Research Organisation (ISRO) plans to launch at least one unmanned Gaganyaan mission this year in 2021 since at least two successful unmanned missions are needed before the manned missions. Before outbreak of the pandemic, ISRO had announced that it aimed to launch the 'Gaganyaan' mission on or before the 75th anniversary of India's independence on August 15, 2022.
It was also reported in these columns that India has sent four Indian Air Force (IAF) pilots to Russia in early February 2020 to train at Russian space facilities for the Gaganyaan mission, at the Gagan Research & Test Cosmonaut Training Centre (GCTC), and that ISRO confirms the four IAF astronauts will be completing their generic training in Moscow by March or April 2021. With completion of generic training, the astronauts are physically ready for the flight. After their return from Russia, they will be imparted mission-specific training and trained to handle emergency situations at the ISRO's Satellite Integration and Testing Establishment (ISITE) in Bengaluru.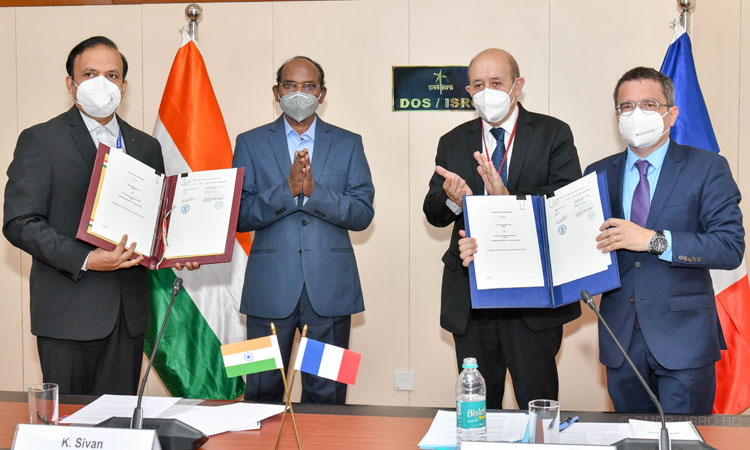 JEAN-YVES LE DRIAN, FRENCH MINISTER FOR EUROPE AND FOREIGN AFFAIRS AND DR. K. SIVAN, SECRETARY, DEPARTMENT OF SPACE/ CHAIRMAN, ISRO WITNESSED THE SIGNING OF THE INDO-FRENCH SPACE COOPERATION
News has now emerged that ISRO and the French Centre National d'Etudes Spatiales (CNES) or National Space Agency have signed an agreement for cooperation on April 15, 2021 that will enable Indian flight physicians to train at French facilities for India's Gaganyaan space mission. The agreement was announced during French Foreign Affairs Minister Jean-Yves Le Drian's visit to ISRO's headquarters in Bengaluru. According to CNES, equipment developed by it, tested and still operating aboard the International Space Station (ISS) will be made available to Indian crews. CNES will also be supplying fireproof carry bags made in France to shield equipment from shocks and radiation.
ISRO had sought assistance from CNES to help prepare for the Gaganyaan mission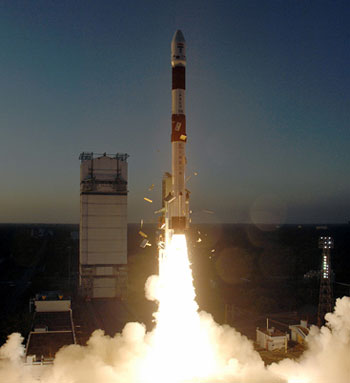 SARAL - PSLV-C20
ISRO had sought assistance from CNES to help prepare for the Gaganyaan mission and to serve as its single European contact in this domain. According to CNES, "Under the terms of the agreement, CNES will train India's flight physicians and CAPCOM mission control teams in France at the CADMOS centre for the development of microgravity applications and space operations at CNES in Toulouse and at the European Astronaut Centre (EAC) in Cologne, Germany."
France has a well established mechanism for space medicine which includes the MEDES space clinic, a subsidiary of CNES where space surgeons undergo training. The agreement provides for CNES to support the implementation of a scientific experiment plan on validation missions, exchange information on food packaging and the nutrition programme, and above all, the use of French equipment, consumables and medical instruments by Indian astronauts. CNES has stated, "This cooperation could be extended in the future to parabolic flights operated by Novespace to test instruments and for astronaut training, as well as technical support for the construction of an astronaut training centre in Bangalore."
Existing partnerships between India and France spans almost all areas of space activity
India and France have enjoyed robust space cooperation past several decades. The first space agreement between India and France dates back to 1964. In March 2018, India and France had unveiled a joint vision for space cooperation to enable and guide the future direction of bilateral strategic partnership in this area. This was a unique and historical partnership in the peaceful uses of outer space. Cooperation and collaboration has been a hallmark between the two countries as they have emerged as important space faring nations. The two nations have also agreed to work on inter-planetary missions to Mars and Venus.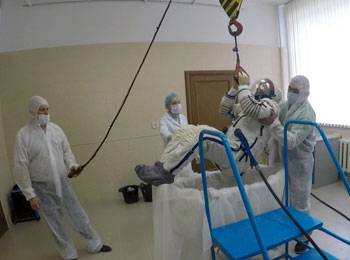 Russia to make spacesuits for Indian cosmonauts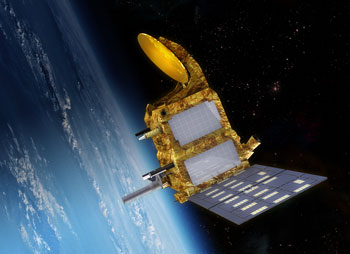 French-Indian SARAL altimetry mission
Existing partnerships between India and France spans almost all areas of space activity. The ISRO-CNES joint OCEANSAT-3-Argos mission along with a joint infrared Earth-observation satellite will identify and track movement of ships globally and in particular those moving in the Indian Ocean region where France has its Reunion Islands. The two nations are exploring putting up a constellation of low-Earth orbiting satellites.
Joint missions launched by ISRO and CNES include 'Megha-Tropiques' launched in 2011 and 'Saral-Altika' launched in 2013.
'Megha-Tropiques' is a satellite mission deployed in orbit by a PSLV rocket to study the water cycle in the tropical atmosphere in the context of climate change and researching the evolution of major tropical weather systems. 'Saral-Altika' is a satellite mission for oceanographic studies; altimetric measurements designed to study ocean circulation and sea surface elevation. Its data helps in: marine meteorology and sea state forecasting; operational oceanography; seasonal forecasting; climate monitoring; ocean, earth system and climate research; continental ice studies; protection of biodiversity; management and protection of marine ecosystem; environmental monitoring, and; improvement of maritime security.
ISRO was developing the Gaganyaan orbital vehicle on the tests performed with their scaled 550 kg Space Capsule Recovery (SRE), which was launched and recovered in January 2007. Prime Minister Narendra Modi accepted the Gaganyaan mission and formally announced it on August 15, 2018. During the Gaganyaan mission, ISRO will perform four biological and two physical science experiment related to micro-gravity. The Gaganyaan mission is to have a crew of two to three astronauts. With India's space cooperation with both Russia and France, the Gaganyaan mission should be a spectacular success. Despite the second wave of the pandemic, ISRO may still achieve to launch the manned mission by August 15, 2022 marking the 75th Anniversary of India's Independence.