By Lt. General P.C. Katoch (Retd)


Former Director General of Information Systems, Indian Army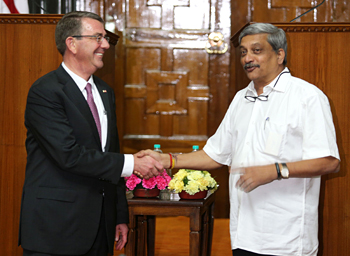 The Union Defence Minister Manohar Parrikar shaking hands with his US counterpart Dr. Ashton Carter, in New Delhi on April 12, 2016
During his three-day visit to the US commencing August 29, Defence Minister Manohar Parrikar, India and US are slated to conclude the logistics exchange memorandum of agreement (LEMOA) which has been under discussion past few years. Though the Indo-US Defence Trade and Technology Initiative (DTTI) has been in vogue, this was also being linked in the past to India signing agreements like the CISMOA (communication interoperability and security memorandum agreement), LSA (logistics supply agreement) and BECA (basic exchange and cooperation agreement for geospatial cooperation). In case of LSA, India had asked the US to make it India-specific, not the standard LSA draft, which the US has with its allies. It may be recalled that in April this year, the two sides had agreed "in principle to conclude a logistics exchange memorandum of agreement (LEMOA) in the coming months".
In a joint press conference with visiting US Defence Secretary Ashton Carter, Parrikar had announced that it would take a few weeks for the draft of the new agreement (LEMOA) to be ready. What emerged is LEMOA; re-jigged version of LSA. The two countries have reportedly already agreed upon the text for the agreement already, hence, it will likely be inked during Parrikar's forthcoming visit. China has been very concerned about India getting closer to the US and the signing of these agreements, in particular the LSA fearing this would lead to US 'boots on ground' in India - this despite PLA's strategic lodgment in Gilgit-Baltistan. LEMOA will be a historic agreement allowing exchange of 'logistics' enabling militaries of both countries to use each other's assets and bases for repair and replenishment of supplies. LEMOA covers four aspects:
Training
Exercises
Port calls
Humanitarian assistance
LEMOA does not entail positioning of US troops on Indian soil - though China will likely still make noises about the agreement. Under LEMOA, both countries will have to seek 'advance permission' to use each other's facilities. It will further facilitatebilateral cooperation because until now matters like refueling and repair had to be considered on a 'case-to-case' basis. India has the discretion of withdrawing from LEMOA in case it feels the US has gone to war with a country which India views "friendly". The significance of LEMOA can be seen with reference to the Indian Ocean Region (IOR), China-Pakistan maritime and nuclear cooperation, and China's designs in the IOR through her 'strategic support bases' which in reality would house her nuclear-armed submarines and warships. The US has multiple bases in the Persian Gulf, East Africa, at Diego Garcia, and Australia, Philippines and Japan which can be used by India after LEMO is signed. This will help increase the footprints of our Navy and help boost cooperation with those countries also who host such US bases. But while signing of LEMOA will be significant during Parrikar's visit, other issues like transfer of technology, 'Make in India' will naturally be discussed.
The most important part may be mutual discussion on how to jointly respond to the fast changing geopolitical developments at the global and regional levels including the Indo-Pacific, particularly South Asia,, South China Sea and related issues; Pakistan's increased terrorism in J&K and Afghanistan; Pakistan deploying nukes at sea including on China supplied submarines, PLA lodgment in Gilgit-Baltistan, CPEC and development of Gwadar as PLAN base, linking of Pakistan's Omara naval base with the CPEC for use by China in conjunction Gwadar, situation in Afghanistan and recent report by the UN Assistance Mission Afghanistan (UNAMA) released in July 2016 stating that the Lashkar-e-Taiba (LeT) and Jaish-i-Mohammed (JeM) too are operating in Afghanistan and Afghanistan officially telling Pakistan that Hafiz Saeed, former LeT chief is directing ISIS operations in Afghanistan (latter reported by Voice of America), recent rigged elections in POK and unrest in Gilgit-Baltistan; Pakistan's continuing genocide in Balochistan - including recent killing of 60 senior Baloch lawyers through suicide attack, and the like. The US has recently cancelled the US$ 300 million aid to Pakistan but much more pressure needs to be put on the country to stop generating terror. The UN has recently expressed concern over turmoil in Gilgit-Baltistan but both the US and UN must also review the ongoing genocide in Balochistan. The US so far has been quiet on the Baloch issue. A joint Indo-US approach to such issues will be significant to stabilize the region and usher peace.
Photo Credit: PIB