| | |
| --- | --- |
| | The Author is Former Director General of Information Systems and A Special Forces Veteran, Indian Army |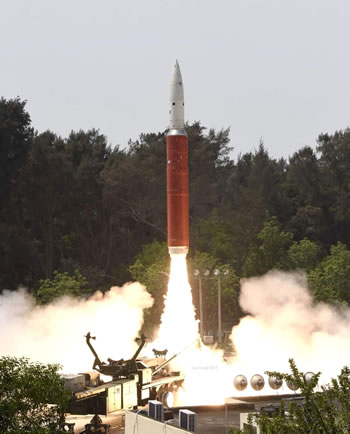 The Defence Research and Development Organisation (DRDO) successfully launched the Ballistic Missile Defence (BMD) Interceptor missile, in an Anti-Satellite (A-SAT) missile test 'Mission Shakti' engaging an Indian orbiting target satellite in Low Earth Orbit (LEO) in a 'Hit to Kill' mode from the Dr. A.P.J. Abdul Kalam Island, in Odisha on March 27, 2019.
Post India's successful test of an anti-satellite (ASAT) interceptor missile to destroy the 740kg Microsat-R satellite, at an altitude of 283km in the low earth orbit (LEO) on March 27 this year termed 'Mission Shakti', India conducted the first ever simulated space war exercise 'IndSpaceEx' on July 25-26. The exercise was conducted under aegis of HQ Integrated Defence Staff (IDS) with all military and scientific stakeholders. The exercise was in backdrop of China's rapid strides in space including formidable lineup of ASAT weaponry including kinetic weapons like co-orbital killer satellites and direct ascent missiles as well as non-kinetic ones like lasers and electro-magnetic pulse weapons.
According to a senior official, "PM Narendra Modi said the ASAT test in March was conducted to make India stronger and more secure as well as further peace and harmony. In line with this vision, IndSpaceEx is being conducted to identify key challenges and shortfalls if a conflict escalates to the space dimension. A leading IIT has also been engaged to work on the potential solutions." Another official said, "There is the need to explore effective tactical, operational and strategic exploitation of the final frontier of warfare. We cannot keep twiddling our thumbs while China zooms ahead. We cannot match China but must have capabilities to protect our space assets. Not only can an adversary's counter-space weapons take out India's assets critical for its economic and social infrastructure, but they can also 'blind and deafen' the Indian Armed Forces by destroying or jamming satellites vital for surveillance, communication, missile early-warning and precision-targeting. China, after all, has developed both soft and hard-kill space weapons." China had conducted its ASAT test in 2007. But China was shocked in August 2015, when its Tianjin Port was struck by space-based US kinetic weapon killing 114 and instantly destroyed six city blocks on the edge of the city of Tianjin. This was retaliation to China devaluing the Yuan by 1.9 per centon preceding day sending shockwaves around the world with devastating impact on US economy. Kinetic weapon like this can be dropped from high orbit to strike almost any land-based target. Since then, Chinese focus towards winning a space war have has increased considerably, as it sees a potential conflict with US and allies in its race to achieve world supremacy. Russia and China both established their own space warfighting commands years before US President Donald Trump called for a Space Force. All three countries see space as increasingly important for their national security and military capabilities and are developing capabilities and plans for future conflicts that may extend into space. Significantly, the 1967 Outer Space Treaty, aimed at establishing basic international space law, does not prohibit stationing of weapons in space or ASAT tests.US appears comfortable with testing kinetic ASAT weapons against satellites as long as the resultant orbital debris is minimal, and monitors China's space activities. According to Pentagon, China, like Russia, has demonstrated offensive space capabilities through "experimental" satellites able to conduct on-orbit activities.
China has used a ground-based laser to "paint," or illuminate, an American satellite, as if to demonstrate a nascent capability to blind targeted satellites. Under the guise of a civil programme, PLA has seized the opportunity to duplicitously gain technologies from foreign civil space agencies. China has more than 120 military satellites in orbit, including a test quantum communications satellite that offers highly secure data transfer of China's military space programmes. China's ASAT capabilities arguably hold the greatest significance for India, which has no security arrangements with another power and thus is on its own. Japan, South Korea and Australia, by contrast, are ensconced under the US security umbrella. America's annual report to the Congress titled 'Military and Security Developments Involving the People's Republic of China' says, "China warmly applauds the non-weaponisation of space in venues like the UN, and it uses "lawfare" to hide its own offensive developments in space. Statements such as the PLA spokesman's response to India's ASAT test, "We hope all countries can take real actions to protect lasting peace and stability in the outer space," are therefore mere empty rhetoric. Yet there is also a double-edged sword for China. As the PLA itself becomes more reliant on satellites, it becomes more vulnerable to American - and now Indian - ASAT interceptors. India has just demonstrated to Beijing that it can create a viable force multiplier that places Chinese satellites at risk, despite the fact that this capability will remain nascent for the foreseeable future."'Mission Shakti' is an important milestone in India's quest to plug the vulnerability of its space assets.'IndSpaceEx' too is a good move since future wars will start with confrontation in space. Today nearly every weapon system depends on space based satellites for guidance. Countries too depend on these satellites for communication and remote sensing. Therefore in a war the country which will first be able to destroy the satellites of other country will have greater chance of winning the war.
ISRO is already working on telescopes and radars that will enable it to track potential risks to its 50 functional satellites in space. The newly sanctioned Defence Space Agency would obviously focus on India developing space and counter-space capabilities for India. This would also need imaginations running wild. In France, the French Defence Innovation Agency was established in 2018 as a sort of incubation hub to identify existing technologies and equipment that the military might be able to use; the idea being that by doing so that the military can find and adopt technologies faster than the typical acquisition channels, which is a process that can take years. Currently, the Defence Innovation Agency is hiring science fiction writers to imagine future threats. The group of fiction writers called 'Red Team' is to come up with 'scenarios of disruption' and ideas that military planners might not imagine – holistic out-of-the-box thinking. Obviously, space obviously will play a big role in future wars.