- Japanese carrier: Digital maintenance information greatly reduces complexity of managing multiple airplane types, increases efficiency
- Nearly 350 customers rely on Maintenance Performance Toolbox to support their engineering and maintenance operations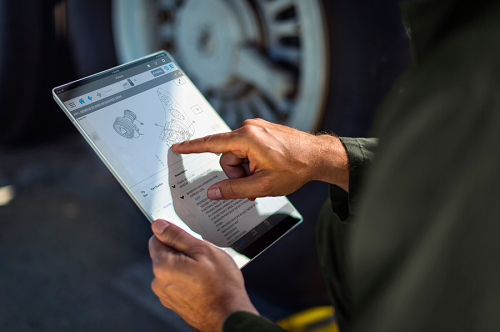 All Nippon Airways (ANA) will continue to drive maintenance efficiency improvements across their Boeing and non-Boeing fleet thanks to their recent Maintenance Performance Toolbox renewal at the Singapore Airshow.
Boeing announced today at the Singapore Airshow that All Nippon Airways (ANA) has signed an extension for Boeing's Maintenance Performance Toolbox for another five years. The Japanese carrier has used the Boeing digital solution the past eight years to manage maintenance information for its entire fleet of aircraft and engines.
Maintenance Performance Toolbox allows operators to simplify their maintenance operations by enabling them to manage, distribute, process and view intelligent maintenance documentation in a uniform digital format through a single interface, regardless of aircraft manufacturer or engine type.
"The adoption of Maintenance Performance Toolbox is one example of how we have streamlined our maintenance processes through digital tools," said Hajime Kaneko, Vice President of the Digital Transformation Portfolio Management Department at ANA. "It has greatly reduced the complexity of managing maintenance information for multiple airplane types across our entire fleet. We've seen efficiency improvements in our maintenance operations, and we'll continue to use Maintenance Performance Toolbox to take advantage of those benefits."
Today, nearly 350 airplane operators and their MRO providers rely on Maintenance Performance Toolbox to support their engineering and maintenance operations. ANA and other airlines have deployed its full-fleet capabilities on maintaining their Boeing and non-Boeing aircraft.
"ANA was a development partner for Maintenance Performance Toolbox and was the first customer to go live with the platform's full-fleet capability in 2013," said Duane Wehking, Vice President of Digital Aviation Solutions for Boeing Global Services. "We look forward to continuing to grow and improve Maintenance Performance Toolbox through our collaboration with ANA in support of streamlining their maintenance operations."
Boeing is also partnering with AIRDO, an affiliate of ANA, to provide cabin modification services for 767 airplanes in its fleet. As part of the agreement, Boeing will execute the design engineering, certification and supply of parts required for completion.