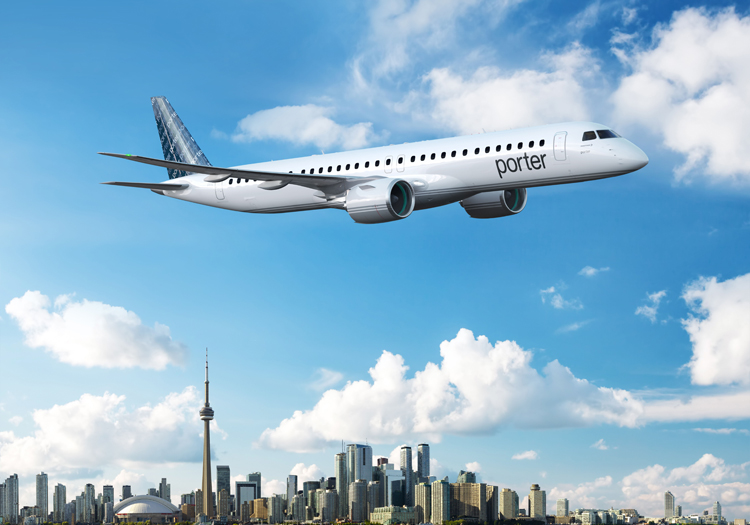 Porter Airlines E195-E2 powered by Pratt & Whitney GTF™ engines
Pratt & Whitney today announced that Porter Airlines ("Porter") has exercised purchase rights for another 20 GTF-powered E195-E2 aircraft. This brings Porter's order to date to 50 firm E195-E2 aircraft, while maintaining 50 purchase rights, which makes the airline one of the largest E-Jets E2 customers in the world. The airline is expected to take its first E195-E2 aircraft in the coming months.
"The GTF-powered E195-E2 is the right choice for Porter, our passengers and the cities we intend to serve with it throughout North America," said Michael Deluce, president and CEO at Porter Airlines. "GTF engines help make this aircraft the quietest, most efficient, most sustainable single-aisle jet available today. This combination will help us grow our network with a great passenger experience, while being responsible to the communities we serve."
Founded in 2006, Porter Airlines is a regional airline located in Toronto, Canada, with service to 20 destinations in Canada and the United States. The airline currently operates a fleet of De Havilland Canada Dash 8-400 aircraft, powered by Pratt & Whitney Canada PW150A turboprop engines. PW150A is one of the most advanced turboprop engines currently in service, with nearly twice the takeoff power of older turboprop engines and with significantly higher fuel efficiency.
"Porter is known for operating the quietest, most efficient, most environmentally friendly aircraft available today," said Rick Deurloo, president of Commercial Engines at Pratt & Whitney. "With the GTF-powered E195-E2, Porter better serves a greater number of families, friends and colleagues who are now able to get to their destinations in a cleaner, greener, quieter and more affordable way."