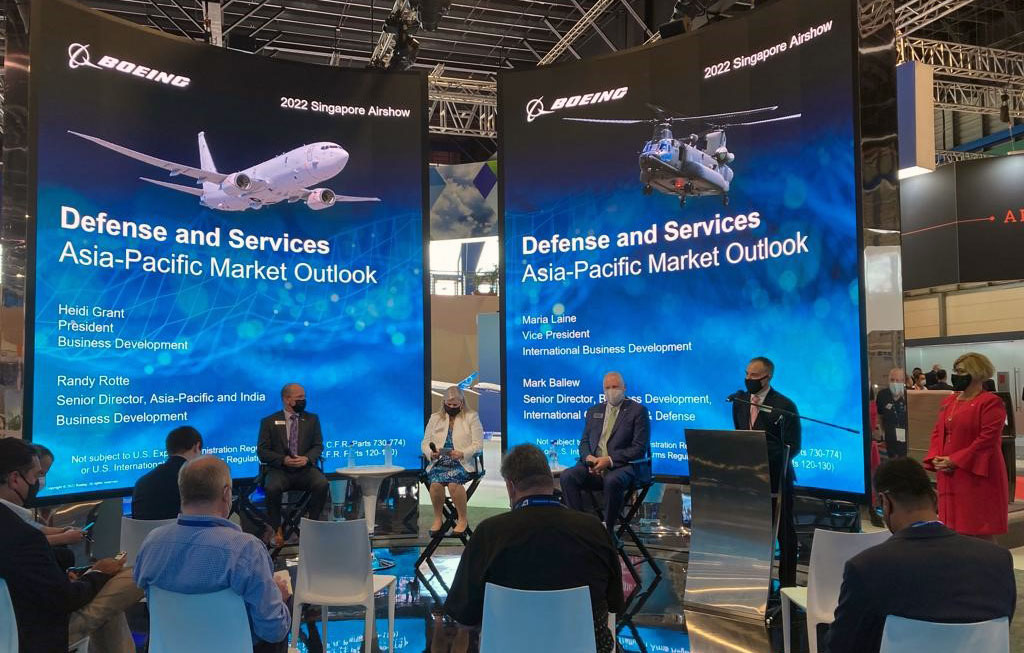 Boeing leaders spoke with reporters at Singapore Air Show and highlighted the advantages of a F/A-18 Super Hornet selection for the Indian Navy's carrier fighter requirements.
During a briefing for reporters at the show, Boeing emphasized the carrier compatibility of the F/A-18 Super Hornet and its ability to operate on INS Vikramaditya and IAC-1 Vikrant aircraft carriers.
"Boeing and the U.S. Navy successfully demonstrated the F/A-18's ability to complete ski-jump tests in 2020 and we have done extensive simulation studies to prove that the F/A-18 can operate from the Indian Navy aircraft carriers and will meet or exceed the STOBAR performance requirements of the Indian Navy," said Randy Rotte, senior director of Business Development for India, Southeast Asia and Asia Pacific.
Rotte went on to explain that as the most advanced, multi-role, frontline fighter of the U.S. Navy, the F/A-18 Super Hornet was specifically designed, from its inception, for carrier operations, and that its technology advancements and insertion plan will enable operators to outpace threats for decades to come.
He emphasized the growth potential of the F/A-18, with the US Navy having taken delivery of the most advanced Block III configuration that increases stealth capability from the Block II and enables full integration of infrared search and track (IRST) sensors. "Multi-billion-dollar investments have been made in new technologies in the Super Hornet Block III that the Indian Navy can benefit from, including increasing life of airframe to 10,000 hours from 6,000 hours of Block II, radar cross-section improvements, advanced crew station in the cockpit. The Block III Super Hornet comes with advanced networking and open architecture design that allow it to work jointly with the Indian Navy's P-8I and other US-origin assets and rapidly accept new technology to stay ahead of emerging threats," Rotte said.
Another area that Boeing has been highlighting as a key benefit is the F/A-18 has the ability to fold its wings, allowing for better utilization of deck space on the aircraft carrier. The company says it has conducted thorough study and analysis that optimizes the number of Super Hornets that can fit aboard INS Vikramaditya and INS Vikrant as well as optimizes the cyclic operations from those carriers leading to high sortie generation rates.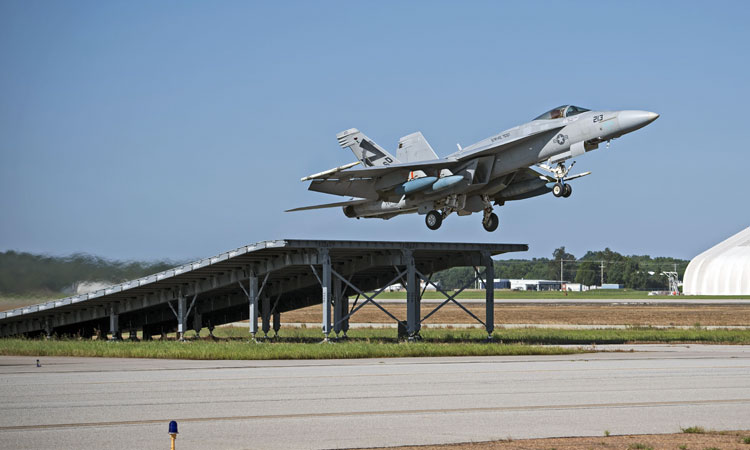 The F/A-18 Super Hornet successfully completes ski jump demonstrations at Naval Air Station Patuxent River, Maryland, in 2020 proving it can operate from a "ski jump" ramp and demonstrating its suitability for India's aircraft carriers
In addition, to allow for the faster movement of the aircraft between the flight deck and hangar deck without having to remove or modify any part of the aircraft, Boeing said its capability and solution are compatible with the current elevator/lift configuration aboard Indian aircraft carriers.
Boeing executives also pointed to the two-seater carrier-compatible variant of Super Hornet that could offer unique benefits to the Indian Navy including higher utilization of the fleet, ability to embark on certain missions from the carrier that benefit from having the second crew member, and the opportunity to develop an interface between crewed and uncrewed systems in a carrier environment.
During the briefing, Mark Ballew, senior director of business development with Boeing's International Government & Defense business, explained that the Super Hornet has an affordable acquisition cost and also costs less per flight hour to operate than any other tactical aircraft in the U.S. forces inventory, including single engine fighters. This is possible because the fighter is designed for ease of maintainability and offers impressive durability, he added.
Boeing has said it will build on the success of its existing defense programs that Boeing is executing for the Indian Air Force and Indian Navy today to deliver complete value over the lifecycle of the Super Hornet by developing capabilities that can sustain the platform in India.
In addition, India will benefit from scale efficiencies that come from commonality in engines since the Super Hornet is powered by the GE F-414 engine, the same family of engines that is powering India's indigenous Light Combat Aircraft," Ballew said.
Ballew also explained that Boeing's Global Services business is supporting the mission readiness of customers through its portfolio of next-generation services capabilities which include digital solutions, combining data analysis with engineering expertise, Performance Based Logistics (PBL), and forward located parts distribution facilities. "
"Customers across Asia Pacific, including India, have placed their trust in Boeing to help sustain and upgrade their fleets, support high operational readiness rates, expand parts availability, and maximize partnerships with local industry. All of those goals are key elements of our Boeing Global Services business, and we are proud of the work with are doing with our customers and our in-country industrial teammates." Ballew said.