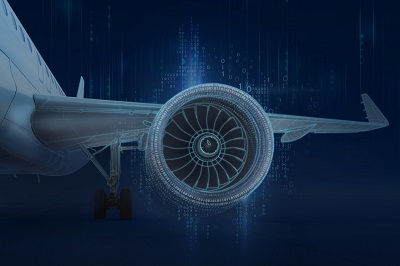 Collecting thousands of parameters throughout a flight, Collins' GlobalConnectSM product will help enhance engine health management services offered to P&W-powered aircraft as part of its EngineWiseŽ Insights+ solution.
Pratt & Whitney and Collins Aerospace, both divisions of Raytheon Technologies Corp., announced today that they have signed a full-flight data delivery agreement that further strengthens collaboration between the two companies. Using Collins' GlobalConnectSM solution and new full-flight data product, this collaboration will enhance engine health management services offered to Pratt & Whitney powered aircraft as part of its EngineWiseŽ Insights+ solution.
"By collaborating with a company that has longstanding relationships with many shared airline partners and industry-leading connectivity solutions, we are able to streamline data management and more immediately offer our predictive maintenance support," said Kevin Kirkpatrick, vice president of Aftermarket Global Operations at Pratt & Whitney. "This agreement simplifies processes to meet our customers' evolving needs and enhances services to keep their operations running smoothly. We are excited to be working with our sister company, Collins Aerospace, which helps to underscore the broad scope of aviation services that Raytheon Technologies offers across its portfolio."
As the original equipment manufacturer, Pratt & Whitney is committed to driving maximum engine reliability and performance through its EngineWise solutions and world-class support network. Pratt & Whitney can now draw insights and pinpoint trends using an even larger data pool.
By collecting thousands of parameters from sensors and systems throughout a flight, Collins' GlobalConnect and full-flight data product can help enable and accelerate EngineWise Insights+ across the globe. With robust data governance, cyber security, and landscape monitoring, Collins can provide data quickly and with the same privacy, security, and reliability that has made it a trusted provider of connectivity solutions for nearly a century.
"We continue to see a strong increase in the demand for analytics, predictive maintenance and data management and we are on the leading edge as we collaborate to bring best-in-class solutions to our global stakeholders in the technical operations space," said Jen Schopfer, president, Connected Aviation Solutions for Collins Aerospace. "As a long-time trusted innovator in aviation data and messaging, privacy and security are at the center of everything we do as we deliver data-driven insights such as efficiency, reliability and sustainability for the industry."
Making full use of full-flight data captured from takeoff to landing, Pratt & Whitney EngineWise Insights+ provides preventative maintenance recommendations that optimize performance, mitigate fleet disruptions, reduce customers' operating costs and maximize time in the air.