The regional airline has opened over 80 routes, thus aiding social and economic development of the undeveloped regions, besides helping in tourism activity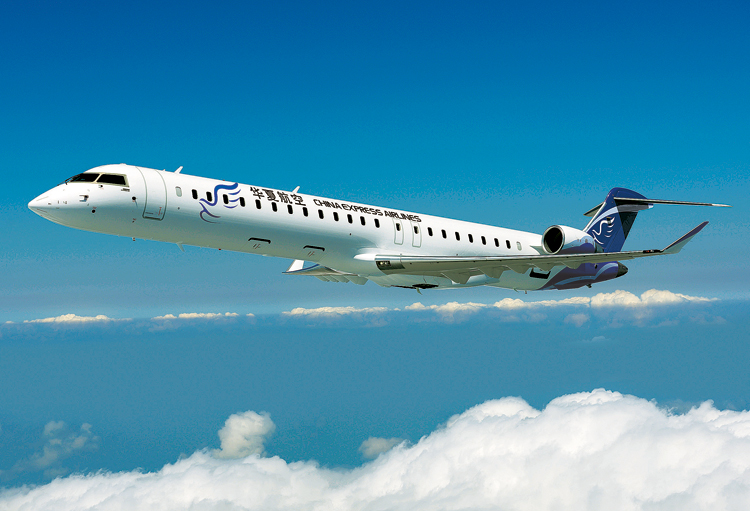 CRJ900 aircraft in China Express Airlines' livery
China Express, also known as Huaxia Airlines, is China's first private regional airline and it is already a decade old. Indeed, China has taken the lead over India in starting a regional airline and has continued to look at ways of expanding airline network across the vast geographical expanse. With improved multi-modal transportation network, China has been significantly moving people and goods across the country, thus accelerating development.
China Express is based in Guizhou, a province in the People's Republic of China, located in the South Western part. Its capital city is Guiyang. Though Guizhou is economically undeveloped, it is rich in natural resources. China Express operates services from its hub at Chongqing Jiangbei International Airport, as well as secondary hubs at Guiyang Airport, Dalian Airport, Hohhot Airport and Xi'an Airport. The carrier is using a fleet of Bombardier CRJ900 series aircraft and Airbus A320. The airline came into existence in May 2006 and is owned by Cathay Fortune (40 per cent), High Zerio (25 per cent), Tampines International (24 per cent) and others 11 per cent.
Bombardier's NextGen aircraft
In 2013, Bombardier Aerospace announced that China Express had placed a firm order for three CRJ900 NextGen airliners, as well as entered into conditional purchase agreements for another five with an option for additional eight. At that time it had a fleet of five CRJ200 and six CRJ900 aircraft. In 2012, it made history by being the first to operate the CRJ900 aircraft in the country. According to Planespotters, the airline has 33 aircraft besides two on order and the average fleet age is 2.7 years.
The regional airline has opened over 80 routes, thus aiding social and economic development of the undeveloped regions, besides helping in tourism activity. It is following the strategic approach of small to big through opening up of regional routes. From its maiden flight in Liping, Guizhou, in September 2006, China Airlines has come a long way. The very next year, it entered into a partnership with a state-owned airline and the 'One Pass' cross-linking model between China and Hong Kong's first airlines, had lot of synergies. Its first Bombardier aircraft was the CRJ200 which it bought in June 2008. It created a record in the same year with aircraft flight reliability of 99.78 per cent. It was in December 2009 that the airline made annual profit for the first time and that with a minimum fleet size. In 2010, it bought over Eastern Airlines and in the following year, it commenced direct flights to form a network covering the South West, East, North and South China. The next year, it had direct flights connecting the South West region to the East, North and South China.
Expanding Network
It was in July 2012 that China Airlines launched the first domestic CRJ900 regional aircraft which flew to Chongqing Jiangbei International Airport, thus opening a new chapter in regional aviation. It kept expanding its network and by 2014, it had over 100 sorties a day. In the same year, it entered into a code-sharing agreement with China International Airlines and Shandong Airlines. For Bombardier, 2014 was a landmark year as both the Chinese and Canadian Prime Ministers witnessed the signing ceremony wherein China Airlines ordered 24 Bombardier aircraft.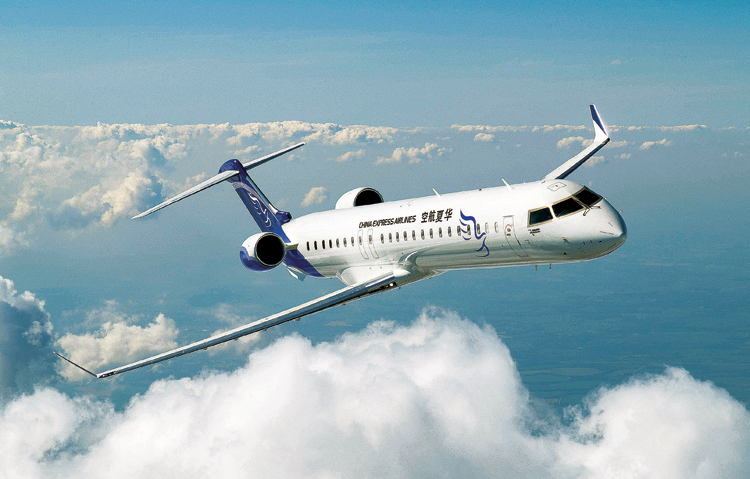 To date, 20 of the CRJ900 aircraft ordered by China Express have ben delivered
China Airlines retired the CRJ200 aircraft on April 30, 2015. The last flight was Shanghai Pudong to Chongqing route as G52006. The next year, the Civil Aviation Authority of China formally approved the adjustment of the scope of air transport business in China to include Hong Kong, Macao and Taiwan, to tap into both international passenger and cargo markets.
Focus on passenger comfort
With the coming of the CRJ900NG regional aircraft, China Airlines was offering additional one inch leg space, enhanced cockpit comfort, new cabin interiors including a larger overhead luggage compartment and larger windows. The idea was to give passengers a good flight experience and the airline has stated that with growing popularity, it was expecting to increase its fleet size to 66 by the year 2020.
Based on the list price for the CRJ900 NextGen aircraft, the firm order of China Airlines was approximately valued at $134 million. The value of the entire contract (five CRJ900 NextGen and options for additional eight CRJ900 NextGen) was $733 million. "By 2016, we anticipate that the total number of routes flown by China Express will reach approximately 90, three times as many as the number of existing routes, and will cover 60 per cent of China's regional cities," said Wu Longjiang, President, China Express. "We are confident that our fleet of Bombardier aircraft will be a very efficient and reliable asset in achieving these objectives."
THE OUTSTANDING ECONOMICS OF BOMBARDIER'S CRJ NEXTGEN AIRCRAFT WILL ALLOW AIRLINES TO PROFITABLY ENTER SMALLER TIER-TWO AND TIER-THREE MARKETS, PROVIDING EFFICIENT SERVICE
"With China's growing economy, improved support infrastructure and expanding middle-class, regional air travel will be more accessible to Chinese citizens in more regions," said Mike Arcamone, President, Bombardier Commercial Aircraft. "As demonstrated by China Express, the outstanding economics of Bombardier's CRJ NextGen aircraft will allow airlines to profitably enter smaller tier-two and tier-three markets, providing efficient service to a growing demand from business and leisure travelers. We are delighted that China Express has once again put its trust in Bombardier."
Banking on Bombardier
In 2015, Bombardier Commercial Aircraft announced that China Express Airlines had placed a firm order for ten CRJ900 regional jets, raising its total orders for this model of the aircraft to 38. With this transaction, China Express had exercised eight previously acquired options for CRJ900 aircraft. To date, 20 of the CRJ900 aircraft ordered by China Express have been delivered. Based on the list price of the CRJ900 aircraft, the order announced was valued at approximately $462.6 million.
"China Express is committed to providing air services to people in Tier-III and Tier-IV cities in China. Our mission is to improve the connectivity by air for those communities," said Wu Longjiang, President, China Express Airlines. "The CRJ900 is the right aircraft for our cooperation with major airlines on code-sharing and connecting flights. It offers excellent economics and reliability and is well liked by our passengers. We continue to expand our fleet with these fine aircraft to serve both current and future demand as well as destinations."
"We are very pleased with China Express Airlines' continuing confidence in the CRJ900 jetliner and its role in expanding regional airline services in China," said Andy Solem, Vice President, Sales, China and North Asia, Bombardier Commercial Aircraft. "Our 2015 to 2034 Commercial Aircraft Market Forecast expects delivery of some 900 60- to 100-seat airliners to China during the forecast period and the CRJ900 regional jet is proving to be a perfect fit in that market segment."