Arjan Singh was a man of few words who never tried to throw his weight around, but won the loyalty of his personnel by his manifest professional excellence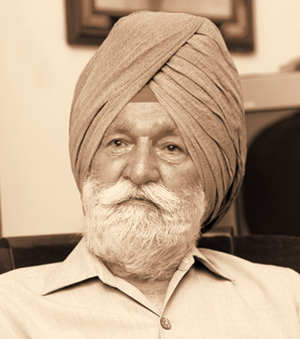 When Marshal of the Air Force Arjan Singh passed away on September 16, 2017, he was less than two years short of hundred. It was a rare 'miss' for one who had successfully achieved a plethora of milestones. During his illustrious career he played a major role in shaping the Indian Air Force (IAF), setting it firmly on the path of transformation from a fledgling force into the fourth largest in the world. He reached the pinnacle of professional endeavour when in 2002, he became the only IAF officer to be promoted to Marshal of the Air Force, a five-star rank equivalent to a Field Marshal in the Army.
Arjan Singh's parents could scarcely have foreseen the glory that awaited their son when he was born on April 15, 1919, in Lyallpur, Punjab (now Faisalabad, Pakistan). The family had a long tradition of service in the ranks of the Army. Arjan Singh was a national level swimmer. In 1938, when he was in college, he was selected for the Empire Pilot Training Course at the Royal Air Force College, Cranwell, England. He topped the course among the Indian cadets and was commissioned as a Pilot Officer in December 1939. His first posting was to No 1 Squadron (Tigers), Ambala. The squadron operated Westland Wapiti biplanes in the restive North-West Frontier Province. In September 1943, he was promoted to Squadron Leader and appointed Commanding Officer of the same squadron that by then, had converted to Hawker Hurricane fighter aircraft.
Arjan Singh's leadership proved crucial as the Tigers went into action during the Burma Campaign. The Tigers reached Imphal in February 1944 and commenced operational flying immediately, with offensive, tactical and photographic reconnaissance missions that provided crucial intelligence on Japanese troop movements. In recognition of his meritorious service, Arjan Singh was awarded the Distinguished Flying Cross (DFC) in June 1944. In the words of the citation, 'The success of No 1 Squadron IAF reflects the greatest credit on him.'
India's Independence was in the air and on August 15, 1947, Arjan Singh led a ceremonial flypast consisting of over a hundred IAF aircraft over the Red Fort in Delhi. The same day he assumed command of Air Force Station, Ambala, in the rank of Group Captain. In 1949, Air Commodore Arjan Singh became the Air Officer Commanding of the Operational Command (later Western Air Command). He headed the same Command, this time as Air Vice Marshal, from 1957 onwards. He was just 44 years old when he became only the third Indian to be appointed Chief of the Air Staff in the rank of Air Marshal on August 1, 1964. A year later, it was time to go to war.
On September 1, 1965, the Pakistani forces launched Operation Grand Slam, in which an armoured column targeted the vital town of Akhnur. The IAF was rather ill-prepared, having mainly Hawker Hunters, Folland Gnats and de Havilland Vampires against the Pakistan Air Force's (PAF) US-supplied F-86F Sabres and F-104 Starfighters. However, when Arjan Singh was summoned by Defence Minister Yashwantrao Chavan and asked when the IAF could provide air support, his reply was, "In an hour." Despite losses, the IAF was able to gain a favourable air situation over the PAF and blunt the Pakistani armoured thrust. Thus the Indian Army and IAF together thwarted General Ayub Khan's nefarious plan to capture Kashmir. In recognition of his stellar leadership, Arjan Singh was awarded the Padma Vibhushan and in 1966, he became the first IAF officer to be promoted to Air Chief Marshal.
In 1970, when he was 50, Arjan Singh retired from the IAF. He had flown over 60 different types of aircraft, ranging from light piston-engine biplanes to the supersonic MiG-21 jet, practically till his last day in service. The following year he was accredited as India's Ambassador to Switzerland. Next he served as the Indian High Commissioner to Kenya, totalling six years in diplomatic assignments. He also functioned as Lieutenant Governor of Delhi from December 1989 to December 1990.
Arjan Singh's niece, the actor Mandira Bedi, described him as a great conversationalist, one who lived a full life and defied age. The ultimate recognition came when he was appointed Marshal of the Air Force on Republic Day 2002. In 2004, he sold his farm near Delhi and used the proceeds for a trust devoted to the welfare of retired IAF personnel. In another mark of respect, on April 14, 2016, a day prior to his 97th birthday, it was announced that the IAF base at Panagarh in West Bengal would henceforth be called Air Force Station Arjan Singh. By all accounts, Arjan Singh was a man of few words, who never tried to throw his weight around, but won the loyalty of his personnel by his manifest professional excellence and integrity.