A significant number of hybrid and electric aircraft made way to the longest-running air show, marking a new era of aviation to be followed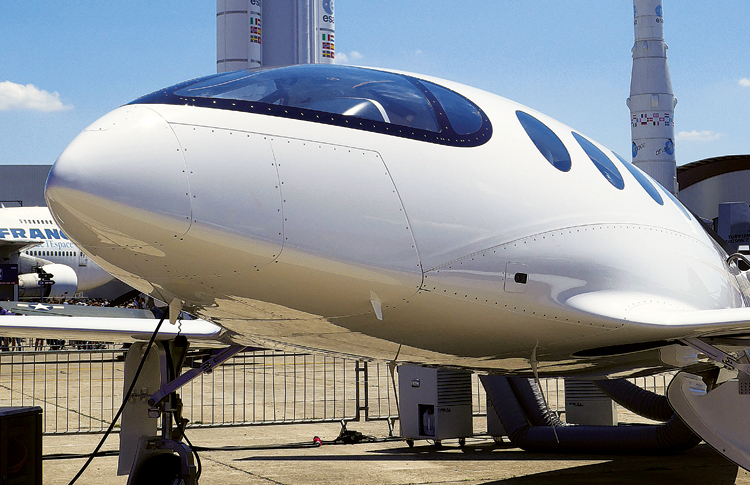 Israeli startup Eviation Aircraft's all-electric airplane christened as Alice
There is increasing focus on the alarming environmental hazards resulting from various industrial activities. The good news however, is that almost every industry is understanding their responsibility and are trying to take the necessary initiatives. The aviation industry globally is itself known to produce around three per cent of carbon dioxide emissions and the rapid expansion of this sector expected in the future only predicts further increase in the levels of emissions. Acknowledging this concern, the aviation industry is taking significant steps such as the eventual shift towards sustainable alternative fuels and coming up with electrical alternatives for flying.
Tapping into further innovation and efficiency, both aerospace and defence suppliers as well as Original Equipment Manufacturers (OEM) are transforming the way they function with innovative designing and advanced technologies in the form of air taxis and electrically-propelled aircraft.
Additionally, Boeing announced its investment in Brazil's effort to set up a sustainable aviation fuel industry, focusing on steps that enhance social, economic and environmental benefits to local communities involved in the feedstock development used to produce sustainable aviation fuel (SAF).
The Paris Air Show which was all about innovation and future, witnessed a considerable amount of stress on hybrid and electric aircraft many of which were on display. From the industry titans to the start-ups, all came forth with progressive technologies that present a more environmentally efficient future. A new era of aviation was hence on display at Le Bourget during the 53rd edition of the Paris Air Show with "flying taxis" as well as commercial engines that employ electric motors from manufacturers such as General Electric. Some of such vehicles on display at the air show were:
Eviation's Alice. Gathering the maximum attention among the electric aircraft was the prototype of Israeli startup Eviation Aircraft's all-electric airplane christened as Alice. The debuting vehicle that can fly nine passengers up to 650 miles on a single charge, announced a deal at the air show with US regional airline Cape Air to launch commercial flights. "This aircraft is not some future maybe. It is there, ready and waiting," said Omer Bar-Yohay, CEO of Eviation which claims the aircraft can cut airline operating costs by 70 per cent. With testing and certification already underway, the plane that cruises at 10,000 feet should be ready by 2021. The plane uses one main "pusher" propeller at the tail, and two more on the wingtips which are powered by batteries.
Airbus' Vahana. An all-electric vehicle demonstrator from A3 (Airbus' Silicon Valley innovation centre) is Airbus' innovative project, Vahana, the prototype of which was on display at the Paris Air Show clearly aatracting attention. A single-seat, tilt-wing vehicle demonstrator that focuses on advancing self-piloted, electric vertical take-off and landing (eVTOL) flight, Vahana has flown over 80 full-scale test flights.
EcoPulse. A hybrid aircraft to be tested by 2022 was also announced by Airbus in collaboration with aviation industry conglomerate Daher which will look after components and systems installation and rocket engine maker Safran that will provide a propulsion system for the aircraft called EcoPulse. Airbus will be responsible for batteries and aerodynamic design. A distributed hybrid propulsion system including turbo-generator powering electric motors and propellers, will run the plane. Hybrid propulsion system ensures reduced emissions as well as less aircraft noise pollution. A small model of the distributed hybrid propulsion system was also on display.
Boeing's Flying Taxi. Another futuristic aircraft prototype on display was Boeing's Passenger Air Vehicle (PAV), an eVTOL air taxi that claims to represent the next generation of autonomous electric aircraft that are safer, quieter, and cleaner. PAV is asserted to be able to autonomously transport passengers, plan routes, respond to contingencies and detect and avoid unexpected obstacles. Aurora Flight Sciences is developing both two and four-passenger variants with cargo options, ensuring PAV's potential to change how people, goods, and ideas move throughout the world. Additionally, Boeing announced its investment in Brazil's effort to set up a sustainable aviation fuel industry, focusing on steps that enhance social, economic and environmental benefits to local communities involved in the feedstock development used to produce sustainable aviation fuel (SAF).
Project 804. A hybrid-electric project dubbed as Project 804 was also unveiled by United Technologies (UTX) as it announced plans to merge with defence contractor Raytheon. Built on a mid-sized regional turboprop, the plane uses existing airframe, systems and propellers; but innovates with batteries and a two-megawatt hybridelectric propulsion system. The planes are aimed for a 2022 launch and to be ideal for shorter haul flights between regional airports.
Cessna 337. Aviation start-up Ampaire announced a major deal with Personal Airline Exchange for the order of converting 50 electric planes. Ampaire has been working on the conversion of existing aircraft such as the Cessna 337.
E-Fan X. Another major deal was cracked with the UK engineering company Rolls-Royce acquiring the electric flight division of Germany's Siemens eAircraft. The purchase of the electric and hybrid-electric aerospace propulsion business was announced by Rolls-Royce at the air show. Further, in a collaboration with French Airbus, the two companies will develop another hybridelectric propulsion system entitled E-Fan X that will apparently be big enough to power a large jet plane.
THE SONIC SENSATION
With the constant and rapid advancement in aviation, the supersonic regime is among the most awaited. The 53rd edition of the Paris Air Show was clearly a demonstration of what the flying would look like in the future.
ven though it is still in the conceptual stage, Lockheed Martin Aeronautics' unveiling the design of a new supersonic airplane during the air show was a perfect knock at the door that opens into this era of supersonic air commute. A sleek twin-engine jet plane that will fly at Mach 1.8, carrying 40 passengers, the Lockheed Martin's supersonic aircraft is capable of trans-Pacific routes. The highlight of the airliner is how it manages to do away with the issues of sonic boom and airport noise. The design ropes in on the company's work with NASA in creating the X-59 Quiet Supersonic Technology X-plane that will not produce the sonic boom which is specifically linked with such aircraft breaching the sound barrier. The sound created will apparently be as loud as a car door closing. The X-59 is expected to undertake its first flight in 2021.
Supersonic transport start-up Boom Supersonic made the announcement of partnering with aviation design specialists JPA Design for the cabin interiors for its Overture Mach 2.2 airliner which presently is under development. In a press conference during the air show, Boom founder and CEO Blake Scholl informed that Boom is nearing completion of the composites-intensive XB-1, a subscale prototype of the Overture that is expected to be rolled out by the end of 2019 and test flew sometime in 2020.
Industry behemoths Northrop Grumman and Raytheon announced their partnership at the Paris Air Show for the creation of a new hypersonic weapon. The unnamed weapon is expected to travel at speeds higher than Mach 5. While Raytheon will build the missile, Northrop Grumman will make a scramjet engine to power the missile.